Like most of the Chicago Blackhawks, Jonathan Toews wants to leave the 2017-18 season behind him. His 20 goals and 32 assists in 74 games was a career low, unacceptable for one of the highest paid players in the NHL. Toews needs to have a successful 2018-19 season to make a comeback as one of the best forwards in the league.
Here are four keys that will make Toews' 2018-19 season a successful one.
1. A Strong Start
Having a good start is never a bad thing, but it's instrumental for Toews. He's started off with a six-game point streak and six goals and five assists in 12 games. According to NHL.com, this is the best start of his career.
Head coach Joel Quenneville was impressed with Toews from the first game of the season, as he told the Chicago Sun-Times,''[Toews] had a big game. He did everything [against the Ottawa Senators]. You look at the stats, it was one of those nights. Faceoff circles [and] everything else seemed to add up real positive for him. He had the puck a lot. He had a real pace to his game. That line had a lot of threatening shifts in the offensive zone," (from 'Back to the future: Why it's a good sign Blackhawks' old stars shined in opener', Chicago Sun-Times – 10/5/18).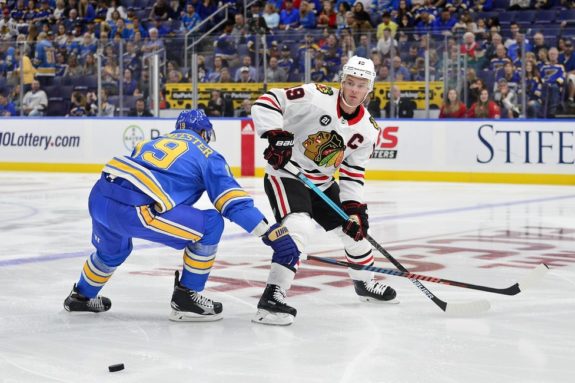 Toews owes a lot of his success to his change in his training regimen, "I feel really good, really explosive, and my conditioning is better. It allows you to just go out there and play your game and do the things that, mentally, you want to do. Sometimes, if you don't have the energy or the strength or the speed, the options just aren't there. But I definitely feel a little bit more able to get in and out of tough spots with the puck this year," (from 'Blackhawks' Jonathan Toews not feeling like his old self — in a good way', Chicago Sun-Times – 10/28/18).
Although his last six games have not been as strong as his first six, Toews is looking and playing better than he has in years. If he continues on this positive path, he is sure to be back in the debate as one of the best players in the NHL at the end of the season.
2. Score When Kane Scores
When both Toews and Patrick Kane score, odds are the Hawks will win the game. The team's record when both players score in a game is 78-6-5. They had a 44-game winning streak when they both scored until the Oct. 7, 2018, overtime loss to the Toronto Maple Leafs.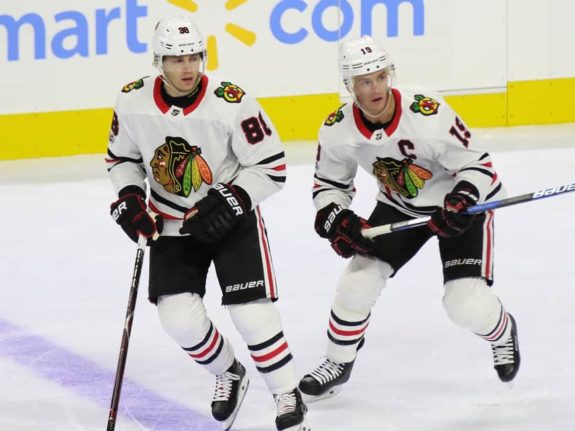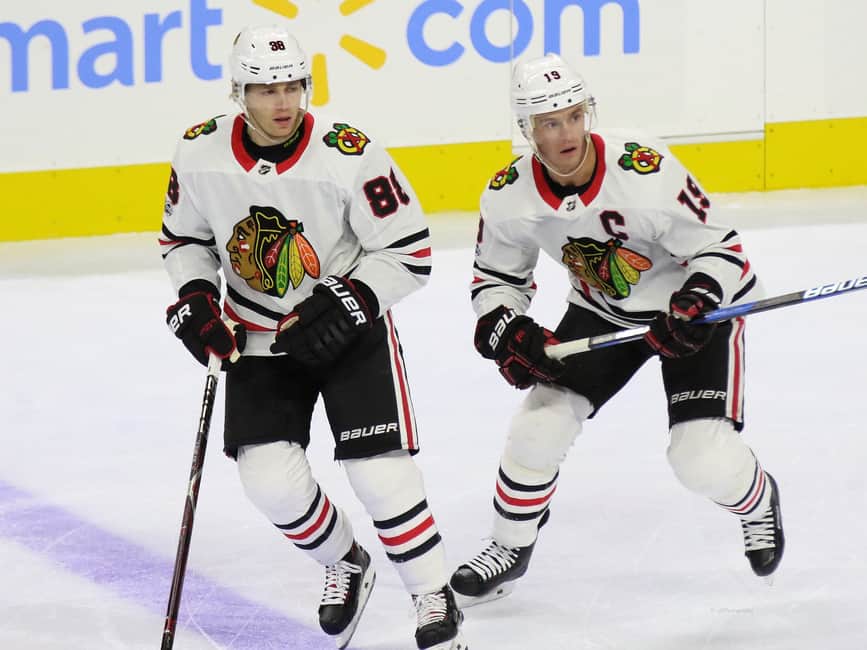 Statistically, if Toews scores when Kane does the Blackhawks are almost guaranteed a win. Kane leads the team and the league in goals scored, as of Oct. 29, 2018, and he is considered an Art Ross Trophy contender. Toews should make it one of his top priorities to try to score when Kane does. Notably, in all four games when Toews has a goal this season, Kane does as well. If they continue on this path, they could lead the Hawks to the top of the standings this season.
3. Set a Strong Example
Toews is considered one of the best captains in the NHL. When he won the Mark Messier Leadership Award back in 2015 after his third Stanley Cup, former teammate Andrew Ladd spoke to the Chicago Sun-Times about how Toews' leadership makes him so unique:
"The way he prepares himself on and off the ice, year-round, it's amazing to watch. So I think that rubs off on his teammates and definitely rubbed off on me when I was there. I think his will to win is probably second to none in the game. That, to me, is what separates him from other players. He comes up big in big games. When I was playing with him, you could always count on him to come up with a big play or a big goal at big times," (from 'Jonathan Toews' value goes far beyond the scoresheet', Chicago Sun-Times – 6/23/15).
When Toews succeeds so does everyone else. Alex DeBrincat, Toews' linemate, can attest to that: "He's a really smart player. He's conducting everything out there. He's putting the puck in on nice plays. He's been great for us obviously this season so far. He's really gone to the net and gotten a few dirty goals. Obviously, that helps us as a line. We can move it on the outside and get the puck to the net when we're in trouble," (from 'Blackhawks winger Alex DeBrincat off to fast start playing with Jonathan Toews', Chicago Sun-Times – 10/10/18).
Toews' line with DeBrincat and Dominik Kahun has been the most productive line for the Hawks. The trio has scored 15 of the team's 41 goals, with Toews and DeBrincat ranking in the top three scorers behind Kane.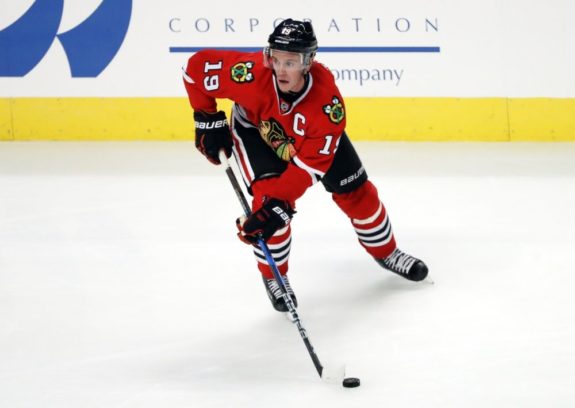 If Toews continues to set a good example, the rest of the team will follow, and the Hawks can move back towards playoff contention.
4. Stay Healthy
Toews is prone to upper body injuries and hasn't played a full 82-game season since 2008-09. The past few seasons have been the worst for him scoring-wise and, notably, he has missed 18 games due to injury in the past two seasons.
Having a healthy season is ideal for any athlete, but for Toews, it's necessary since, historically, he plays his best when his season attendance is perfect or near-perfect. With his new training regimen already proving to be successful, hopefully, it will mean fewer injuries and more opportunities to score goals.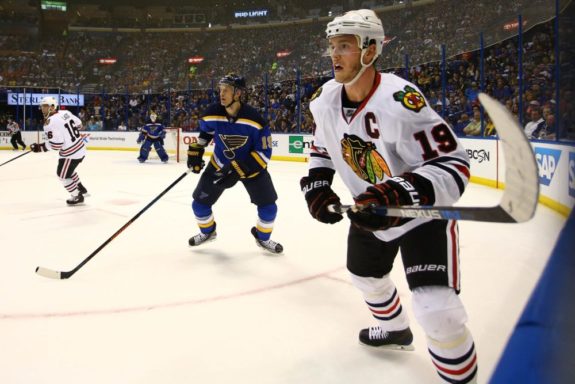 The Hawks play well when Toews plays well. He is one of the most valuable players on the team, and his health should be a top priority to ensure individual and team success. It's crucial for Toews to have a successful year. So far, he's been playing a promising game. If he continues on this path for the rest of the season, he is sure to be one of the best players in the NHL once again.
All stats obtained from NHL.com
Illinois State University graduate and lifelong Chicago Blackhawks fan. I also write for The Odyssey at Illinois State and Fans Talk Sports. Other than hockey, I love to write historical fiction and nonfiction.