The party is still going for the Chicago Blackhawks. They started their two-week road trip on the right note with a 3-2 overtime win against the Detroit Red Wings on Feb. 15. Their 20 points on the season is one point behind the Tampa Bay Lightning for first place in the Central Division. Because the team has been on a good streak, there have been unique storylines surrounding the team both personally and professionally. Here is the latest from Chicago.
Delia Speaks Out
The Blackhawks' goaltending situation has turned out to be a surprise. Kevin Lankinen has been the team's go-to goaltender with Malcolm Subban behind him. That has left Collin Delia out of the mix. He was assumed by most to be the undisputed starting goaltender for the season. After all, he had more NHL experience compared to Lankinen and Subban. Delia started the first two games of the season against the Tampa Bay Lightning and lost both of those games by giving up five goals. Since then, we haven't heard from him until now. He had some really interesting things to say about how his situation has played out so far in an interview he gave to Mark Lazerus of The Athletic. This quote in particular stood out to me.
I'm looking to take the next step and I don't think two games at the beginning of the season is telltale of how well I can play. I know the next time I have my opportunity, I can prove why I belong in the organization first of all, and why I deserve to be playing in the NHL night in and night out.

from 'Blackhawks' forgotten man, Collin Delia, bides his time and bites his tongue'- The AthleticNHL- 02/15/2021
I agree with that he is saying. Two games isn't enough to get a good read on someone. Lankinen and Subban also struggled out of the gate, but he difference is that while the team is winning, you have to stick to what is working. What is working is the Lankinen and Subban combination. I would like to see more of Delia going forward. It is still a growing year and I have a hunch that at some point head coach Jeremy Colliton will rotate Subban and Delia out for the backup role. I strongly believe that this isn't the last that we have seen of him. However, it may be a while before he sees the net if the team continues to do well. The main thing to take from this article is that he seems to be in a good headspace and is ready for whenever he gets the call. These situations aren't easy, so it is good to hear that he is taking it as best as he can. We're all rooting for you, Deals!
Keith's Wellness
The one thing people tend to notice about 37-year-old defenseman Duncan Keith is his longevity. He has been in the league for almost 16 years, is a future Hall of Famer, and yet, he looks like he hasn't lost a beat. He averages the most ice time out of everyone on the Blackhawks, with an average of 24 minutes a game. Simply put, the guy is an enigma. He gave an interview to ESPN's Emily Kaplan, on Feb. 15, to discuss how he maintains his high level of play. He talked about his nutrition and energy, but he also gave some insight into one element that is underrated, according to him: Breathing.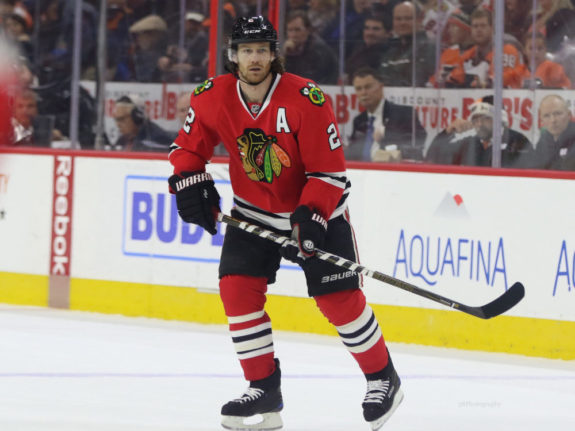 He stated, in part, "Breathing, and the power of the brain, are two things in hockey or sports, that don't get enough attention. There's meditation breathing to bring your nervous system down to more of a parasympathetic state, where you're relaxing, and you're able to recover and rest. But for me, I work on my breathing and the mechanics of it a lot."
It's a really cool article and a job well done by Kaplan. I highly recommend reading it if you're interested in the wellness aspect of the game!
COVID-19 List
The Blackhawks ran into a COVID-19 patch a couple of weeks ago. They had five players go into COVID-19 protocol: Adam Boqvist, Alex DeBrincat, Ryan Carpenter, Nicolas Beaudin, and Lucas Wallmark. As of Feb. 13, there are no players on the list as Carpenter was the final player to be taken off it. This is great news. DeBrincat, Beaudin, and Wallmark have made their return to the roster, and Boqvist and Carpenter have yet to return as they're still going through conditioning. The interesting part is that on Feb. 15, the team sneakily placed Boqvist on the taxi squad and moved 23-year-old rookie defenseman, Wyatt Kalynuk to the active roster.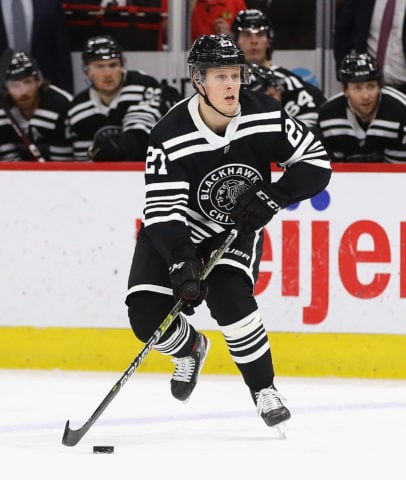 This news could mean something or nothing. The taxi squad and active squad are ever-changing. But, nonetheless, it will be interesting to see what Colliton is thinking for the defensive group. I think we'll be seeing a shakeup with the defense pairs this week, with Kalynuk possibly making his NHL debut.
Final Thoughts
As you can see, the Blackhawks had a lot of news come out on Feb. 15.
But in all seriousness, the good news keeps on coming as they are now getting their missing pieces back. For the rest of the week, they'll be facing the Red Wings again on Feb. 17, and then they face the Carolina Hurricanes on Feb. 19 and 20. Let's hope they can keep the good times rolling. Go Hawks!
Looking for more Blackhawks' content? Tune in on Monday nights for our weekly 'Blackhawks Banter' show on Youtube and Facebook. We talk about everything related to the team. We stream live at 7:00 PM CST on The Hockey Writers Youtube Channel. Be sure to like, follow, and subscribe so you don't miss out. You can check out our latest show below.
---
---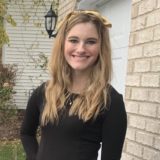 Just a small town girl with Midwestern charm; combined with a love of dogs, writing, frappuccinos, Chicago-isms, sports, and a whole lot of Blackhawks hockey. Twitter: @brooke_lofo.