In this edition of Chicago Blackhawks News & Rumors, we'll look at the Rockford IceHogs' Calder Cup Playoff run that came to a close, as the Texas Stars swept the team 3-0 in the Central Division Semifinals. Meanwhile, it appears former head coach Joel Quenneville could return to the NHL as early as next season, while a certain franchise great has essentially shut down the possibility of a reunion for now. A potential franchise-altering draft lottery is also just four days away.
IceHogs Eliminated From Calder Cup Playoffs
The IceHogs couldn't sustain their momentum after sweeping the Iowa Wild 2-0 in their play-in series. The Blackhawks' American Hockey League (AHL) affiliate fell in three games to the Stars in the Semifinals on Wednesday (May 3), losing 4-2. Stars goaltender Matt Murray led the way, stopping 27 of 29 shots, while forwards Michal Teply and Lukas Reichel scored for the IceHogs.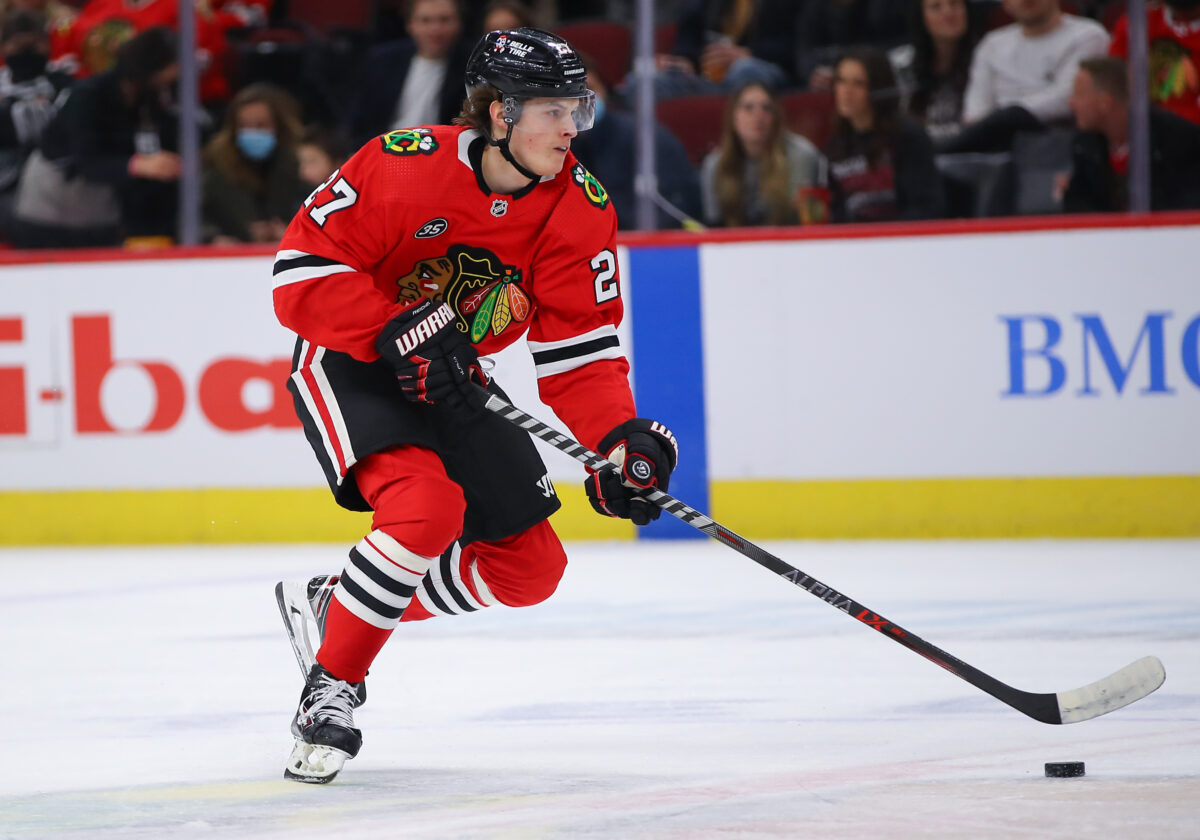 It was a disappointing ending to a season otherwise filled with positives for Rockford, such as Reichel's continued growth, veteran forward Rocco Grimaldi's late-season boost, and Arvid Söderblom's emergence in net, despite some midseason adversity. During their five-game playoff run, defenseman Alex Vlasic led the club offensively with five assists, followed by Grimaldi with four points (one goal, three assists).
Quenneville May Return to NHL Soon
It has been nearly two years since Quenneville, arguably the greatest coach in Blackhawks history, appeared behind the bench. He last coached with the Florida Panthers in Oct. 2021, resigning after a meeting with Commissioner Gary Bettman regarding his involvement in the organization's sexual assault scandal. However, TSN's Darren Dreger said a return shouldn't be out of the question, especially if the New York Rangers move on from Gerard Gallant after their first-round exit against the New Jersey Devils.
Related: NHL Players May Avoid Blackhawks After Destructive Wirtz Comments
In his tweet, Dreger also mentioned Quenneville would likely need Bettman's approval to return. This isn't surprising, considering Bettman said Stan Bowman, Al MacIsaac, and others involved in the scandal would have to meet with him if they wanted to work in the league again. According to the investigation report from law firm Jenner & Block, Quenneville attended the May 2010 meeting when former team president John McDonough decided to avoid reporting allegations against then-video coach Brad Aldrich until after the Stanley Cup Final.
---
Latest News & Highlights
---
It seems Gallant will remain as the Rangers' head coach for now; during the team's end-of-season media availability, he said he hadn't yet had any conversations with general manager (GM) Chris Drury regarding his job status. That said, with Quenneville's championship pedigree, it wouldn't be surprising to see him return to the bench. But it would be jarring, given what we know now.
Kane Addresses Potential Blackhawks' Reunion
When the Blackhawks traded Patrick Kane, some might've hoped he'd return to the team this offseason when he becomes an unrestricted free agent. That may not be the case. During the Rangers' player exit interviews on Wednesday, Kane said he hasn't considered a return to the Blackhawks, given they're rebuilding and not poised to contend soon.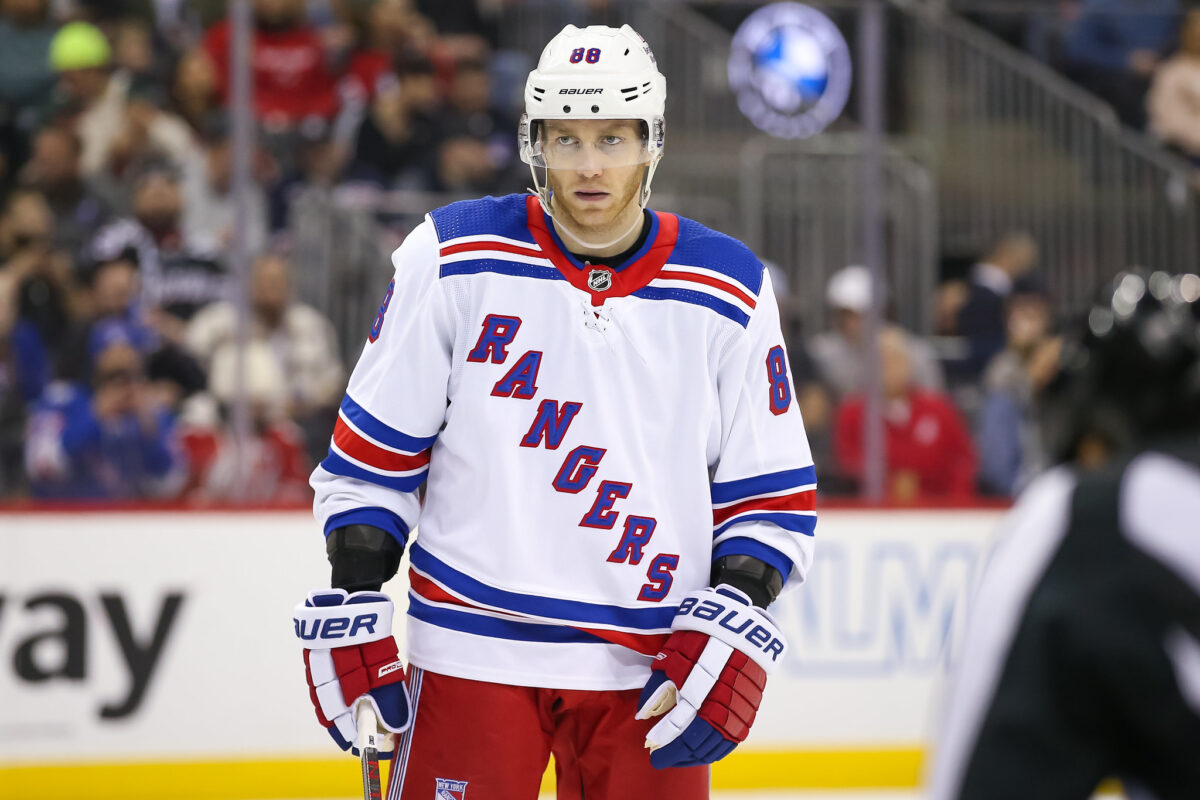 Kane, 34, is coming off an eight-year, $10.5 million contract signed in July 2014. With approximately $37 million in projected cap space, the Blackhawks could afford to bring him back if they wanted, but it wouldn't make much sense aside from sentimental reasons. When asked about the decision to move on from Jonathan Toews last month, Blackhawks GM Kyle Davidson said it was simply because the team is trying to build for the future. A Kane reunion would've been unlikely even if he had shown interest.
Now that the Rangers have been eliminated from the 2023 Playoffs, the Blackhawks will receive the team's second-round pick as part of the Kane trade. Had New York made the Eastern Conference Final (at least), Chicago would've received their first-rounder in 2024 or 2025. Kane ended the 2022-23 regular season with 57 points (21 goals, 36 assists) in 73 games with the Blackhawks and Rangers before recording six points (one goal, five assists) in seven playoff games.
Draft Lottery Approaching
One of the Blackhawks' most pivotal upcoming dates is Monday, May 8, at 8 p.m. EST/7 p.m. CST, when the 2023 NHL Draft Lottery will take place. Finishing 30th in the league, Chicago has the third-best odds (an 11.5% chance) of landing the No. 1 overall pick, which is expected to be the generational prospect Connor Bedard.
The Blackhawks could draft as high as first or as low as fifth. While getting Bedard would accelerate the rebuild, there are some great consolation prizes afterward, such as Adam Fantilli, Matvei Michkov, and Leo Carlsson. After a dynamic showing at the World U18 Hockey Championship, winning tournament MVP with 20 points (nine goals, 11 assists), forward Will Smith could find his way into the top five as well. The bottom line is the Blackhawks will land a special talent and possibly the next face of their franchise.
Related: Fantilli's Chicago Steel Roots Paving the Way to NHL Stardom
With the league's worst record, the Anaheim Ducks have the best odds (a 25.5% chance) of landing the top pick, followed by the Columbus Blue Jackets with a 13.5% chance. The worst regular-season team has landed the No. 1 pick in four of the last 10 drafts, including the two most recent, the Buffalo Sabres (Owen Power, 2021) and Montreal Canadiens (Juraj Slafkovsky, 2022). In two of the last 10 drafts, the third-worst team has gotten the No. 1 pick just twice, including the Edmonton Oilers in 2015 (Connor McDavid) and Devils in 2019 (Jack Hughes).
The Blackhawks are barely into their offseason, but there are many storylines to follow about the team and previous members of the organization. Monday's lottery should also provide more clarity on what their future core could look like, especially if they somehow land the No. 1 pick. It will be an important few months ahead before free agency begins and next season's roster takes shape.