The Chicago Blackhawks missed the playoffs for the first time since 2008, and, whether justified or not, a lot of the blame was placed on an underperforming and aging defensive core. Duncan Keith, while never much of a scorer, tied a career-low in goals with two. He scored 32 points, which was also a low mark for the perennial 40-point man.
His fellow blueliner, Brent Seabrook, didn't fare much better, in fact, maybe he fared a bit worse. He accumulated just 26 points and even more alarmingly averaged just over 20 minutes of ice-time this past season. His average of 20:12 on-ice per game was his lowest since rookie season in 2005-06. Given that they missed the playoffs – finishing last in the Central Division will do that to a team – Chicago will draft unusually high at number eight in Dallas.
Defense, specifically a defender with some scoring ability, should be priority number one for Stan Bowman and the Blackhawks. But, who could still be available around the eight spot?
Best Defenceman Ranked 5th and 6th
The Blackhawks would love to draft consensus number one draft pick, Rasmus Dahlin, but so would the other 30 teams in the league. Dahlin is going to Buffalo at number one, that much is certain. The next best defenceman to be picked after the big Swede remains to be seen. According to Bob McKenzie's latest TSN Draft Rankings the best defenceman after Dahlin are (as projected in the ranking) Evan Bouchard at five, Adam Boqvist at six, Noah Dobson at eight and Quinn Hughes at nine.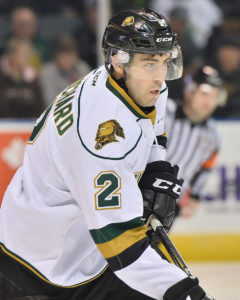 Evan Bouchard, captain of the OHL's London Knights, had something of a breakout year this season. Bouchard was named captain of the Knights mid-season, following London trading away four of his teammates, and he did not disappoint with the added responsibility. He tallied a scorching 87 points, which included 25 goals and he led the Knights to an eventual playoff berth. Bouchard is a good skater with a hard slap shot, and at 6-foot-2 and 192 pounds, he is big enough not to be pushed around.
He can also quarterback a power play. Questions have been raised however about his lax play at times in his own end and the accuracy of his powerful shot. Either way, it seems the positives outweigh the negatives for Bouchard and if he's still around at the eighth spot, expect Bowman to consider pulling the trigger. The Hawks could use all the help they can get on the powerplay, which ranked tied for 23rd in the league with Calgary this season.
Swedish prospect Adam Boqvist falls just behind Bouchard at six in the rankings. Another offensive-minded defenceman, Boqvist scored 24 points with his Swedish junior team this season. He's a fast and skilled skater and possesses elite puck control. Boqvist is still only 17 and his birthday is not until August, so he still has a lot of growing and development to come. This is true especially in regards to defensive play and toughness. Although, again, with Keith and Seabrook misfiring Boqvist could indeed be one for Chicago's future.
Best Defenceman Ranked 8th & 9th
If Bouchard and Boqvist don't fall in expected draft order, the Hawks still have two pretty solid options projected at eight and nine, respectively. Ranked at eight is Acadie-Bathurst Titan, of the QMJHL, Noah Dobson. Dobson scored 69 points with the Junior-A Titans this season and is a solid two-way defenceman. Even though he's still only 18, Dobson is 6-foot-3 and excels at shutting opposing players down. There are some questions around his skating speed and his ability to close the gap on players, but, again, he still has time to grow. He could be a steal for Chicago at number eight.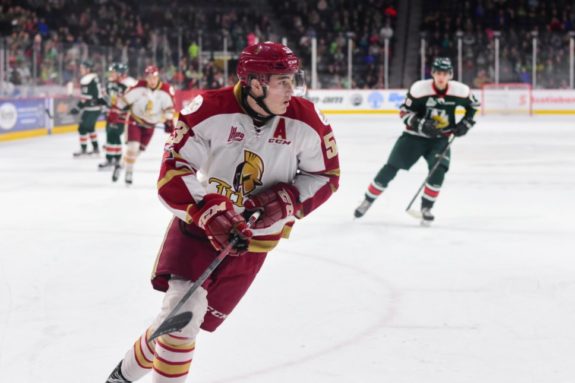 Ranked ninth and our last possibility for the Hawks in the eighth draft spot is Quinn Hughes of the University of Michigan. Hughes put up 29 points with the Wolverines this season and has great offensive potential. He's a good and fast skater, with a decent left shot and even better playmaking ability. At 5-foot-10, he does at times struggle to win puck battles, and that definitely hurts his defensive game. Although, again, with the potential to see the ice and create plays almost at will, he could be an option of the future, especially if Keith and Seabrook remain on the wane.
Whoever does come in for Chicago at number eight, expect the added depth on the blueline, and, by the looks of the players above, added offensive prowess. This is definitely useful for a Blackhawks team whose scoring seemed to have dried up last season, as Chicago ranked 20th overall in scoring.
You're up Stan.