The 2017-18 Philadelphia Flyers season was a roller-coaster ride that ended with their second postseason berth in the last three years. The season was filled with great moments, goals, saves and players' performances. Over the next couple of weeks, The Hockey Writers will take a deep look at each month of action. We will break down what happened in a specific month and what it meant to the season and the future of the franchise.
Metropolitan Division Games Begin
After playing only five division games in the first three months of the season, the Flyers played Metropolitan opponents seven times in January. They were 4-3 in those games, which were mostly high-scoring affairs, as the Orange and Black were outscored 24-21. The power play scored five times on 22 chances, while the penalty kill, no surprise, struggled giving up eight goals on 22 opportunities. The shots on goal were close as the Flyers fired 195 and gave up 196.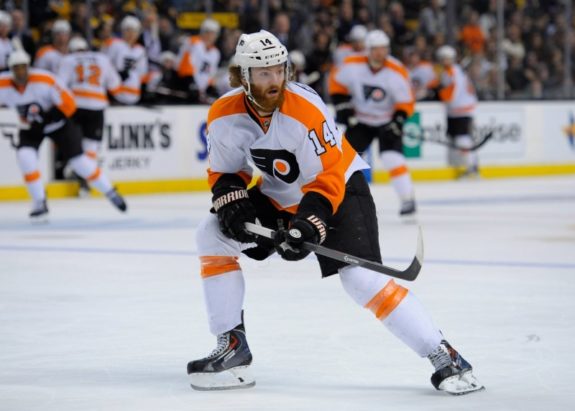 Travis Konecny was on fire in these games, scoring five goals and he had the game-winning goal in all three divisional victories. His new linemates, Claude Giroux and Sean Couturier, were also both successful. Giroux had five assists and Couturier, who already set career-highs in goals and assists, had seven points against the Metropolitan division opponents.
Moment of the Month
On Jan. 18, against the Toronto Maple Leafs, Eric Lindros became the sixth player in franchise history to have his number raised to the rafters. No. 88 joined Bernie Parent, Mark Howe, Barry Ashbee, Bill Barber, and Bobby Clarke in the Wells Fargo Center rafters.
Lindros' Flyers career spanned eight seasons where he recorded 290 goals and 369 assists for 659 points. His career points-per-game average of 1.36 ranks first in franchise history. The night was a special one for fans who, after watching Lindros grow up right before their eyes, had been wishing that one of the best Flyers of all-time would finally get a fitting send-off after his ominous end in Philadelphia eighteen years ago.
Inducted into the Flyers Hall of Fame in 2014 and the Hockey Hall of Fame in 2016, this was an honor well deserved for 'Big E' and was a night to remember. The current Flyers gave the fans an added show that night – they came back from being down 2-0 in the third to win 18 seconds in overtime on a Sean Couturier goal.
The Numbers Don't Lie
Konecny, playing on the top line, had a five-game goal streak from Jan. 20 to Jan. 31. Konecny scored game-winning goals 27 seconds into overtime in two consecutive games, giving the Flyers a 2-1 win at Washington on Jan. 21 and a 3-2 win at Detroit on Jan. 23. He became the second player in franchise history to score back-to-back GWGs in overtime, joining Sami Kapanen.
Brian Elliott finally got some rest this month and Michael Neuvirth finally played some hockey when he came in to relieve Elliott in a 5-1 loss to the Pittsburgh Penguins. This was the first time since Nov. 28 that Elliott was manning the crease. Five days later, Neuvirth started in a 4-1 victory over the Buffalo Sabres, ending Elliott's 16 consecutive start streak. This run caught up with the veteran netminder as he was forced to miss the end of the month due to a lower-body injury. Dave Hakstol's distrust of Alex Lyon's play during this time also could have cost Elliott his health at the end of the season.
Two Flyers made their NHL debuts this month – Tyrell Goulborne, in a win over the St. Louis Blues on Jan. 6 and goalie, Alex Lyon, finally got into a game, when he made a relief appearance in a loss to the New Jersey Devils on Jan. 31.
Former Producer for the NHL Network and Fantasy Insider for NHL.com. Emmy award winning ESPN alum & former PR for the Flyers & Phantoms. Proud Temple Univ. Grad.