When it comes to the New Jersey Devils' forwards, the first names that probably pop in your head are Taylor Hall, Nico Hischier, and Kyle Palmieri. Considering they were the Devils' top three scorers this past season, you'd be right to think of them first. Although they led the way for the Devils, the team wouldn't have made the postseason without contributions from some of their lesser-known players.
One of those under-the-radar forwards would be Blake Coleman, who finished the year with 13 goals and 12 assists in 79 games. That may not seem impressive but make no mistake, he was one of the team's most important players and one of their best defensive forwards in 2017-18.
Coleman's Impact Felt on the Ice
While Hall and Hischier led the Devils' offense, Coleman had the task of shutting down the opposition's top players on any given night. Even though that was the case, the Devils were still noticeably better with Coleman on the ice to compared when he was off the ice, as the following graph (at five-on-five) will indicate.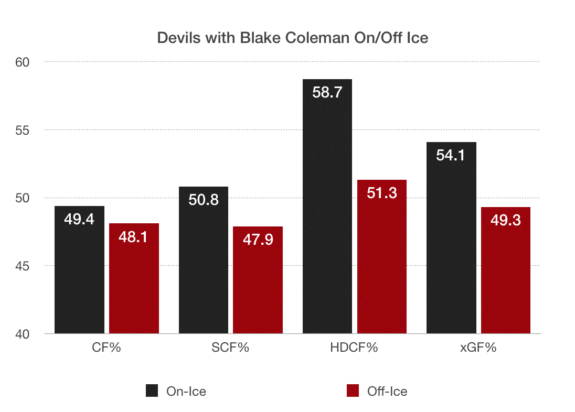 The Devils didn't necessarily out-attempt their opponents by a wide margin with Coleman on the ice — there was only a 1.3% difference in their Corsi (CF%). Where they made up the most ground was in scoring chances (SCF%) and high-danger chances (HDCF%). The Devils SCF% was 2.9% better with him on the ice, while their HDCF% was 7.4% better. They were also expected to score way more with him on the ice, as their expected goals (xGF%) indicates.
A big reason for the Devils' success with Coleman on the ice was due to the way he was able to prevent opposing teams from generating shots and chances. For the season, the Devils averaged 53.2 shot attempts against per 60 minutes with him on the ice, which was third-best on the team. He also ranked third and fourth on the team in scoring and high-danger chances against per 60 minutes.
Every team needs a player like Coleman to handle the tough defensive assignments. He made an impact and helped the team form an imposing checking line with Travis Zajac and Stefan Noesen that came up big down the stretch of the season. The Devils were far from one of the best defensive teams in the league in 2017-18, so it's hard to imagine where they would've been without Coleman contributing the defensive minutes he did.
What Coleman's Next Contract May Be
Like Miles Wood, who I profiled last week, Coleman will be facing restricted free agency this summer. While their numbers are not too different from each other's, they are two different players, and Wood most likely has the most offensive upside of the two. That said, Coleman's significance to the Devils shouldn't be brushed off because he isn't the better offensive player.
At 26 years old, his situation is a bit different than Wood's, as he would be eligible to become an unrestricted free agent next summer. Paying Coleman shouldn't be an issue for a couple of factors – the Devils have plenty of cap space this summer, and he won't cost a whole lot to re-sign for next season and beyond.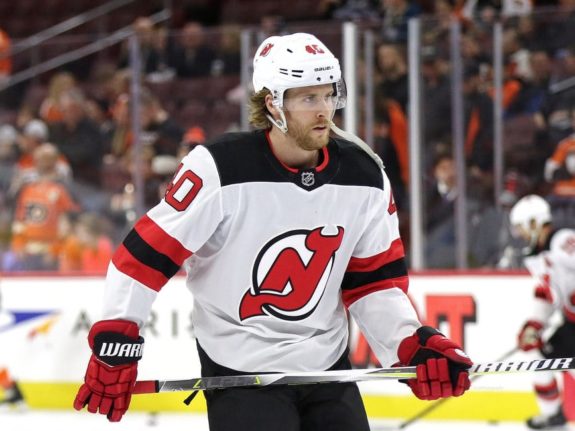 The key with Coleman will be determining what kind of term he gets. As most successful teams do in today's NHL, they don't bog themselves down with long-term contracts for role players. Coleman is an essential part of the Devils' current roster but giving him a deal any longer than two to three years would most likely be a mistake at this point in his career.
The Devils have some needs to fill for both a scorer and a top-four defenseman, and those can come with expensive long-term deals. If they have any plans to care of each need this summer, or specifically in next year's potentially loaded free agent class, then giving a player like Coleman a type of deal that won't hurt them in the long-term will be crucial.
Related: Bratt's Fairy Tale Season has Devilish End
What Coleman Needs to Improve
Even though Coleman had some of the best defensive numbers of any Devils' forward this season, there is always room for improvement. That said, if he posts similar numbers in 2018-19, there won't be many complaints from the Devils' coaches.
If Coleman wants to take the next step in his career, improving his offense will be what he needs to focus on the most. For the year, he averaged 1.35 points per 60 minutes (P/60), and although he didn't score much, he created plenty of chances for himself. For the year, he averaged the fourth most individual scoring chances per 60 minutes on the team but couldn't convert on some of his opportunities.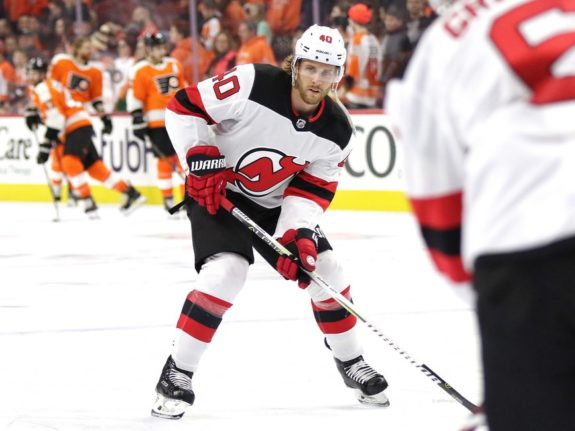 However, Coleman did find his scoring touch towards the end of the season. He scored seven goals in his final 16 games, which is good for a 35-goal pace over 82 games. I don't think he will ever be that type of player in the long-term, but the Devils do need more scoring. If he can provide that on a more consistent basis in 2018-19, then expect him to build off what was an already underrated rookie season.
*    *    *
Advanced stats from Natural Stat Trick except where noted