Late last week, I took a look at Nico Hischier's rookie season and the impact he had on the New Jersey Devils. It's probably safe to assume that they wouldn't have made the playoffs without him. Today, I'll be reviewing Miles Wood's season. He may not have had the same influence as Hischier, but his play took a significant step forward from where he was in 2016-17.
Substantial Gains Made with Wood on the Ice
Wood was quietly one of the Devils' most effective players this season. He finished with 19 goals, fourth on the team behind Taylor Hall, Kyle Palmieri, and Nico Hischier. It was also an 11 goal jump from a year ago. Scoring wasn't the only area where Wood showed improvement from last season. He also had a noticeable gain in his on-ice stats. The following graph compares his underlying numbers at five-on-five from 2016-17 to 2017-18.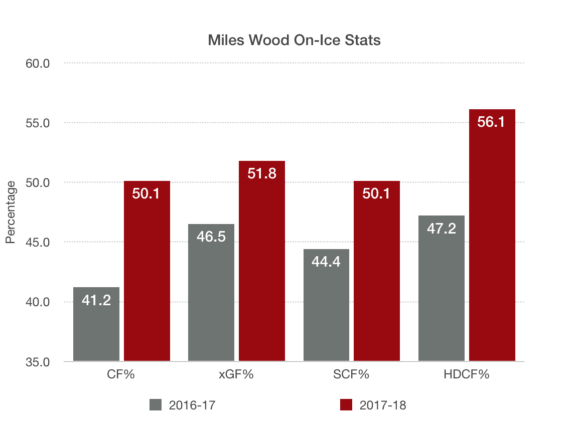 The Devils generated decidedly better numbers with Wood on the ice. The team's Corsi (CF%) was almost 9% higher. They also created many more scoring chances (SCF%) and high-danger chances (HDCF%). They also had a 5.3% increase in their expected goals (xGF%).
The Devils were not a great team at five-on-five. They had only six players finish with a CF% of 50% or higher, and Wood happened to be one of them. His xGF% also ranked eighth and was fifth best of any forward on the team to play at least 100 minutes. Pretty impressive considering he had some of the worst underlying numbers on the Devils just a season ago.
Wood Provided Crucial Secondary Scoring
Secondary scoring was a problem for the Devils, and it's something they'll need to address this offseason. However, that was no fault of Miles Wood. At five-on-five, he averaged 1.11 goals per 60 minutes (G/60). That was first on the team, ahead of the two leading goal scorers, Hall (1.06 G/60) and Palmieri (0.91 G/60).
Overall, Wood was one of the Devils' top point producers at five-on-five. He finished the season averaging 2.02 points per 60 minutes (P/60), which was third on the team behind Hall and Hischier. That's a substantial jump from the 1.09 P/60 he averaged last season as a rookie. It's also impressive considering he only played 863 minutes at five-on-five. When all was said and done, Wood turned out to be one of the team's most effective scorers.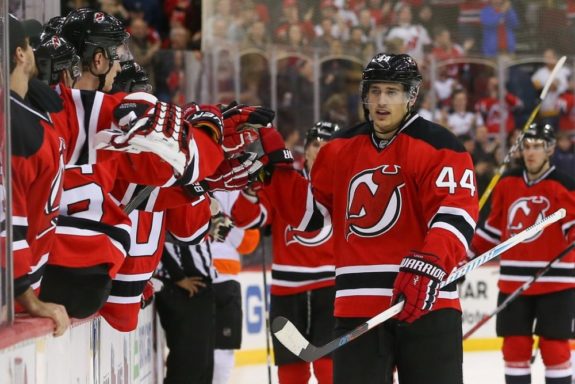 One reason for Wood's increased scoring rates was his shot generation. In 2016-17, he had 86 shots on goal at five-on-five in 60 games (1.4 SOG a game). This season, he finished with 156 shots on goal in 76 games (2.1 SOG a game). If he continues to average close to two shots on goal a game, then he should be able to maintain scoring at a pretty good clip.
Wood Passed the Eye Test
Aside from the fancy metrics, Wood also passed the old-fashioned eye test, as Devils head coach John Hynes would tell you:
"I think he's learned how to use speed," Hynes told Andrew Gross of northjersey.com back on March 2. "At times, you could say his speed looks reckless, but it is more controlled. He's able to understand how to play defensively a lot better than last year, his awareness away from the puck. He's been very strong around the net."
Wood showed glimpses of his potential when he was a rookie. The speed was there, and he was able to create a few breakaway chances from it. Hynes was right in saying that Wood learned to control his speed. This season, he used it to his benefit. He also took advantage of his scoring chances more often than not, even as he cooled off towards the end of the year.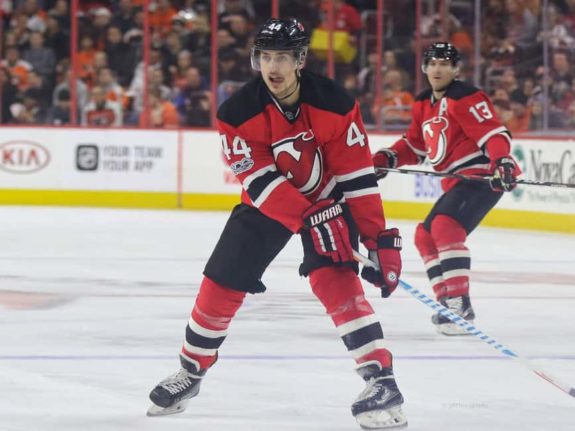 Wood's entry-level deal will expire this summer, and he will become a restricted free agent on July 1. Barring a trade, he'll be back with the Devils next season. He'll most likely be looking at a bridge deal and should come at a reasonable price for the Devils who have around $20 mil in cap space. Any deal he gets won't break the bank or affect the organization's summer plans.
What Wood Needs to Improve Going Forward
At just 22-years old, Wood is one of the Devils' top young players in the organization. The key for him will be to not take a step back after progressing nicely this season. There are still areas he has to work on this offseason to become a consistent offensive threat, like cutting down on penalties and be more disciplined.
If the Devils want to make a deeper playoff run next season, he'll need to take another step forward in 2018-19. He doesn't need to be the go-to guy, but they will need him to continue to provide scoring depth. If he can show he's capable of potting 20 goals on a regular basis, the Devils will be a better team for it. That will give them a better chance of sustaining their success and proving they weren't a one season wonder.
*    *    *
Advanced Stats from Corsica Hockey, unless noted otherwise