For the Chicago Blackhawks, their two-game season-opening series against the Tampa Bay Lightning was rough, as they lost both games. Their following series against the Florida Panthers should have been a series that brought a sense of relief – a new day, new team, new series, and a new opportunity for success. Unfortunately, their mission fell flat once again.
Their first game against the Panthers on Jan. 17 was lost 5-2. Their second game against them on Jan. 19 was a 5-4 overtime loss. Although the Blackhawks remain winless, the series against the Panthers provided something that their series with the Bolts did not – some positive attributes. They got one point from their overtime loss, and the youth also showed up. Here are some takeaways from the series.
1. New Goalie Alert
The Blackhawks' series against the Panthers brought some continuity. Goaltender Collin Delia started in the first game, and Kevin Lankinen replaced him for the second game, but Chicago allowed five goals in both contests.. It seems like at this point, it doesn't matter which goalie starts. It seems like no matter what, they are going to continue giving up five-plus goals a game. However, I have to give a shoutout to Lankinen.
The 25-year-old has been in the Blackhawks' pipeline since 2018, so this was a huge opportunity for him. For his first NHL start, he had a .833 SV% with 4.79 GAA. However, those stats don't tell the full story. I thought he looked very good. He didn't make a ton of mistakes and he made some excellent saves. I think he deserves to start the next game. Overall, I think he showed a lot of potential, which is great for him and the team. Who knows? He could end up being the Hawks' hidden gem.
2. Kubalik Regains Form
All of Chicago wanted justice for left-wing Dominik Kubalik. For whatever reason, head coach Jeremy Colliton had limited his ice time in the first three games. In one game, he only had 11 minutes of ice time. For an offensive weapon like Kubalik, that move is indefensible. It also could have been hindering the team's offense. Finally, Colliton upped his ice time during the Panthers' series, and as expected, it paid off.
He ended up scoring two power-play goals in the second game. It shows how significant he is to the team. Everyone knows what a scoring threat he is at even strength. Last year, he had 30 goals, and only four of them came from the power play. He now has two power-play goals in four games this season.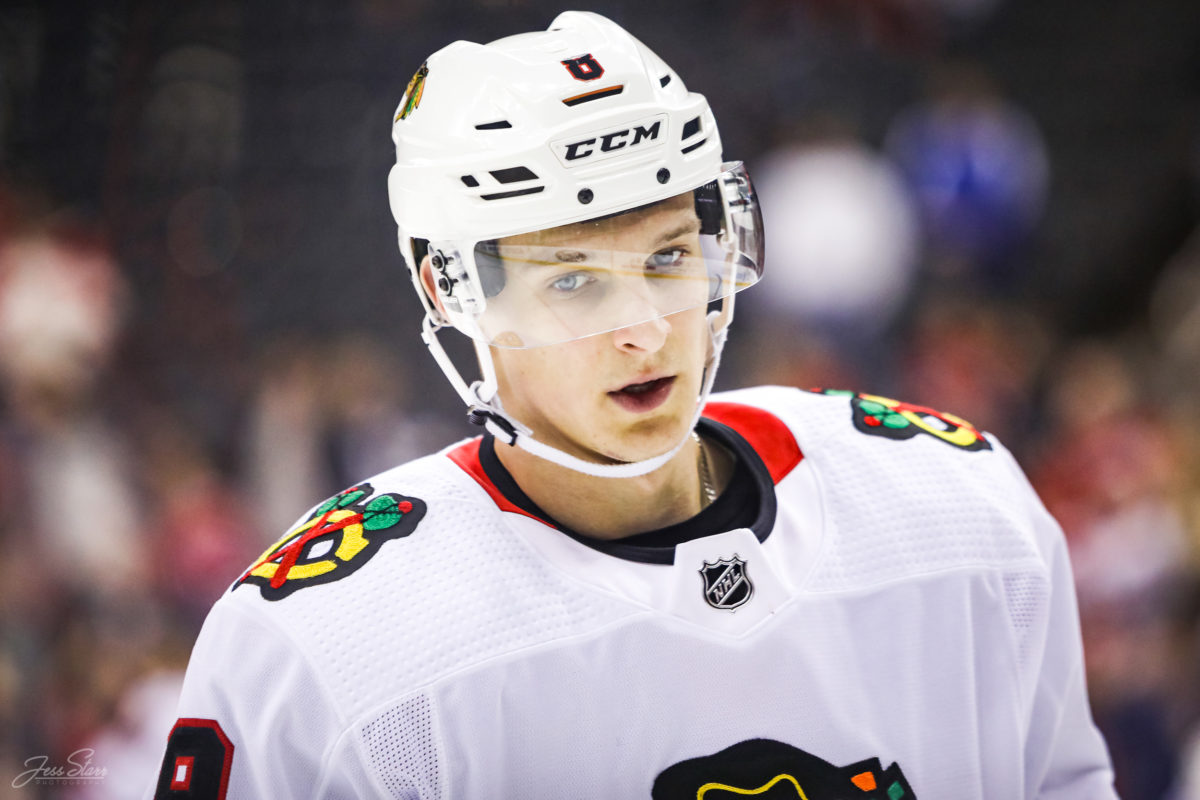 Kubalik getting hot is very good news for the Hawks and very bad news for the rest of the Central Division. Now, we'll have to wait and see how this will affect the Hawks' offense in their upcoming games.
3. Kurashev Joins the Party
21-year-old center Philipp Kurashev has been noted as a prospect that couldn't get to Chicago fast enough. He was their fourth-round pick in the 2018 NHL Draft and is a player that coaches, players, and even general manager Stan Bowman could not stop talking about. (from 'Philipp Kurashev's autumn in Switzerland fueled his Blackhawks breakthrough- Chicago Sun-Times – 1/20/2021).
Kurashev has all the talent in the world and that was clearly on display against the Panthers. He made his NHL debut on Jan. 15 against Tampa. However, the Florida series was notable. During the game on Jan. 19, he scored his first NHL goal. He was put on the second line with Kubalik and Dylan Strome. This game, particularly, I thought he was the most noticeable. His skating and puck-moving abilities are so smooth. I think he could end up being the real deal as he continues to grow into the game. If you missed it, here is a look at his goal that he scored in the third period.
I love this goal for so many reasons. It was against Sergei Bobrovsky, who is a two-time Vezina Trophy-winning goaltender. To be able to catch him off-guard like that has to feel good on Kurashev's part. It was also significant because his goal gave the Blackhawks' their first lead of the season. Safe to say, I think he has solidified himself on the roster.
4. Power Play Stays Hot
As mentioned above, Kubalik scored two goals on the power play in the second game against the Cats. Forward Alex DeBrincat scored on the power play in the first game. The Panthers' series provided them a good confidence boost that their power play could end up being their shining star this season. With that, the team has now scored power-play goals in all of their games so far this season. That hasn't been done by the Hawks since their 2012-13 season. Their special teams are off to a very good start. If it stays that way, it will help them win games.
Final Thoughts
The sad fact is that the Blackhawks are not very good, nor were they expected to be very good. However, this series showed that the positives come from the youth. If they can continue to go on hot streaks, it will make this season a lot more interesting. Ultimately, the youth are what is going to push this team forward. If they can stick to the good parts of their game, then they have a good chance to get their first win against the Detroit Red Wings on Jan. 22 and 24.
Hawks/Wings Show
On Jan. 22, Team Blackhawks and Team Red Wings here at The Hockey Writers will be collaborating both of our shows, 'Blackhawks Banter' and 'The Grind Line' for the first game of the Detroit/Chicago series. We will be watching the first period of the game together with some good ole' Original Six rivalry talk along the way. Be sure to tune in at 7 PM CST on The Hockey Writers Youtube Channel and talk with us!
Looking for more Blackhawks' content? Tune in on Monday nights for our weekly 'Blackhawks Banter' show on Youtube and Facebook. We talk about everything related to the team We stream live at 7:00 PM CST on the THW YouTube channel. Be sure to like, follow, and subscribe so you don't miss out! You can check out our latest show below.
---
---