Jim Neveau, Blackhawks Correspondent
-It seems fitting that the final goal of the 2009-10 Blackhawks' season was scored by Patrick Kane.
After his off-season transgressions put a damper on the beginning of the year for the Hawks, Kane had his best offensive season yet. Thanks to his weight lifting regimen during the off-season, Kane gained 15 pounds of muscle, and showed far greater puck control than he had the previous two seasons. This ability to better hold onto the puck resulted in Patrick scoring 30 goals and dishing out 58 helpers during the regular season, both of which led the team.
Add to that the 10 goals and 18 assists he racked up during the Stanley Cup playoffs, and you are looking at some pretty impressive numbers for a 21 year old kid who had plenty of off-ice distractions to weigh down his psyche going into the year (and that's not even mentioning the shirtless limo ride in Vancouver).
In a season that clearly forced Kane to grow up and begin to accept responsibility for his actions, he blossomed into one of the best scorers in the NHL, and set himself up to be a force to be reckoned with for years to come.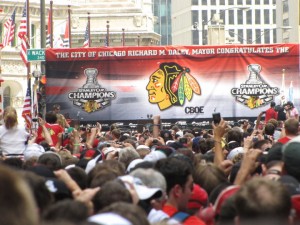 -Jonathan Toews may not be the most famous player in the NHL, but he certainly has to rank among the most valuable to their team.
Not only does he score goals and dish out assists with equal fervor, but he also plays very solid defense as a center. He uses his big body to his advantage, mixing some physical play in with a lightning quick poke-check that often results in rush-killing turnovers for the other team. His back-checking skills had NHL writers discussing a possible Selke nomination for the 22-year old captain, and with good reason. He plays the game much the same way that Pavel Datsyuk does, and he is every bit as important to the success of the Hawks as Datsyuk is to the Wings.
Toews and Kane were both rewarded with new five year contracts earlier this season, and with Toews' Conn Smythe winning performance in the playoffs, it seems as though Chicago's investment in their two youngest stars may pay some huge dividends for years to come.
-While Duncan Keith may get all the hype as a Norris Trophy-nominated defenseman, there are two other really great D-men that call Chicago home: Brent Sopel and Niklas Hjalmarsson.
Sopel, a likely cap casualty because of the one year remaining on his contract, not only can pitch in as a solid puck mover for the Hawks, but he is one of the best shot-blockers in the league when his game is on. Time after time in these playoffs, Sopel would rack up shot blocks like Jay-Z does platinum records, and he would do it all in such a quiet and workmanlike way that you wouldn't even notice until you perused the box score after the contest.
As for Hjalmarsson, he finally began living up to some of the praise that Scotty Bowman heaped upon him early in the year when he compared the young Swede to veteran Detroit blue liner Nicklas Lidstrom. While Hjalmarsson may not be as dangerous an offensive threat as Lidstrom, he certainly can hold his own with his decent slapshot and exceptional passing ability. His real talent, however, lies with his defense.
Not only is Hjalmarsson lightning quick on his feet, but he also can block a shot and bounce back up without missing a beat. This ability to take away passing and shooting lanes with a sprawling block attempt makes him a nuisance for opponents, and his penchant for maintaining an active stick also creates problems for attackers. Needless to say, he will be looking for a pretty good pay raise when he and his agent meet with the Hawks at the negotiating table.
-If Patrick Sharp is truly going to be traded for salary cap reasons, he did nothing but help his stock with the incredible level at which he played during the playoffs.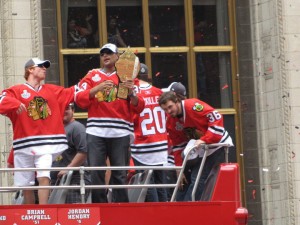 He finished with a team-leading 11 goals during the "second season", and he also added 11 assists to finish 3rd on the team with 22 points. He also led the team with a plus-10 during the playoffs, which is a pretty remarkable achievement for a forward.
He pressured the puck well on the defensive side of the ice, and he was constantly upping the tempo with a mixture of speed and puck-handling prowess that made it appear that he was skating on fresher legs than everyone else.
His chemistry with linemate Marian Hossa was another key contributing factor to the Hawks' Cup victory, and if by some miracle Chicago is able to keep Sharp, Hossa will certainly be among the leading candidates to skate on his line.
-Dale Tallon deserves a Stanley Cup ring, not only for the job he did in helping to build this franchise back into a contender, but also because of the class with which he handled being railroaded off the job by John McDonough and the front office.
Tallon may have been the one chosen by the angry mob to be tarred and feathered because of his mis-handling of the qualifying offers to last year's Restricted Free Agent class, and he also has been much maligned for the contracts given to Brian Campbell and Cristobal Huet, but when push comes to shove, he did the drafting, trading, and signing that led this team to where it is today: a Stanley Cup championship. For those reasons, Tallon not only deserves a ring for his efforts (which the Hawks have said he will receive), but he also deserves to have his name among the 52 engraved on the Stanley Cup.
-What on Earth is going to happen to Cristobal Huet?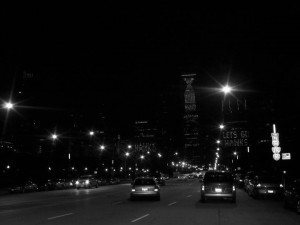 Rumors have been swirling over how Stan Bowman is going to handle the Huet situation, ranging from trading him for a bucket full of pucks to sending him down to Rockford for the entire season to keep his contract off of the salary cap.
Whether Bowman will be able to find a team brave enough to try to trade for a goaltender who clearly lost his nerve in the Windy City remains to be seen, but one thing is certain: the status of Huet has the potential to either make or break what the Hawks have put together to get to the highest level of the hockey world.
Gut feeling on what will end up happening to Huet: the Hawks are going to trade him for another sort of bad contract, but give themselves enough wiggle room cap-wise to give Niemi a nice extension in the 3-year, $3 million per range that they gave Kris Versteeg and Cam Barker last year.
The second-most likely scenario would be to buy the contract out, which would make Huet a free agent immediately, but the Hawks would be on the hook for about $3.5 million of cap hit for each of the next two seasons, and the money saved probably wouldn't be worth it.
The least likely option that Bowman could exercise would be to send Huet down to Rockford to get him some playing time, and to perhaps entice a team to trade for him. It looks bad PR-wise for the Hawks to merely shuttle one of their financial issues down the road to Rockford, and no team is going to trade for a guy damaged psychologically by a trip down to the minors. It simply won't happen in the penny-pinching world of today's NHL.
-Finally, as the celebrations of the Hawks' championship wind down, and as the players themselves reflect on what they've accomplished, fans need to actually take a moment and say a quick word of thanks to Bill Wirtz.
No, he should not be thanked for keeping the Hawks off of television, or for any of the other cost-cutting maneuvers his administration oversaw, but instead the man should be thanked for helping raise his son Rocky. Rocky has the business acumen of a champion, and the passion of a true fan, and he wouldn't possess either of those traits if not for the influence of his old man.
So, when you are knelt down beside your bed tonight saying your prayers and thanking Rocky for making hockey relevant in Chicago again, remember to say a quick word thanking Bill too.