Don't look now, but this Chicago Blackhawks team that wasn't supposed to be very good just swept the defending conference champion Dallas Stars in their latest two-game series. They earned three-of-four points in the series against the Carolina Hurricanes before that. The Blackhawks are currently 6-4-4 on the season. It's safe to say no one expected them to be doing this well, especially when dealing with multiple injuries and tough breaks due to COVID protocol. But this team is finding ways to win, and progressing in the process. Here are my observations from the Blackhawks' latest two victories over the Stars.   
Blackhawks' Game Results
@ Stars, Sun. 2/7, Win 2-1 (OT)
@ Stars, Tues. 2/9, Win 2-1 (OT)
4. Identical Road Map to Victory
Now don't get me wrong, it certainly would be nice to see the Blackhawks score more on 5-on-5, and win in regulation instead of overtime. Regardless, they've come out victorious in the last two extra frames, after not being able to accomplish that in four previous OT and shootout bouts. And they did it the same way both nights.
Related – Blackhawks Star of the Week: Alex DeBrincat
On Sunday night, it was dynamic first unit and trio of Alex DeBrincat (goal), Dylan Strome (primary assist) and Patrick Kane (secondary assist) that notched a power play goal in the second period. It was also DeBrincat and Kane who combined for a lovely give-and-go that ended in DeBrincat's tap-in for the OT win.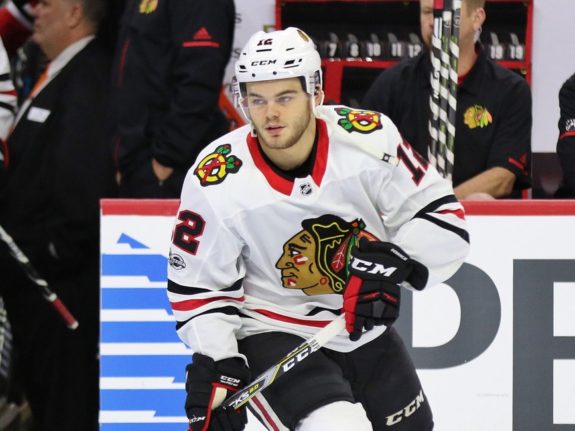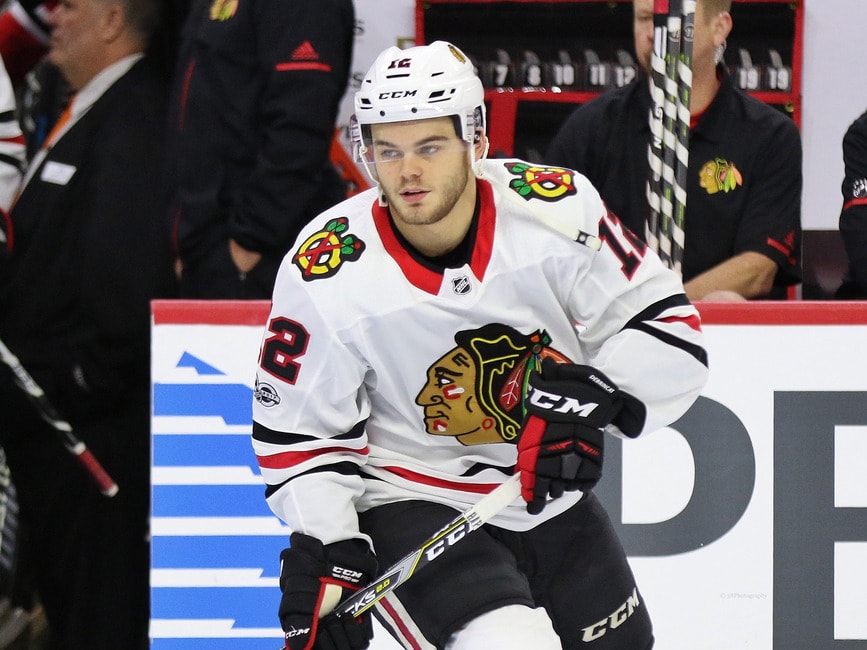 It was like the superstars showed the team how it's done, and the depth players and youngsters said, "We can do that too!" On Tuesday the second power play unit was the one that scored, with Mattias Janmark attaining the goal and Dominik Kubalik and Philipp Kurashev providing the assists. And then in overtime rookie Pius Suter tallied the game-winning goal. Fellow rookies Brandon Hagel (primary assist), Ian Mitchell and netminder Kevin Lankinen (secondary assist) were out on the ice with him. Not a veteran to be found.
Obviously head coach Jeremy Colliton is committing to developing the youth just as he promised. He's trusting them and utilizing them in important game situations. The good news is they're excelling in their new-found roles and helping the team win.
3. Power Play Poses Dual Threat
Above I referenced the top power play unit, who scored on Sunday night. With players such as Kane, DeBrincat, Strome, Andrew Shaw and Duncan Keith on the ice, it's easy to see why they've been successful. This unit has focused on their puck movement, which in turn opens up shooting lanes and opportunities. Colliton has leaned heavily on this unit in the past, giving them the majority of the allotted two minutes of the man advantage to do their thing and try to get the puck in the net.
Related – Blackhawks Weather the Storm Against Hurricanes
But the second unit isn't too shabby either. When given the opportunity, the likes of Kubalik, Janmark, Suter, Kurashev and Nicolas Beaudin have converted on the power play as well. Lucas Wallmark and Ian Mitchell have been regular members of this unit also.
On Tuesday the first PP unit had three chances in the first period, and they simply couldn't get much done. So when the Blackhawks were awarded a fourth power play, Colliton sent his second unit over the boards first. They didn't disappoint, with Janmark getting the honors of scoring against his former team.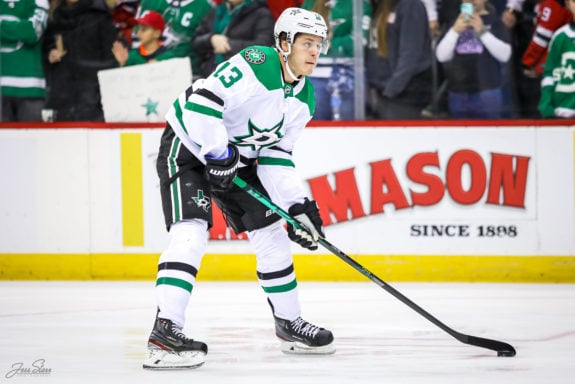 This second unit usually doesn't get as much time on the ice to set up, so their focus is simply getting the puck to the net and shooting as much as possible. They provide an added threat in that opposing teams don't see as much of them or study their strategies. They're like the ace up Colliton's sleeve. Look for him to utilize them more moving forward.
2. Janmark Trumps His Former Team
I already mentioned Janmark and his power play goal. At the beginning of the season, Janmark mentioned he wished he could have more offensive opportunities in Chicago than he did in Dallas. The recent COVID losses of DeBrincat and Wallmark have given him that chance, allowing him to play of the top line with Kane as well as the second power play unit.
Former teammate and friend John Klingberg commented on Janmark's contributions before Tuesday's contest.
John Klingberg's full comment on his friend and former #GoStars teammate Mattias Janmark. #Blackhawks pic.twitter.com/GEazAniqlk

— Brandon Cain (@brandonmcain) February 9, 2021
"He really can't shoot the puck". Well it's all good-natured ribbing, but Janmark now has five goals (and four assists) in only 14 games after only scoring six goals each of the previous two seasons in Dallas. It's safe to say he's shown up his old team, and that he's been an excellent acquisition for the Blackhawks.   
1. Kudos To the Kids
The youngsters deserve their own section here because they are the future, and their learning curve is happening faster than anyone thought. Yes there's been some expected hiccups, but the pros are outweighing the cons in most cases.  
Suter had a quiet game Sunday and a rough first period Tuesday where his turnover led to a goal against, and he later committed an ill-timed penalty. But he bounced back and scored the overtime goal, which was a beauty.
Suter leads all rookies in the league with five goals. He's also been taking more draws, and has been over 50% in the faceoff circle these last two games. That's good news for a team that notoriously struggles at the dot.  
Kurashev and Suter have been taking turns centering the top line, and both have held their own. Kurashev is right behind Suter in production, with four goals (both have three assists).
Related – Blackhawks Star of the Week: Brandon Hagel
Hagel's tenacity and speed are on full display in the video above. He's recorded two assists in 11 contests, and with all the chances he's been getting that first NHL goal should be right around the corner.
Young rookie defensemen Mitchell and Beaudin have been surprisingly steady, confident and consistent for the Blackhawks. They are making it a difficult decision for Colliton to take either one of them out of the lineup when Adam Boqvist returns, who was taken off the COVID list on Monday.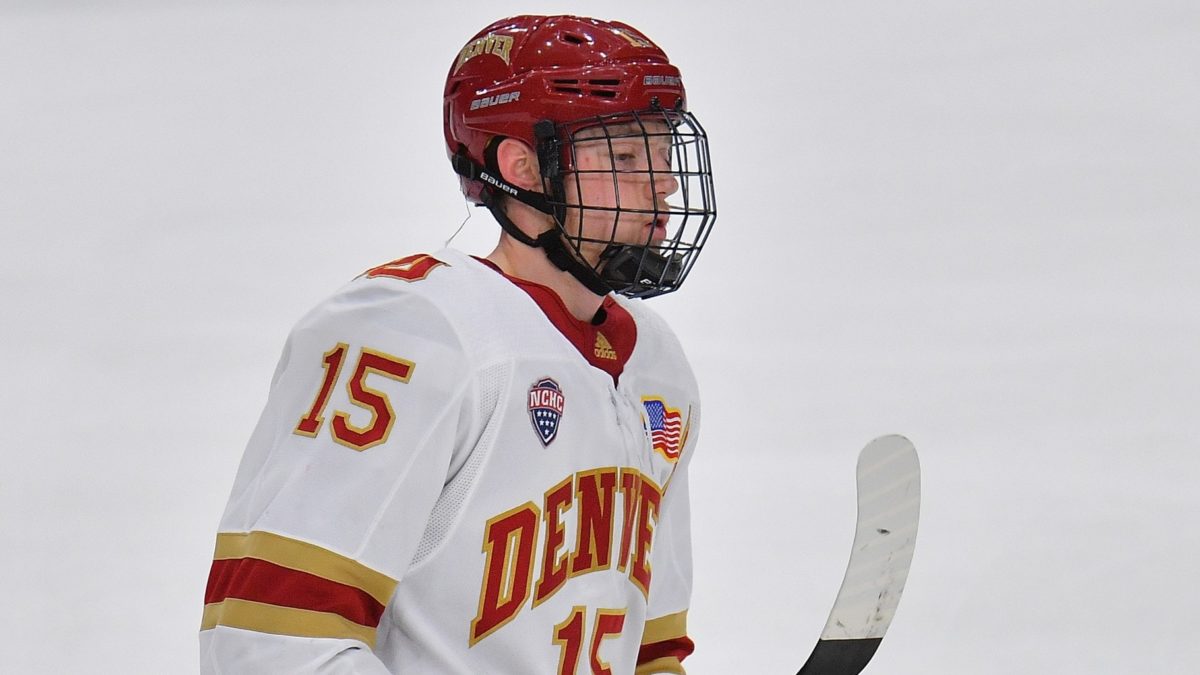 Finally, it's apparent Lankinen has earned himself the starting gig in net. Even after Malcolm Subban had an excellent outing Sunday, stopping 30-of-31 shots for a .968 save percentage, Lankinen got the nod on Tuesday. He didn't disappoint, posting a .971 SV%, and stopping 34-of-35 shots himself.
All these early rookie contributions are very promising to see.
---
The Blackhawks are winning and developing all at the same time. Not much to complain about. But I'll leave you with this. Colliton made this statement to the media before Tuesday's game.
Colliton: "I expect us to be a much better team in March and April than we are now. We have to keep that hunger."

— Ben Pope (@BenPopeCST) February 9, 2021
That's a bold statement. But I believe it.
One thing is for certain. This team is feeling it right now, and it's been fun to watch. Stay tuned; the Blackhawks face the Columbus Blue Jackets this Thursday and Saturday, followed by the Detroit Red Wings next Monday and Wednesday. The Blue Jackets have faced their share of drama this season that's been getting in the way of their success, and the Red Wings are predictably off to a slow start. Some great opportunities for the Blackhawks to add to their achievements!  
---
Looking for more Blackhawks content? Tune in to The Hockey Writers YouTube Channel for Blackhawks Banter every Monday night at 7:00 p.m. CST (8:00 p.m. EST), or on our Facebook Page. Episode 14 is featured below.
Gail Kauchak has covered the Chicago Blackhawks as a content writer since 2014. She previously wrote for Fansided's Blackhawk Up, and has been part of The Hockey Writer's team since 2017. It's not always easy to balance life's responsibility's with one's passion, but Gail's doing her best to make it happen. Quote to live by, "Follow your dreams, and good things will happen." Wait, maybe it's "Good things happen when you shoot the puck!" You get the idea.
Follow Gail for her unique commentary about this storied franchise. And be sure to catch her and the rest of the Blackhawks' crew on their weekly Blackhawks Banter show, as well as follow her on Twitter.