Sometimes you've just got it going on.
This has been Alex DeBrincat this past week for the Chicago Blackhawks. After being out four games due to COVID protocol (he did not test positive himself), DeBrincat drew back into the lineup against the Carolina Hurricanes last Tuesday night. Without the benefit of playing or even skating for nine days in a row, you would think he'd need to shake off some rust. But these kinds of things are apparently optional when you're just 23 years old. DeBrincat didn't miss a beat, providing excellent contributions through the last three contests and earning him Star of the Week honors.   
Warming up in Carolina
In Carolina on Tuesday, DeBrincat was one of two Blackhawks' players to finish the night with two points (Dominik Kubalik was the other). He provided the primary assist on goals from both Patrick Kane and Dylan Strome. The tally by Strome in the third period was key, as it was the game-tying marker that forced overtime. Alas, the Blackhawks couldn't convert in the extra frame or the shootout, and they lost the game 4-3.
Related – Blackhawks Banter: Beaudin, Janmark & Suter
This certainly wasn't for lack of trying on DeBrincat's part. He was credited with four shots on goal, a hit and a takeaway in 21:59 minutes of ice time. Head coach Jeremy Colliton was riding the hot hand, as DeBrincat also played the most minutes on the team in the extra frame (2:55) and was selected as the first shooter in the shootout.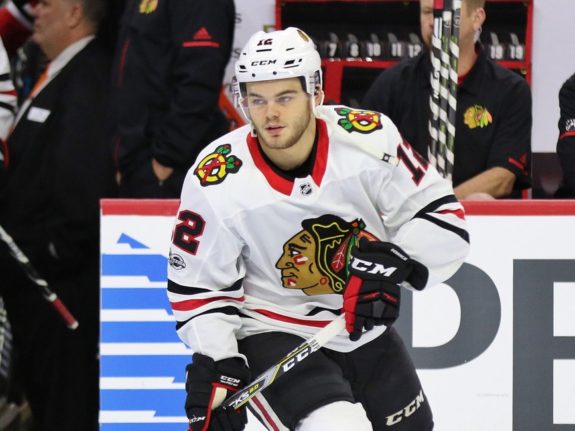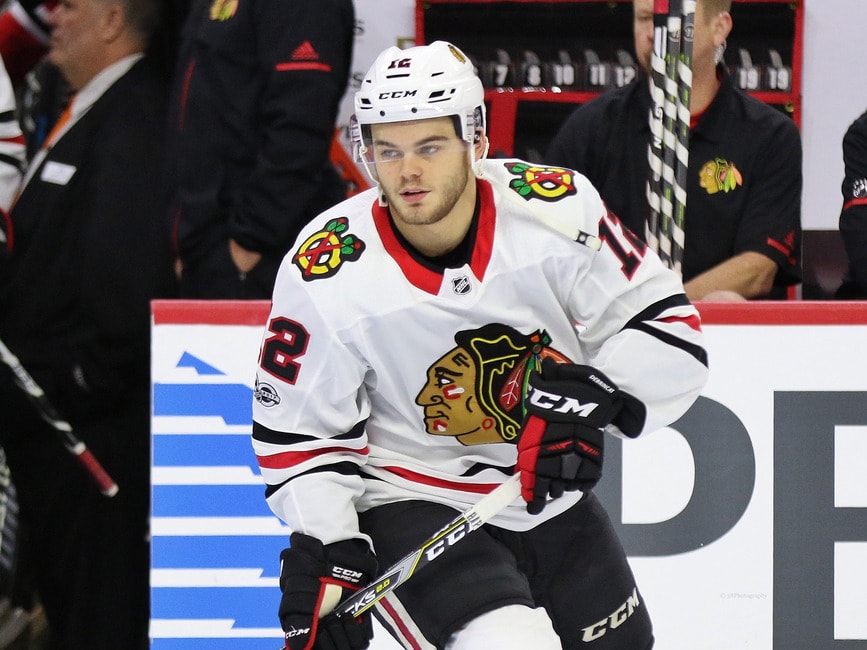 The young forward took this momentum into Thursday's second tilt against the Canes. This time he and the team pulled off a romping 6-4 win, fueled by three power play goals, a Kaner tally, and two goals by DeBrincat. Again, the Cat provided the spark that was needed in the third period, notching the goal to break a 4-4 tie. His ensuing empty netter put the game away for good, helping the team obtain their fourth victory of the season.
DeBrincat was credited with six shots on goal, four hits, two blocked shots and two takeaways in the victory.  
Providing the Finish in Dallas
Fast forward to Sunday's matchup against the Dallas Stars. This was a hard-fought, low-scoring affair that resulted in 1-1 tie after 60 minutes. DeBrincat recorded a team-high seven shots on net, and also provided the regulation goal for the Blackhawks with a power play tally. The below video shows beautiful puck movement by the Blackhawks' first power play unit, and Strome finding DeBrincat back door. Other teams know to look for this, but it just doesn't matter when it's executed this perfectly.
If you've been watching the Blackhawks lately you know that nothing is ever easy, and the team headed to overtime for the fifth time this season, having come out on the wrong side in all of them. But this extra frame was different, thanks to the game-winning goal by DeBrincat. It was a magnificent give-and-go between he and Kane that DeBrincat tapped in for the win.  
The Benefit of a Line Change
From an overall team perspective, it might be a blessing in disguise DeBrincat was forced to sit out due to COVID protocol. In his absence, the Blackhawks moved Mattias Janmark up to DeBrincat's spot on the top line alongside Philipp Kurashev and Kane. He also slotted into the second power play unit. Janmark performed extremely well as the next man up, recording two goals and three assists in the last seven games.
Related – Blackhawks Star of the Week: Brandon Hagel
Not wanting to break up a good thing, when DeBrincat returned Colliton placed him on the second line with Strome and Kubalik. It's well known Strome and DeBrincat have great chemistry on the ice, and they embrace any chance to play together. Along with an extra scoring threat, Kubalik provides some defensive responsibility to the line. Needless to say, the trio is doing quite well.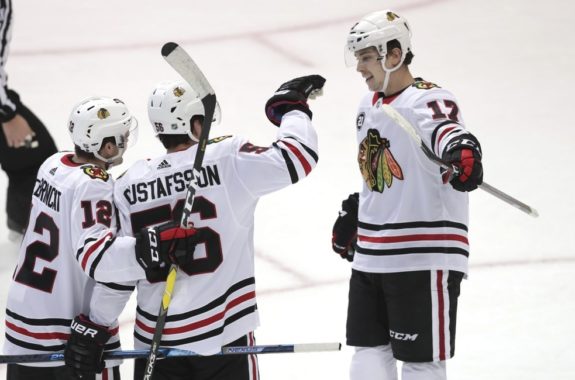 Janmark might not be the ideal long-term solution on the top line, so expect line changes ahead. But right now the second line is hot, with DeBrincat being the primary beneficiary.
DeBrincat's Numbers
In these last three games alone DeBrincat has accumulated four goals, two assists and 17 shots on goal.
He's also on a five-game point streak, with four goals and five assists (nine points) in that stretch.
For the season, DeBrincat's six goals is tied with Kane for the team lead. He also boasts six assists, which is good for third place (Kane is first and Kubalik is second). His 12 points is second on the team only to Kane. And remember, DeBrincat has only played in nine games for the Blackhawks, whereas Kane and Kubalik have suited up for all 13 contests.
Its easy to see why DeBrincat was a shoo-in for First Star of the Week. It's also an excellent start to the 2020-21 campaign for the young forward, after some mediocre production last season (18 goals, 45 points in 70 games). Let's hope this is just the beginning of a lot more success for DeBrincat, and for the Blackhawks.
---
---
Looking for more Blackhawks content? Tune in to The Hockey Writers YouTube Channel for Blackhawks Banter every Monday night at 7:00 p.m. CST (8:00 p.m. EST), or on our Facebook Page. Episode 13 is featured below.
Gail Kauchak has covered the Chicago Blackhawks as a content writer since 2014. She previously wrote for Fansided's Blackhawk Up, and has been part of The Hockey Writer's team since 2017. It's not always easy to balance life's responsibility's with one's passion, but Gail's doing her best to make it happen. Quote to live by, "Follow your dreams, and good things will happen." Wait, maybe it's "Good things happen when you shoot the puck!" You get the idea.
Follow Gail for her unique commentary about this storied franchise. And be sure to catch her and the rest of the Blackhawks' crew on their weekly Blackhawks Banter show, as well as follow her on Twitter.