When you have a struggling team like the Chicago Blackhawks, it seems hard to find players that stand out. When the points and the "flashiness" aren't there, you have to go back to the drawing board. As my colleague Shaun pointed out in his latest piece, goaltender Kevin Lankinen has obviously been a bright spot for the team. But, in my opinion, I think there is another player that has really stood out in every single game he has played in thus far. His name is Brandon Hagel. It's a name that is not well-known and you might be thinking "Who?". He is a player that flies under the radar during every game and I think that is what makes him so effective.
Background
The 22-year-old left wing was originally drafted by the Buffalo Sabres in the sixth round (159th overall) of the 2016 NHL Draft. However, when 2018 came around, Hagel and the Sabres could not come to a contract agreement, which made him a free agent. The Blackhawks picked him up and signed him to a three-year entry-level contract. It is one of the team's most stealthily good moves.
Hagel was with the Blackhawks' American Hockey League affiliate, the Rockford Icehogs, in parts of two seasons. During his first season with Rockford, in 2018-19, he had one point in eight games. In 2019-20, he had 19 goals, 12 assists, and 31 points in 59 games. His 19 goals made him the third-leading goal-scorer on the Icehogs. This is where the excitement about his potential really started.
Blackhawks
Hagel made his NHL debut on March 11, 2020, against the San Jose Sharks. Unfortunately, that was the last game Chicago played before the season was paused because of the pandemic.
Then, after the Blackhawks' training camp in January 2021, the team named Hagel to the taxi squad. That didn't last long. After two brutal series against the Tampa Bay Lightning and the Florida Panthers where the team saw three straight losses to start the season, head coach Jeremey Colliton decided to switch things up; understandably so. On Jan. 19, Chicago recalled him from the taxi squad and moved him to the active roster. A positive storyline from the Blackhawks so far is the fourth line. With Ryan Carpenter, David Kampf, and Matthew Highmore, they have done a really good job of creating chances, while also playing well defensively. On Jan. 19, for their game against the Panthers, Colliton slotted Hagel on the fourth line with Carpenter and Kampf. He has been a difference-maker ever since and has helped to continue the fourth line's success.
Playing Style
There were already a lot of reasons to be optimistic about him from his time with Rockford. Another thing that upped the enthusiasm is when the Blackhawks' scouts came out with their top prospect picks in 15 different categories in November 2020. Hagel's name was listed in five categories: Purest Scorer, Most Competitive, Most Relentless, Hardest Working, and Model of Consistency. From what I have seen from him so far this season, I think the scouts were absolutely right with their observations.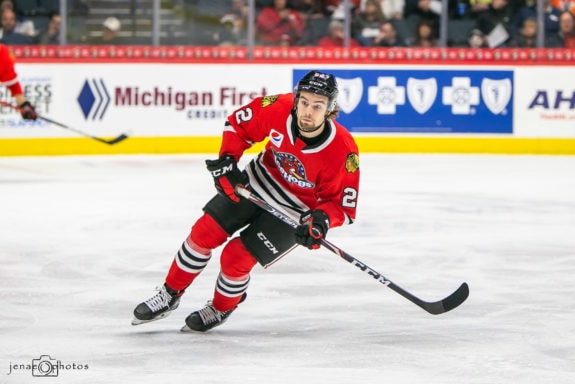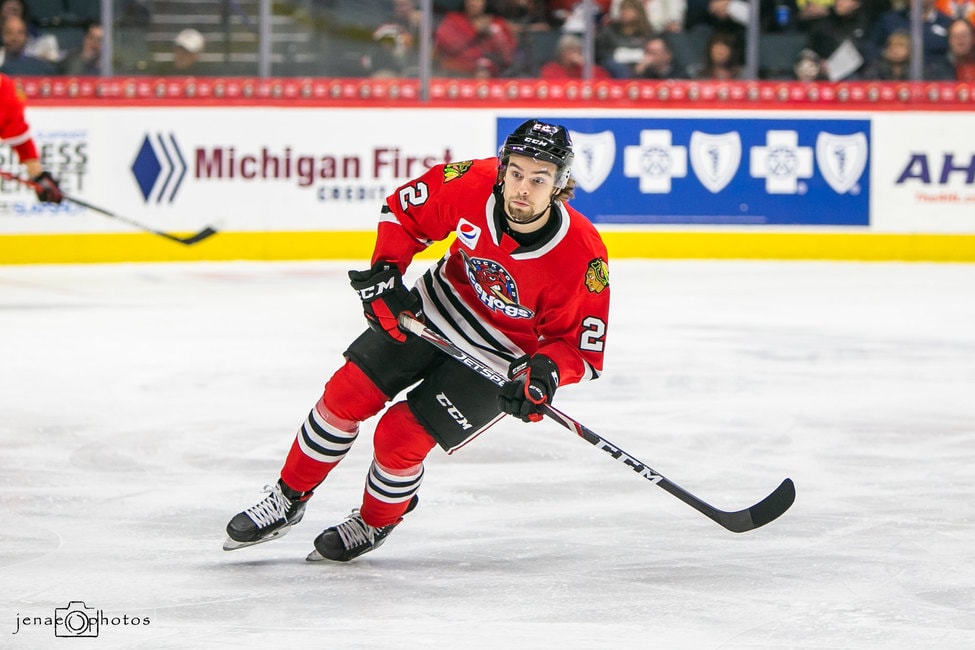 When I first saw his debut against the Sharks, the first player he reminded me of was former Blackhawks' forward, Drake Caggiula. He plays with a lot of edge and he is extremely feisty. It's noticeable because of how he uses it. In all of his games since Jan. 19, he has been very noticeable on the forecheck. He is not afraid to get into the corners and fight for the puck. He has also been very effective at winning board battles. In six games with Chicago, he has one point. It came from an assist on Carpenter's goal against the Nashville Predators on Jan. 27. It was a great setup by Hagel to get the puck out in front of the net.
One point in six games may sound lackluster, but the points don't always tell the full story. During every shift, Hagel is right in on the play. He has excellent speed that he uses to sneak up on opponents. He is essentially everything Chicago needs. A young playmaker that brings a competitive edge.
Hagel got a really great opportunity on Jan. 31 against the Columbus Blue Jackets. Because the Hawks are missing five players due to COVID-19 protocol, Colliton put him on the third line with Carl Söderberg and Andrew Shaw. Colliton then promoted him to the second line with Dominik Kubalik and Dylan Strome during the third period. He won board battles and was blocking shots. There was one point during the game where he had two Blue Jackets on him on the board, and he still came up with the puck. He's not an overly big guy at 5-foot-11, so that was impressive. Furthermore, he almost had an empty-net goal at the end of the game, but it was blocked. You can tell he is super hungry for his first NHL goal and I think he is knocking right on the door.
Final Thoughts
Hagel is one of my favorite Blackhawks' prospects at the moment. He is a player that, technically, doesn't need to be stuck on the fourth line forever. Eventually, I think he will be able to be a gadget player than can slot in anywhere. He works his tail off on every shift which is an element that Chicago fans, especially, appreciate. He is a player that is still learning to put all of his skills together, but when that happens, watch out. You might not see him on the scoreboard yet, but you will. You may not be familiar with his name yet, but I guarantee you, you will be.
Looking for more Blackhawks' content? Tune in on Monday nights for our weekly Blackhawks Banter show on Youtube and Facebook. We talk about everything related to the team. We stream live at 7:00 PM CST on the Hockey Writers Youtube Channel. Be sure to like, follow, and subscribe so you don't miss out! You can check out our latest show below.
---
---
Just a small-town girl with Midwestern charm, combined with a love of dogs, writing, frappuccinos, Chicago-isms, sports, and a whole lot of Blackhawks hockey. I have covered the Chicago Blackhawks since 2020 and am passionate about sharing in-depth analysis within the team and highlighting the fun because, after all, hockey is fun! You can quickly connect with me on Twitter: @brooke_lofo.