How an NHL team performs through the first quarter of the regular season is often a terrific indicator of how that team will finish at the end of the year. While that doesn't exactly bode well for the Blackhawks given their current fourth place position in the loaded Central Division, there are still many positives to take away from 2015-16's early goings.
With the significance of the quarter season mark in mind, here are my picks for Chicago's team awards through 20 games. Not all of these are desirable titles, but they do hold value as evaluations of the team's performance.
MVP: Patrick Kane
Perhaps the easiest award on this list to assign was the Most Valuable Player designation for number 88. Kane's early season tear and miraculous 15-game point streak have vaulted him into the 'best player in the world' conversation and wiped away the worries of his tumultuous offseason. The American-born winger has been instant offense every time he's on the ice, and it shows up in the score sheet through his 1.55 points per game output. Plays like his power play goal against Jake Allen the other night have become routine for him as he dominates opposing defenses on a nightly basis. The Blackhawks would probably prefer if Kane didn't have to account for nearly a quarter of their team offense on his own, but they also can't be too disappointed with his flashy and effective play through 20.
Breakout Player: Trevor van Riemsdyk
Known to fans as 'TVR,' the younger brother of Maple Leafs winger James van Riemsdyk has been very impressive en route to establishing himself as an everyday top-4 defenseman at the NHL level. After overcoming three major injuries – including a fractured patella – since his senior year of college, van Riemsdyk has earned Joel Quenneville's trust on the blue line and has averaged over 20 minutes of ice time a night for Chicago. He has also made some underrated contributions on offense that aren't fully accounted for by his 2 goals and 4 points; he has been a strong possession player and generates shots with his effective passing and offensive awareness.
Here are the top 10 NHL defensemen in shots taken at 5-on-5 this season (via @war_on_ice). Big names + TVR. pic.twitter.com/gZh9YWl9Eb

— Second City Hockey (@2ndCityHockey) November 19, 2015
There hasn't been much to dislike about TVR's style of play in his young pro career, if he can sustain this level then he will become an integral part of the Blackhawks' plans moving forwards.
Top Rookie: Artemi Panarin
A strong case could be made for van Riemsdyk here as well, but Panarin's offensive brilliance give him this award early in the season. An NHL rookie hasn't finished in the top-10 in league scoring since Alex Ovechkin and Sidney Crosby both accomplished the feat back in 2005-06, but Panarin is currently on pace to match them 10 years latter. His 21 points are good for eighth in the entire league and have him as the early Calder Trophy favorite. Plenty has already been said about him in his young NHL career, and as long as he keeps playing with Kane or Toews in Chicago's top 6 forwards, he will be able to sustain this pace all season.
Biggest Disappointment: Trevor Daley
My disappointment with Daley has been very clear from the onset. His freewheeling style and sporadic defensive play simply don't fit in with what the Blackhawks are known for and he has looked out of place since being acquired. Daley was a team leader and offensive catalyst during his time with Dallas, but a new system and a new role have greatly hurt his contributions to the team. Three points and less than 16 minutes of ice time a night for the veteran rearguard won't cut it, and Daley may be shipped elsewhere if his lack of production continues for much longer.
Most Underrated: Brent Seabrook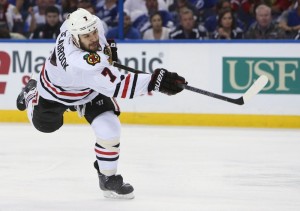 The early season successes of Kane and Panarin may have overshadowed the stellar two-way play of Seabrook. The veteran defensive presence has continued to defy his poor possession analytics by posting 15 points in 20 games, production that has him ranked sixth amongst defensemen in points. Duncan Keith's injury forced Seabrook to step up his game, and he is now averaging his most ice time per contest since the 2011-12 season. His contributions to the team have been immeasurable as he begins to enter the $55 million extension he signed during the offseason.
Top Prospect Performance: Ville Pokka
Acquired from the Islanders in exchange for Nick Leddy in the summer of 2014, Pokka entered the year as the organization's top defensive prospect and an integral part of the team's future on the blue line. With 10 points in 16 games for AHL Rockford, Pokka has certainly done enough to cement that status and potentially earn himself a call-up at the end of the season. An impressive puck-mover with underrated defensive skill as well, Pokka should be with the team for a long time if he continues to progress at this rate.
David is entering his final year as a sport management and operations and information management double major at UMass Amherst. Originally from the West Suburbs of Chicago, David has enjoyed watching the Blackhawks for as long as he can remember. When not watching or writing about hockey, he can be found working on the McCormack Future Leaders Conference on the UMass campus.