Where for art thou, Tim Erixon?
Despite a 5-2 win on Saturday night over the New York Islanders, the Columbus Blue Jackets are still a team that is struggling to find its identity. The Defensive corps was supposed to be the deepest and least worrysome grouping, but there has been some consternation in Blue Jackets land. When a team looks as good as they did on a 3-game winning streak and then turns it into a 5-game losing streak, of course there will be some concern.
This isn't to say that the forwards are not responsible as well, but the top line did have 7 points in the 5-2 beat down of the Islanders, so today they get a reprieve. As we look at the blueliners on a game-by-game basis, there is someone, each night, that is struggling with the puck. Whether it be a turnover, a bad break on a pass that leads to an odd-man rush or just shaky play in general, there's been a defenseman to point fingers at on every night.
Time to Point Those Fingers
Take as our prime example the own goal against the New York Rangers. Mark Letestu put this puck into his own net, but was that the fault of big number 55? Not a chance. The fingers point directly to Nikita Nikitin on this play. Watch for number 6 against the boards and where he puts the puck. I don't care who you're playing, that puck will be in the back of the net more times than not.
Nikitin didn't play from October 19th through November 2nd (5 games) and it looks like there's a little discomfort with his play from the Jackets faithful:
https://twitter.com/zinzwCBJ/status/398606133629177856
#CBJ – Prout is scratched tonight, Savard is in the line-up — So, Nikitin is STILL in that line-up, ehh?

— The CBJ Artillery (@TheCBJArtillery) November 7, 2013
https://twitter.com/RockmanHalo/status/397886900511326208
https://twitter.com/justin_CBJ/status/397483302367399936
https://twitter.com/RedditCBJ/status/398622990654402561
I don't mean to repeatedly jab the proverbial knife in Nikitin's back, but I'm not alone in my disgust surrounding his play. Through 10 games played, he has just 9 hits and 14 shots. His only point of the season came in game 2 against the Islanders. For a guy averaging 17:56 per night, these mediocre stats can't continue. The problem is this: if the Jackets are trying to shop him around for a trade, he certainly isn't playing well enough to get more than a bag of pucks and a few broken sticks in return.
Who Can Fill the Hole?
I think this list starts and ends with Tim Erixon. At some point, the Jackets have to look at the production he is having with the Springfield Falcons and say "Enough is enough. This guy needs to be playing in the NHL." As of Sunday night, Erixon leads the Northeast Division-leading Falcons (8-3-0, 17 points) in scoring with 3 goals and 8 assists. This is for a defenseman and he's done it in just 8 games, while also having a plus/minus rating of +5.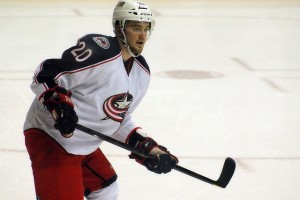 At the start of the AHL season, Erixon had 3 assists in game 1, a goal and an assist in game 2 and a goal and 3 more assists in game 3 – a total of 9 points in 3 games. I understand that he didn't make the NHL squad at the start of the season, but after this torrid start, you have to wonder why he wasn't brought up immediately. To further the point, it boggles the mind why he wasn't brought back to replace Nikitin while he was a healthy scratch for 5 straight games.
In 40 games in Springfield in 2012-13, Erixon was a +9 with 29 points and 38 penalty minutes. After the lockout was ended, he made the move to the NHL squad and had 5 assists and was a +4 in 31 games. There is no reason to think Erixon can't be the fix to the issues that Nikitin is creating on the ice.
With all of this said, Todd Richards is allowing his seat to get unbearably hot. I'm interested to see if he will be around much longer in Columbus. With a few more despicable showings over the next week, Jarmo Kekalainen and John Davidson may be initiating a head coaching search. The Jackets are in Washington on Tuesday and in Boston on Thursday before returning home on Friday, so if there was ever a time for an early-season, signature-style win for the CBJs, it would be now, and it might save a few people their jobs.
Doulas Cutler is a Lead Writer for The Hockey Writers covering the Chicago Blackhawks. Follow him on Twitter at @DougCutlerTHW. In addition, he also writes on The Blog of Brotherhood, dedicated to Miami RedHawks Hockey (www.blogofbrotherhood.com and @MiamiHockeyBlog). LET'S GO HAWKS!