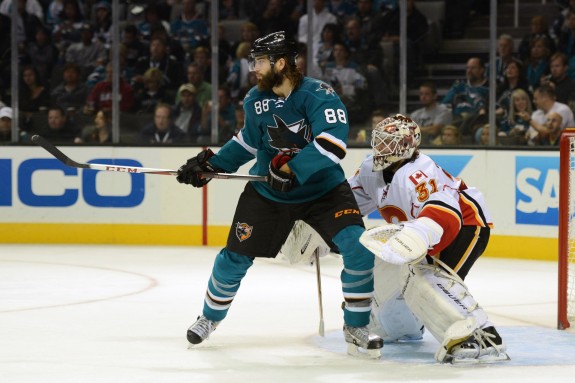 When San Jose Sharks forward Brent Burns took a stick to the mouth on Oct. 12 in a game against the Ottawa Senators, nobody thought much of it considering that he played in the next three games without incident.
But Burns has now missed nine straight games as the injury has caused sinus and nasal issues, according to the San Jose Mercury News. Burns has begun practicing with the team, with head coach Todd McLellan "optimistic" that he will see action in a game by the end of the week.
The Sharks have a stringent policy on disclosing injuries and allowing players to speak to the media about them, so we are left in the dark as to why a seemingly minor injury has cost Burns more than two weeks of the season.
However, we are not left in the dark about this: the Sharks need Burns back, and they need him back ASAP.
In Need of a Spark
The Sharks started the season with a scorching 7-0-1 record, winning their first six games. Burns averaged a point per game in those eight games.
But since his departure, the Sharks are just 3-2-4 and have dropped five consecutive games, four of them in decided overtime or a shootout. In fact, besides last Thursday's 4-2 loss to the Canucks, all of the Sharks' losses with Burns out of the lineup were extremely close contests where one bounce or one tiny detail could have made the difference between a win or a defeat.
This is where having a player such as Burns can be extremely useful — a sparkplug who can come in and provide instant energy that can ignite a club late in a close game.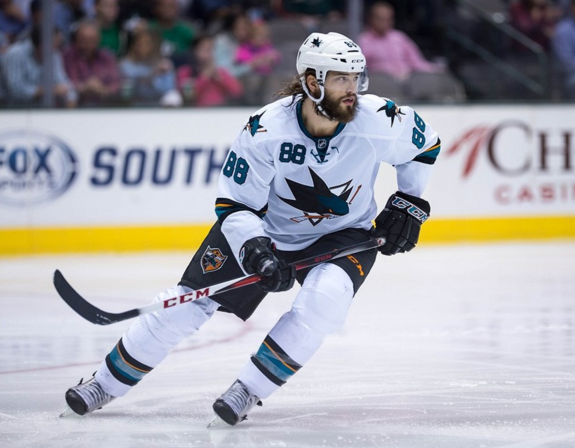 A First Line Void
It doesn't take a genius to figure out that the Sharks are better with Brent Burns on the ice. Sure, Tommy Wingels has filled in nicely on the top line, and is in the midst of a career-high six-game point streak.
But let's face it: anyone playing on a line with Joe Thornton is going to score goals and be portrayed as better than they actually are (just ask Jonathan Cheechoo). Wingels has had a solid start to the season, but he should be on the third line with Joe Pavelski instead of the first line right now.
Burns belongs on the first line, and is the perfect complement to Thornton with his speed, skating ability, hustle, and one of the hardest shots on the team.
Other Key Players Not Producing
When a team is struggling, that usually means their top players are not producing. The Sharks are no exception, with Patrick Marleau and Logan Couture each mired in goalless slumps.
After leading the NHL in goals at one point in October, Marleau has not scored in his past seven games. Couture has not lit the lamp in his last four games, and has been held without a point in three of those four contests.
The Sharks may have one of the most talented and deep rosters in the league, but when two of their top players are slumping in addition to Burns' absence, it sets them back even further.
Eric is a journalism student at the University of Southern California and a sports editor at the Daily Trojan. He grew up in the Bay Area and has followed the Sharks since a young age. He served as a beat writer on the team for SFBay.ca during the 2014-2015 season. Previously, Eric has worked at FanSided and Bleacher Report.