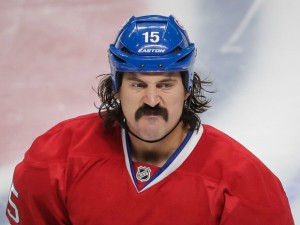 This month many of the Montreal Canadiens' players and staff shaved their pre-existing facial hair to then grow anew a fresh moustache for the entire month of November, also known as Movember. If you're one of the few who haven't pieced together why grown men of all shapes and sizes look like 1970's porn stars this month, Movember is all about changing the face of men's health by raising awareness and funds for men's health issues and specifically, prostate cancer.
Now we all know who's the daddy of mos on the current Mo-treal Canadiens, but lately I started to think about some of the other famous moustaches the city has seen. It was tough isolating only Habs players from yesteryear, and I didn't want to include just anyone with a moustache (like Gaston Gingras, for instance), so I broadened the list's scope. By all means, let me know if you come up with any others. Just know that beards don't count – which leaves former Montreal Expos pitcher Bill "The Spaceman" Lee out of it.
So in honour of Movember, behold the following top 5 list of the best Montreal mos:
5) Mayor Jean Drapeau: How appropriate that current Mayor of Montreal Denis Coderre called out David Desharnais over Twitter, because this list begins with the gold standard of meddling Mayors, Jean Drapeau. The man with the whiny voice, shiny bald head, dark rimmed glasses – and moustache – famously waved on

television to millions of Americans (and Canadians) from the audience of the "Ed Sullivan Show" in his lifelong quest to put Montreal on the map. And he did.
Drapeau single-handedly transformed Montreal from a city known for its bars and taverns to a world-class destination. The highways, the metro, Place des Arts, Expo '67, the Expos, the 1976 Summer Olympics and Olympic Stadium (for good and for bad) –  pretty much everything we know as Montreal today – it all happened under Drapeau's tenure as Mayor from 1960-1986.
4) Steve Rogers: Steve Rogers was far and away the Expos' best pitcher from the mid-seventies to the early eighties. The lanky right-hander – who looked like he was constantly talking to himself on the mound – never quite reached the 20 win mark, topping out at 19 in '82.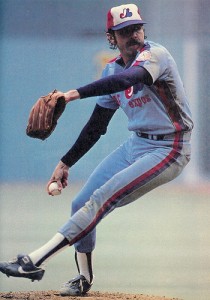 What we "should" remember about Rogers aside from his ever-present moustache: he was named to five All-Star games (and was starting pitcher for the '82 game in Montreal); played his entire career with Montreal; and he beat HOF Philadelphia Phillies pitcher Steve Carlton not once but twice in the '81 National League East Division series. That same year he also pitched a two-hit gem against the New York Mets to clinch the second half for the Expos, securing their only playoff berth.
What he "is" remembered for: forking over a high fastball to Rick Monday in relief in the ninth inning of the deciding game of the National League Championship series against the Los Angeles Dodgers. Monday hit it out of cavernous Olympic Stadium to win the game (forever to be known as "Blue Monday") for the Dodgers. Many blamed Rogers – and still do. Many also blame Manager Jim Fanning for bringing in Rogers in the first place instead of ace fireballer Jeff Reardon. But what they didn't and maybe still don't know is that Reardon was suffering from a bad back and wasn't available. Fanning went with what got the team there. No Rogers, maybe no playoffs for the Expos. That's what we should remember. And the 'stache.
3) Yvon Lambert: Lambert will be remembered as a rugged winger with decent skills who worked hard,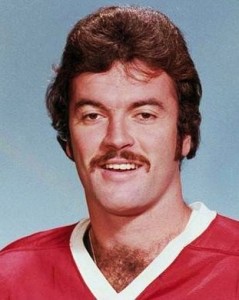 played the body even harder, was great at shutting down opposing teams' scoring lines and had an even greater head of hair (which he still sports today, now turned grey).
Lambert will always be remembered for scoring the game winning goal against the Boston Bruins in the 1979 semifinals – the infamous "too many men" game.
2) Larry Robinson: when you look at all the faces of Montreal Canadiens greats from the past, one man towers over them all (literally) who is also the only one sporting a moustache. And that man is Larry Robinson. The "Big Bird"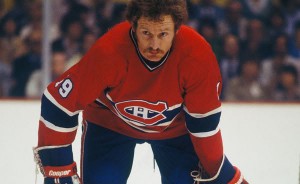 played 20 NHL seasons manning the blueline — all but three with Montreal — and was inducted into the Hockey Hall of Fame in 1995.
Now I induct him into Montreal's Mo Hall of Fame. It doesn't get much better than Larry Robinson. You know P.K. Subban could use a mentor like him. Hey! What a good idea!?
1) Pat Burns: he's in everyone else's Hall of Fame. Now he's in Montreal's Mo Hall of Fame. Why isn't he in the Hockey Hall of Fame!? 'Nuff said.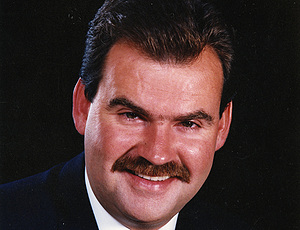 Special mentions to Mike McPhee and another coach who could should be in the Hockey Hall of Fame, Jacques Demers.
Ari Grief has no mo this year because last year he looked like a police constable. But he can you delight you in many mo ways. Catch him on Facebook or twitter: @HabsFanLeafLand 
I'm a goalie — apparently that says a lot. Writer, producer and bon vivant I'm from Montreal but live in Toronto and write from that perspective on HabsFanInLeafLand.com. Young enough to be hip; old enough to remember where I was when Guy Lafleur scored against the Bruins in the infamous "too many men" game in the '79 playoffs. Can you say that?
You can contact Ari Grief on Facebook or on twitter @habsfanleafland