Cam Atkinson is now the Columbus Blue Jackets' all-time leader in shorthanded goals. With two "shorties" in the last two games, and three this season, Atkinson passed Blue Jackets legend, Rick Nash, for the franchise record. His 15th shorthanded goal came in the middle of the first period against the Chicago Blackhawks. 
Scoring shorthanded goals in consecutive games is rare, and Atkinson's second of three this season was on an extremely rare, but not unheard of, shorthanded penalty shot (Toronto Maple Leaf Mitch Marner scored a shorthanded penalty shot goal in April 2019).
The Blue Jackets Shorthanded Goal Leaders
Atkinson scored his 15th shorthanded goal in his 586th game with Columbus – his 13th shorthanded goal, his first this season, was scored in his 578th game his 14th was in his 585th game. Nash scored his 14th shorthanded goal in his 657th game with the Blue Jackets.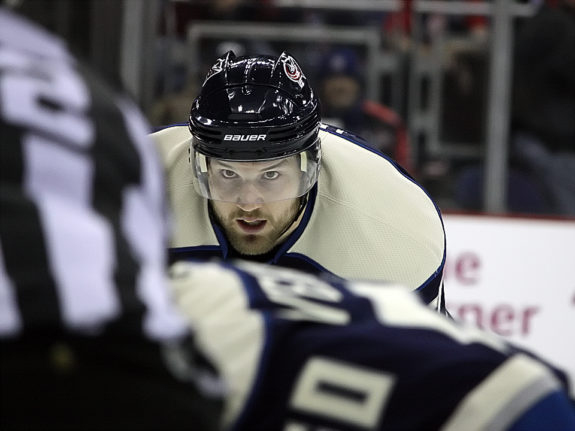 A distant third on the Blue Jackets' shorthanded goals list is long-retired forward David Vyborny with seven. Among active Blue Jackets, Atkinson's nearest competitor is ranked 10th all-time: Boone Jenner has four career shorthanded goals. After that is, gosh, let me double-check, um, with just one shorthanded goal (all-time with the Blue Jackets) are Zach Werenski, Gus Nyquist, and Riley Nash.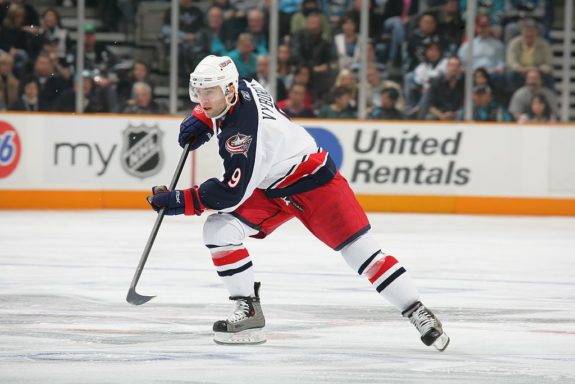 That's the entire list of active Blue Jackets with shorthanded goals: Atkinson (15), Jenner (4), Werenski (1), Nyquist (1), and Riley Nash (1); Atkinson has 15 of the 22. 
On the all-time list: Atkinson has 15, Nash (Rick, not Riley) has 14, Vyborny has seven, and Matt Calvert scored six shorthanded goals. No other Blue Jacket – in the history of the club – has scored more than five shorthanded goals.
Related: Blue Jackets' Bold Preseason Predictions: Checking in After 14 Games
You have to go back to the 2018-19 season to find a Blue Jacket with more than one shorthanded goal in a season, and that's Atkinson with four shorties that season. Josh Anderson added two of the team's eight shorthanded goals in 2018-19. Between 2015-16 and 2018-19, the Blue Jackets scored 25 shorthanded goals. Atkinson scored 10 of 'em, Calvert scored five, Jenner had four.
Blue Jackets Shorthanded Ice Time
Listed at 5-foot-8 and 176 pounds, it's not Atkinson's size but his speed and hand-eye coordination that's earned him a regular role on the penalty kill. In 2020-21, however, he's ranked eighth on the team in shorthanded ice time; defensemen Vlad Gavrikov, Werenski, David Savard, and Seth Jones lead the team. Among forwards, Jenner, Nash, and the recently-retired Mikko Koivu have averaged more shorthanded TOI than Atkinson.
Yet Atkinson's 9.0 relative Corsi for % while shorthanded is not only the single "plus" among the Blue Jackets' top nine shorthanded skaters, it's the highest among any Blue Jacket who has skated an average of over a minute per game on the penalty kill.
The Historical Perspective
While Atkinson's 15 career shorthanded goals and two shorthanded goals in two games (and three in nine) are impressive, let's not plan a parade just yet. Here are some NHL shorthanded stats:
Most Career Shorthanded Goals: Wayne Gretzky (73)
Most Career Playoff Shorthanded Goals: Mark Messier (14)
Most Shorthanded Goals, One Season: Mario Lemieux (13)
Most Shorthanded Goals, One Game: Theo Fleury (3)
Still, sny time that a Columbus player surpasses Rick Nash in a scoring category, it is an achievement. Congratulations, Cam, keep up the great work!
---
---
Pete Bauer is both a hockey fan and player. As a columnist for The Hockey Writers.com, he covers the Columbus Blue Jackets, NCAA hockey, and NHL trends, statistics, and history. He's considered the go-to guy for info on the NHL's Collective Bargaining Agreement with the NHL Players' Association and other hockey-related legal mumbo-jumbo. He's a frequent guest on a variety of podcasts.  You'll find all of his THW columns here. Pete is also the author of over a dozen books on photography, digital imaging, and graphics, including "Photoshop CC for Dummies."