The offseason for the Columbus Blue Jackets is already well underway. On Wednesday, the team got some welcomed news about one of their young players.
Alex Texier, who had been away from the Blue Jackets, is now back with the team after playing this season in Switzerland so he could be close to home and with his family. The team had been hopeful that he would return even going as far as saying they expected his return. After his season in Switzerland was over, he made the decision to come back.
---
---
GM Jarmo Kekalainen obviously was happy about this development. Here is what he had to say about Texier's return to the Blue Jackets.
"Alexandre Texier is an outstanding, young player who is an important part of our team and we are excited that he will be rejoining the club as expected next season. His well-being has been our sole priority and we couldn't be happier that he is ready to resume what is a very promising NHL career at this time."
Texier Only Looking Forward
Texier was at Nationwide Arena on Thursday and spoke to the media via Zoom to discuss his return. Although he didn't want to talk specifically about the last year overseas, it was clear he was excited to be back.
---
Latest News & Highlights
---
"It's great to see some familiar faces from the years," Texier said. "I'm feeling good right now. I'm ready to take the next step. I don't want to look back now. I just want to look forward. Now I don't really want to talk about the last year, honestly. It's in the past and I'm now focused on this year and I'm feeling great."
"(I am) excited to the World Championship first (then) my summer because I think it's going to be a huge summer for me. And then get ready for the training camp. It's going to be all new for me. I have to improve and I'm really excited about this."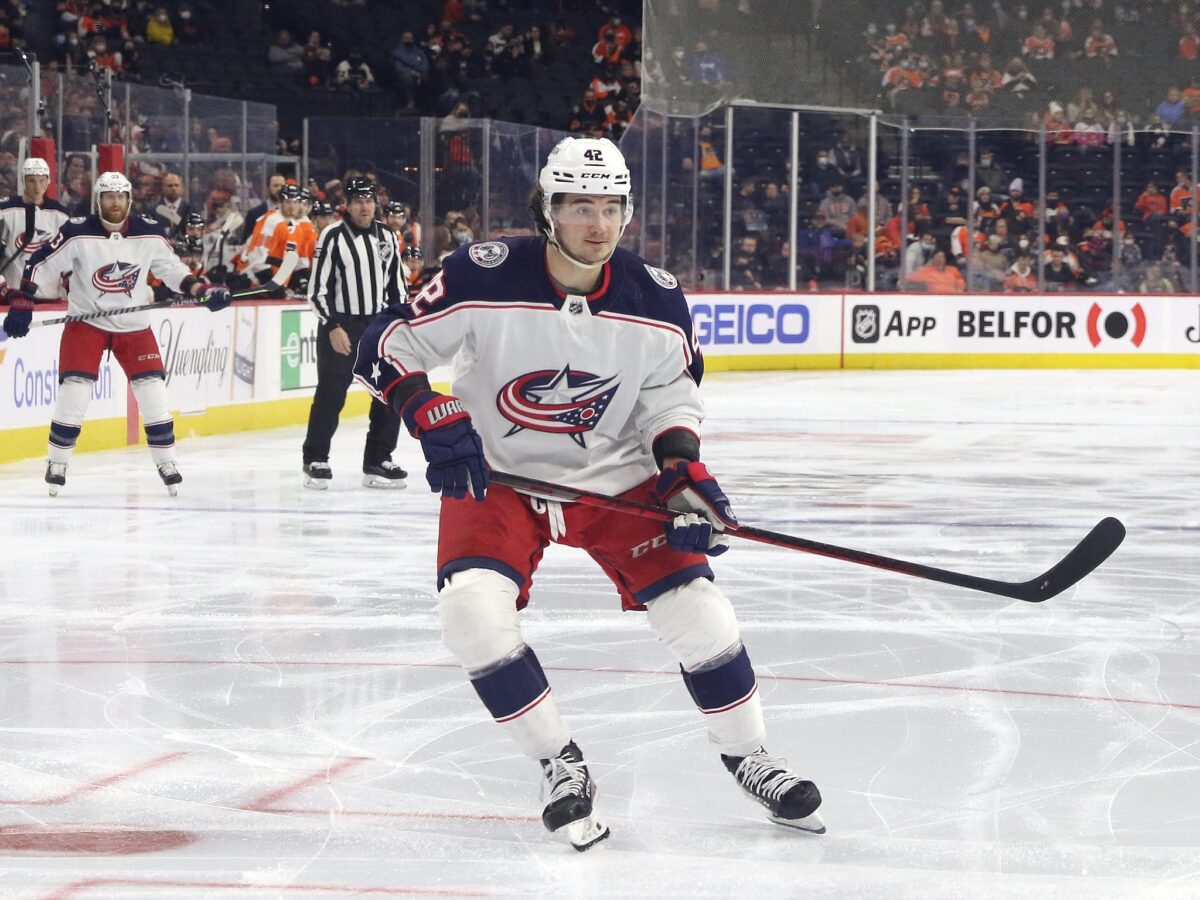 Texier admitted he didn't think about an potential NHL decision until after his season in Switzerland ended. Along the way, he had the full support of the Blue Jackets and his teammates throughout the process.
"I don't think during the season, I was thinking about it. But after the season, let's go! I was ready. I just told them I was ready to go. I'm ready to take the next step and help the team."
"(The support) was huge. I'm pretty thankful for that, the Blue Jackets to help me go through this. They helped me since day one and they still help me now. They believe in me and now at the end I think I have to prove that I can be a top player here and help the team."
Expectations For Next Season
At this point, it is too early to say where Texier will fit into the Blue Jackets' roster. While there will be plenty of competition come training camp, he said there haven't been discussions yet as to what role he would play as a center or winger.
"Honestly, no. We haven't talked about those things," Texier said. "It's just step by step. I'm here now and we'll go to the World Championship, have a great summer and then we'll see. But I haven't talked to anybody about next year where I will play. The only thing I know is I have to be ready for the training camp and then we'll all go from there."
Texier did say later he played the wing while in Switzerland. As long as there remains a gaping hole at center ice, this will continue to be a point of discussion. He did spend some time at center before he left the Blue Jackets. Assuming they don't land a top center who can fill in right away, do they look at Texier again to see if there's a fit with someone like Johnny Gaudreau or Patrik Laine?
As for next season, we need to temper our expectations especially at the beginning. The draft and offseason need to play out. With an abundance of wingers and fewer centers, change is inevitable. One would think he would start on the wing but then would be given every opportunity to prove he can handle more.
You Might Also Like
Texier's return to the Blue Jackets is a big boost to the team. He's still a young player who has an intriguing skill set. He will be given every opportunity to show where he's at and could earn a larger role if he takes advantage of the situation.
Texier's contract and cap hit will be tolled meaning it will cover the 2023-24 season. His cap hit will be $1.525 million. He will be an RFA after the 2023-24 season.
Texier took the time he needed to handle things at home. He's now ready to resume his NHL career. At a time where the Blue Jackets needed some good news, he provided it. Now it's on him to put in the work to be ready for the most important season in his young career.