There is a world in which the Montreal Canadiens continue to play Kirby Dach on the wing alongside Nick Suzuki and Cole Caufield on the top line. That world is just likely to be parallel to our own. Ultimately, chances are better the Canadiens choose to play the 22-year-old at his natural position at center, which he was drafted by the Chicago Blackhawks to play, following his break-out season at the position with the Canadiens in 2022-23.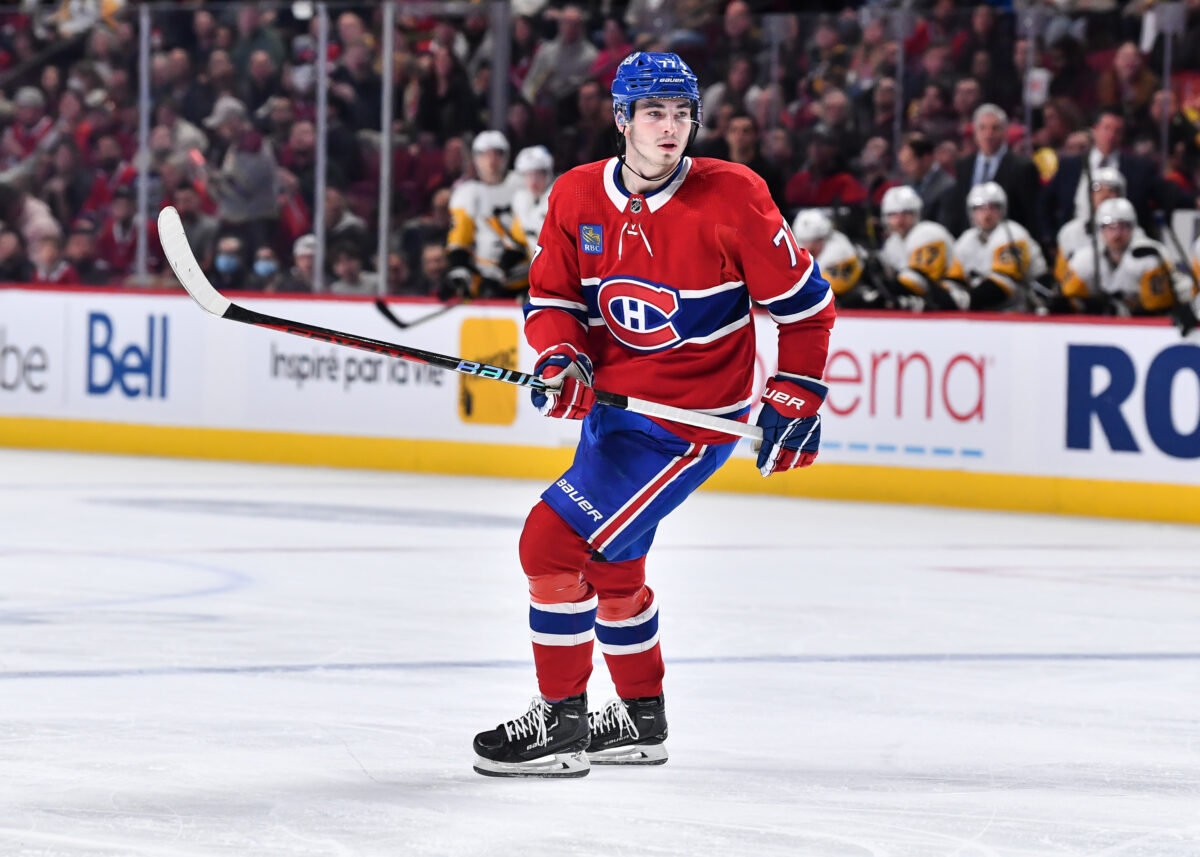 Obviously, it didn't work out at center for Dach with the Blackhawks, one of the reasons that logically factored into their decision to trade him to the Habs at the 2022 NHL Entry Draft. Truth be told, one year into his Canadiens tenure, his lack of faceoff ability remains (38.3% in 2022-23). Nevertheless, there aren't any real alternatives, unless you consider the following three improbabilities, ranked in increasing order of how likely they are:
3. Canadiens Trade Anderson
There is no denying Dach played most of his time on the first line on the wing, beside Suzuki and Caufield, with admittedly impressive results. On that basis alone, there's a logical inference he'll be put there again. However, Josh Anderson is another well to which head coach Martin St. Louis has gone time and again to complement his two biggest stars up front.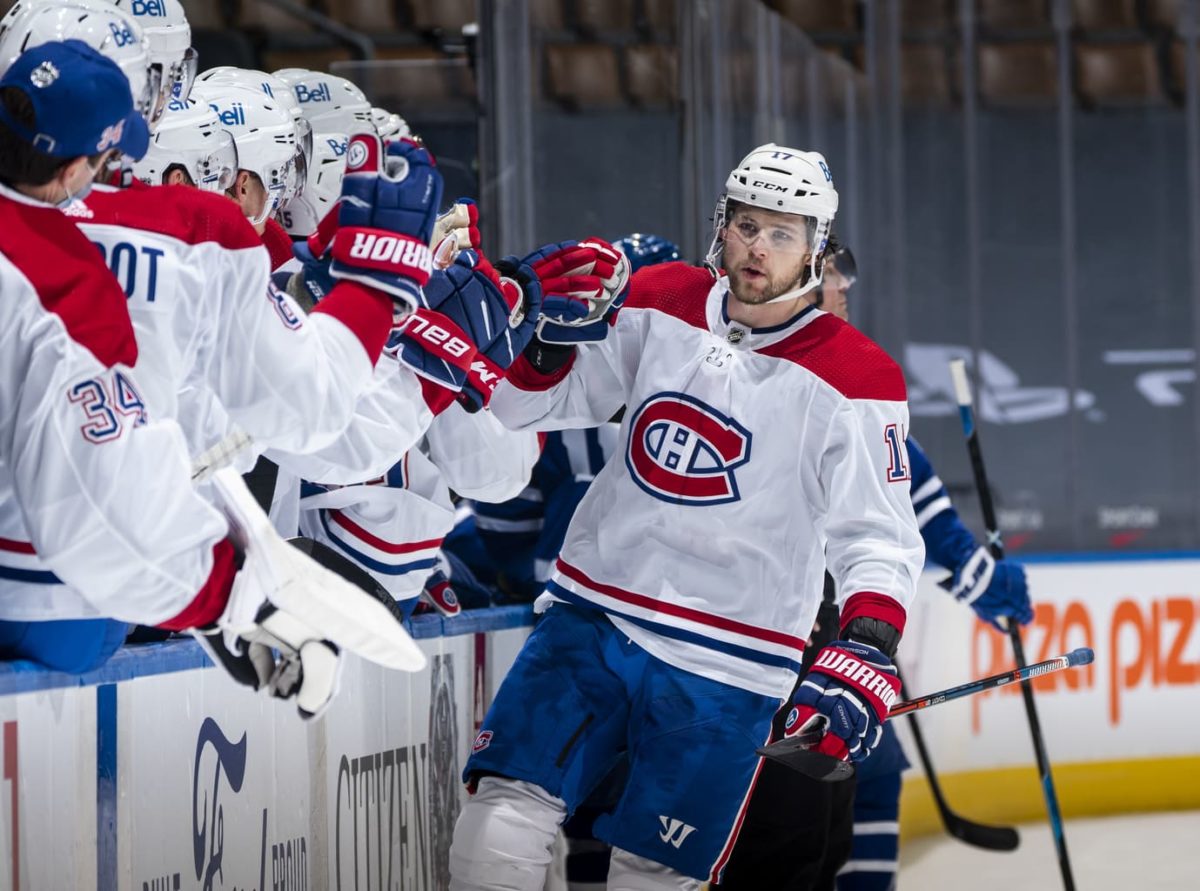 Under contract until 2027, Anderson may not be a prototypical top-six forward. Still, the Canadiens seem determined to keep him in the fold, despite reported ample opportunity to trade him when his value as a speedy power forward, who can make space on the ice for his linemates, is still relatively high.
Related: Canadiens Can Sell High on Anderson at Trade Deadline
If the Canadiens haven't traded Anderson by now, they likely won't for the foreseeable future. So, he remains the likeliest option to play in that coveted spot in 2023-24, at least over long stretches, if Dach is deployed elsewhere. Seeing as the Canadiens don't really have an alternative option to play down the middle on the second line, aside from Dach, the two spots seem like the best respective fits for both players.
2. Canadiens Re-Sign Monahan
Of course, a lot can change over the offseason. General manager Kent Hughes may choose to acquire another center to insulate Dach's development, or, in the case of Sean Monahan, "re-acquire" (re-sign). After all, the Canadiens did much the same thing last offseason after first trading for Dach.
Later on in the offseason, they used the cap space they got when Carey Price went on long-term injured reserve to trade for Monahan (and a first-round pick). They eventually largely played Monahan as their second-line center (and Dach on the wing) until the former went on the shelf to unfortunately stay, starting last December.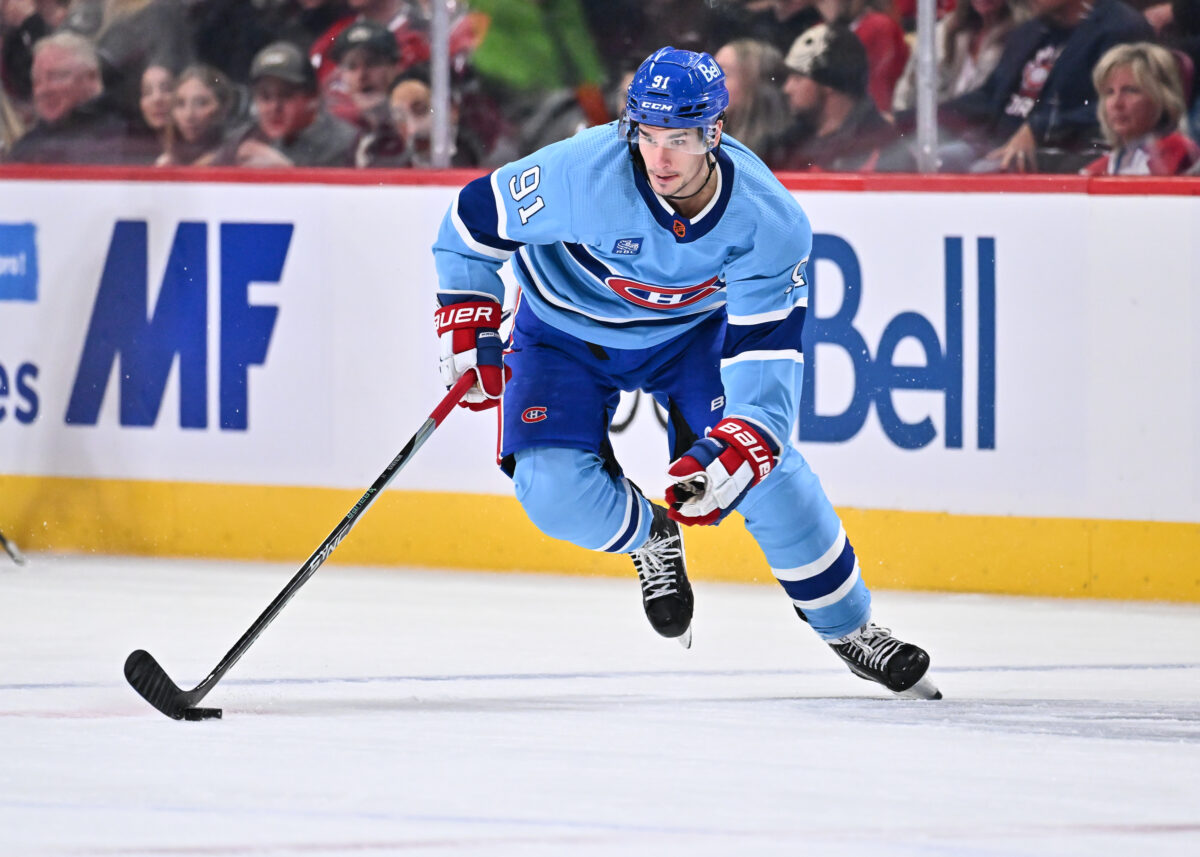 There is an important disclaimer of which to take note, though. Based on Monahan's injury history and lack of production the previous few seasons, it's hard to believe the Canadiens banked on him finding as much success as he did (at least before he got injured). More likely than not, the Canadiens acquired Monahan simply as a means to an end, to acquire the first-round pick.
In other words, the Canadiens were prepared to go with Dach as their second-line center this past season. So, they should be prepared to go with him in 2023-24, especially considering the progress he showed at center, once he was played there after Monahan got injured. Furthermore, because the Canadiens went to Dach once Monahan was no longer available, he's the logical one to whom they'll turn now that Monahan is a pending unrestricted free agent.
---
Latest News & Highlight
---
Sure, there's a chance the Canadiens try to re-sign Monahan. However, there are no guarantees. As a first-time UFA, he's likely to test the market, meaning, at the very least, the Canadiens can't count on him coming back. However, they really shouldn't want him to, due to a variety of factors, including that aforementioned injury history, to which he of course added this past season.
Monahan's also potentially looking for job security in the form of term. If Dach is the team's center of the future (if not the present), they shouldn't be giving anyone term to play in his place on the second line. Going on just 29 years of age, Monahan may still have a lot to offer and may actually be the best second-line-center option via free agency for the Habs, as he's already proven to be a good fit (when healthy). However, overall, he's just not a good one, especially with Dach available.
1. Canadiens Go with Dvorak as Their No. 2 Center
Ultimately, if Monahan does hit free agency, he'll have made the Canadiens' choice for them, and not just to go with Dach as his replacement, but Christian Dvorak as their insurance policy instead. They could go with Dvorak as their No. 2 center from the get-go, but there's only a small chance (despite it placing No. 1 on this list, which is the point), based on a general lack of top-six production in his career, as less than a 0.5 point-per-game player.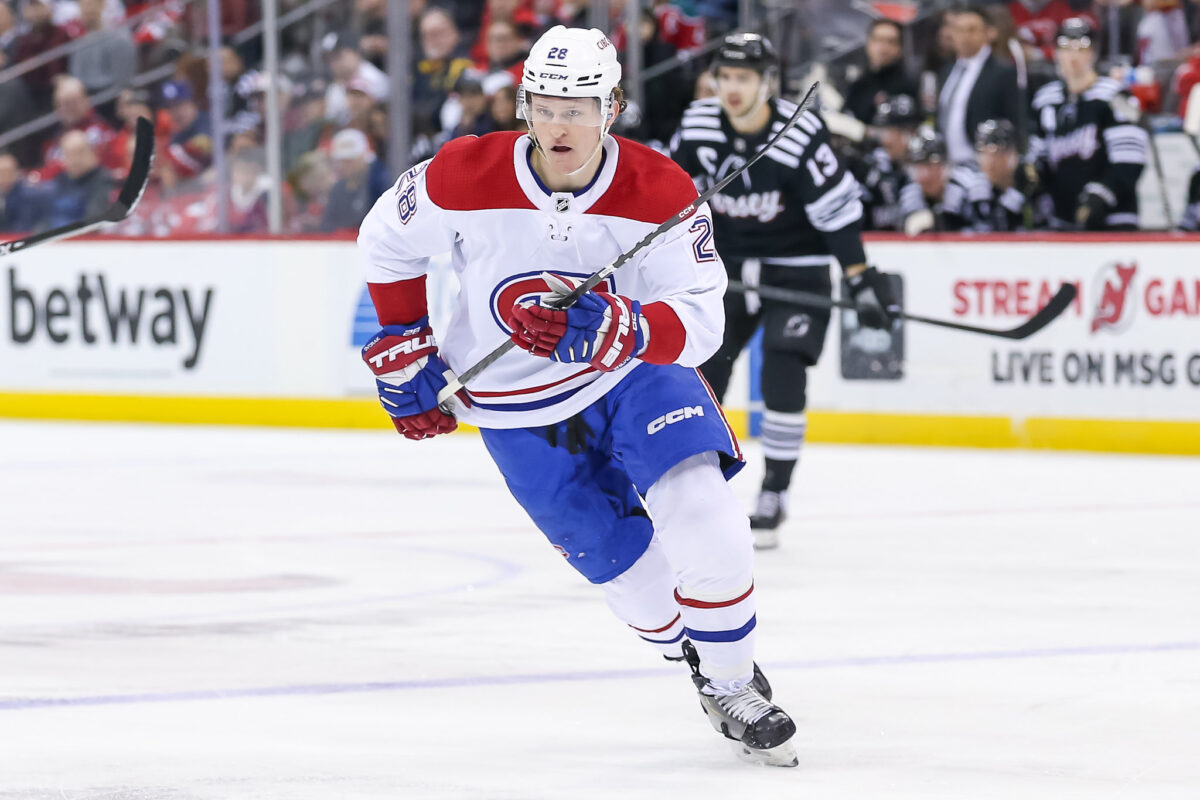 Keep in mind Hughes' predecessor, Marc Bergevin, effectively acquired Dvorak to be the team's No. 2 center following the departures of Phillip Danault and Jesperi Kotkaniemi in 2021. It didn't exactly work out as planned, prompting Hughes to trade for Dach the next summer for all intents and purposes.
Since Dvorak is just 27, he's hardly what anyone would consider a washed-up veteran. He still has many good seasons left. He's just proven himself to be a better fit lower down the lineup, unless of course injuries become a problem for the Canadiens for the third consecutive season. Hence the need for an insurance policy, but little more.
Ultimately, without Dach at center on the second line, the Canadiens become incredibly thin. In such an instance, you're looking at either a fourth line centered by a career minor-leaguer like Alex Belzile or a prospect the Canadiens will end up promoting, potentially before they're ready. In that case, you'd effectively be picking someone without nearly the same level of experience to play at center over Dach, which makes no sense.
During the team's season-ending media availabilities, Hughes relayed how Dach felt he took a huge step in his development this past season. By sharing the nature of the conversation he had with Dach in his exit interview, the GM seemed to be agreeing with the assessment.
The only conclusion one can make? Dach took a huge step in his development being played at center, the position he was acquired to play, when the Canadiens had no other options at their disposal. As a result, he should only be played in that position moving forward, so that he can take the next step, by becoming an everyday center on this team. He's no longer the only option the Canadiens have to fill that second-line slot, but the only logical choice.