When the puck drops tonight, game #53 will officially be underway for the Columbus Blue Jackets in the 2011-12 season when they host the Minnesota Wild at 7:00pm at Nationwide Arena.
It's easy to glance at the calendar these days and count down the time remaining from now until the draft lottery takes place in just a few months. It's easy to get excited about the possibility of drafting 1st overall in the 2012 NHL entry draft hosted this year in Pittsburgh, PA. What about right now though?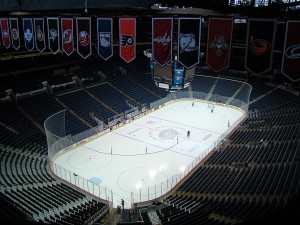 It's simple, a lot is at stake. From now until the trade deadline at months end, General Manager Scott Howson will identify who stays and who could potentially inherit a one way ticket out of Columbus. It's that time of year, but in the Blue Jackets case, it's a lot more then a three week window to the deadline, it's an opportunity to begin the landscape for the 2013 season and beyond.
But first, there is hockey to be played. There isn't a better way to start the work week on the ice for the Blue Jackets, then getting a win tonight at home and building on the very little success as of late.  A win in their final game of their west coast swing against the Anaheim Ducks, brings the Columbus Blue Jackets back to the Nationwide Arena with 14 victories on the season. Not that it lifts the spirits of season ticket holders, but it's a positive, something players are searching hard for these days.
As for Head Coach Todd Richards and his thoughts moving into the week.
"For me, it's pride," Richards said. "It's how we play the game. That's what I'm hoping to establish with these guys and instill in some of them, and it's a big word. It'a real important to the game of hockey.
"I want our guys to be able to say, when the night is over and they're untying their skates in the dressing room, that they left everything out there on the ice. No matter what the scoreboard says, that's where I want us to be as a team, night in and night out."
The Blue Jackets will look to carry that attitude onto the ice tonight as they return home for the next two meetings, tonight against Minnesota and Thursday against the Dallas Stars.
Blue Jackets news and notes
Forward Colton Gillies will face his former team for the first time tonight. He is expected to skate with Jeff Carter and Vinnie Prospal.