The Columbus Blue Jackets have never been in a better position in franchise history. Their wealth of talent and youth have them in a position to win a playoff series for the first time ever. They own a 1-0 series lead on the Washington Capitals heading into Sunday night's game two.
But the story of these Blue Jackets started way back at the 2012 entry draft. Recall for a moment what the situation was like after the 2011-12 season concluded.
A Brief History
The Blue Jackets were at rock bottom in the NHL. They finished that season with 29-46-7 record. For the first time in franchise history, they finished in last place. Their captain and best player Rick Nash asked for a trade during the season but played the season out. At least they had the best chance to secure the number one pick in the draft.
A chance was all it was. The Edmonton Oilers jumped up and won the right to select first. Nothing was going right for the Blue Jackets. Where were they going to go from here?
Sergei Bobrovsky
The Blue Jackets wasted no time on draft day. They completed a trade that saw them acquire G Sergei Bobrovsky from the Philadelphia Flyers in exchange for three draft picks. Bobrovsky was the backup to Ilya Bryzgalov and wasn't afforded an opportunity to play as the number one. With both Steve Mason and Curtis Sanford struggling behind a defense that allowed 3.13 goals/game, Bobrovsky had the chance to win a starting job.
While both Bobrovsky and Mason played equally to start the shortened 2012-13 season, Bobrovsky finished the season with 26 of the final 27 decisions. This led to Mason being dealt to the Flyers on Apr 3, 2013. Bobrovsky finished with a 21-11-6 record with a 2.00 goals-against and .932 save percentage. This was good enough to win the Vezina Trophy.
Bobrovsky hasn't looked back. He's amassed a 176-106-26 in six seasons with the Blue Jackets. He won his second Vezina trophy after the 2016-17 season. All it took was someone to give him a chance to play as their number one. At a time Columbus desperately needed a number one, they got one who's still going strong.
#CBJ captain Nick Foligno on Sergei Bobrovsky: "We're just happy to see Bob play like Bob. We don't need him to be the superstar. It's just that's his capabilities."

— Stephen Whyno (@SWhyno) April 14, 2018
Seth Jones
The 2015-16 season started about as bad as you could imagine. After an 0-7-0 start, head coach Todd Richards was fired by the Blue Jackets and John Tortorella was brought on board. The hope was to bring some accountability to a room who desperately needed it. The team was fragile and felt lost. Even Sergei Bobrovsky had no confidence. He couldn't stop anything.
The defense was a major problem. Teams ran circles around the Blue Jackets and could do whatever they wanted. Management knew that they needed to address their blue line. In January 2016, the Blue Jackets made a major move with the Nashville Predators.
The Blue Jackets acquired defenseman Seth Jones in exchange for center Ryan Johansen in a one-for-one swap. This trade was met with resistance early on. Many asked why trade your number-one center? Jones was behind Shea Weber, Roman Josi, Mattias Ekholm and Ryan Ellis on the Predators' blue line. So the trade had the appearance of a 5th defenseman for a number-one center. Advantage Predators, right? Not so fast.
Again thanks to an opportunity and opening presented by Columbus, Jones had his chance to become their number-one defenseman. He would have never received this chance in Nashville being fifth on the depth chart. The Blue Jackets saw an opportunity to bring a top defender in and knew they had to pay up. This has turned into one of the best "hockey trades" of at least the last 10 years if not longer.
Jones has not only cemented his place on the blue line, he's one of the best defensemen in the league. Many are considering him as a Norris Trophy candidate thanks to his 16 goals and excellent two-way play. The Blue Jackets drafted Zach Werenski in the 2015 draft and they now make one of the best duos in the NHL.
Jones needed an opportunity. Thanks to a well-executed trade, he got his chance and has thrived. So the Blue Jackets traded for a Vezina winner and a possible Norris candidate. How about we finish this with a trade of a potential MVP candidate?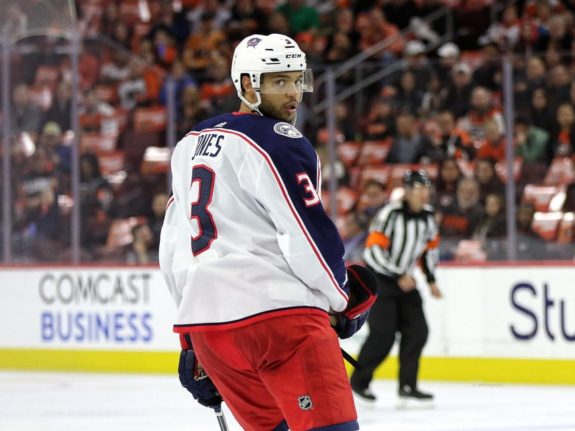 Artemi Panarin
The Blue Jackets enjoyed success in the 2016-17 season by returning to the playoffs. But it ended quickly thanks to a quick five-game loss to the Pittsburgh Penguins. Although the Blue Jackets enjoyed their best season ever and had their chances against the Penguins, they couldn't get that big goal. They didn't have a game changer up front who could break the game.
GM Jarmo Kekalainen and company shocked the hockey world in advance of the 2017 NHL Draft by trading Brandon Saad back to the Chicago Blackhawks as part of a deal that saw them acquire the dynamic Artemi Panarin. While Saad was a good player, he wasn't dynamic. The Blue Jackets saw the potential in Panarin and took a chance. But there were questions.
Panarin played on a line with Patrick Kane and thrived. Were they good because of each other? Could Panarin still produce without Kane on his line? Kane was the established Cup winner and point producer. Panarin was just entering his third NHL season and how didn't have anyone like Kane on the Blue Jackets' roster. We were all going to find out if Panarin was the real deal.
The season did start out slow by his standards. He played at a pace that far exceeded what many of the Blue Jackets could do. There wasn't much chemistry going on. Points weren't coming for Panarin as many had hoped. Did the Blue Jackets make a mistake in this trade? As of February, the playoffs were in serious jeopardy. Nope, Panarin was just getting started.
Panarin got comfortable with his new surroundings and teammates by the trade deadline. The end result? He became the franchise's all-time scoring leader for a single season by becoming their first 80-point scorer. His line of 27-55-82 in 81 games made him a point per game player. He got there by scoring 13 points in his last five regular-season games. Those games meant everything to the Blue Jackets as they made the playoffs by one point.
Then in his first playoff game as a Blue Jacket, Panarin scored a highlight reel goal that still has fans talking today. That's the dynamic Kekalainen was talking about when they acquired the talented winger. The Blue Jackets have never had, outside of Nash, this kind of game breaker on their roster. And if it wasn't for a gutsy trade, we're not here today watching this unfold.
Panarin was not the number one in Chicago, not with the likes of Kane and Jonathan Toews on the roster. Columbus again presented an opportunity for someone to show they can be a number one at their position in this league.
The Blue Jackets went from worst team in the league in 2011-12 to a contender in 2017-18 thanks to many things but most importantly, three trades that allowed good players to show their stuff and become superstars.
In an era where draft and develop is preached in order to become a yearly contender, the Blue Jackets took an unconventional approach and executed three of the best trades in the salary-cap era to get to where they are today, fighting the Washington Capitals in these Stanley Cup playoffs. They of course made other moves and trades that shouldn't be ignored, but they don't have the lasting impact that these three trades have had.
Bobrovsky, Jones and Panarin allow the Blue Jackets to have a superstar-caliber player in goal, on defense and up-front. All it took was an opportunity and someone giving them a chance to show what they can do.
It started with a trade. Now they have the fame. The Columbus Blue Jackets gave these players the stage and they've ran with it. The sky's the limit for this team and these talented players this year and in the future.