As far as in-season NHL trades go, one would be hard-pressed to find a move in recent memory that was more eye-popping than the deal the Columbus Blue Jackets and Nashville Predators made on January 6, 2016. As we near the two-year anniversary of Ryan Johansen for Seth Jones trade, the trade remains as fascinating today as when Jarmo Kekalainen and David Poile pulled the trigger on what was a true blockbuster.
Acquiring Johansen was a 'turning point' for Predators https://t.co/WO8hrr3Qpr

— NHL on NBC Sports (@NHLonNBCSports) July 29, 2017
Though neither side had a real interest moving either player, it was simply too good of a deal to pass up. For a team as stacked on defence as the Predators were, and still are, giving up a player with the potential of Jones was something Poile could entertain in the right situation. Also known as the bonafide first line centre this franchise has been looking for since joining the league for the 1998-99 season.
Seth Jones Trade – Not Your Typical NHL Deal
On the opposite end of the equation, Kekalainen had nothing that resembled a top-flight blueliner either on his roster or among his stable of young prospects. Add to that a player in Johansen who the organization had already buttheads with during his previous extension and suddenly the two had something to talk about. The rest, as they say, is history and lucky for all of us, that history is in the midst of still being written.
From a Nashville standpoint, it is difficult to look at the deal as anything other than a win. No question they parted ways with a fantastic player in Jones but we are talking about a team that is coming off the franchise's first-ever appearance in the Stanley Cup Final. As hard as it may be to believe, the aforementioned Predators backend is arguably better today than it was at the time of the deal.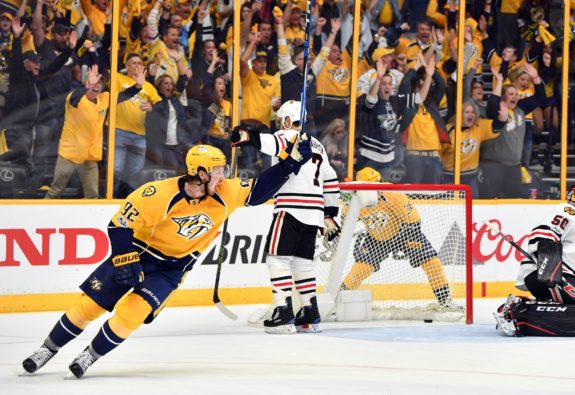 Obviously, turning an aging Shea Weber into P.K. Subban entering the prime years of his career played a large part in helping that take place. However, so did the continued development of Mattias Ekholm, Ryan Ellis and Roman Josi. So as painful as parting ways the fourth-overall pick in the 2014 Entry Draft may have been, a team needs to give in order to get and Poile unquestionably got fair value in return for his asset.
Ryan Johansen Has Delivered
After years of searching for a top-line pivot, Johansen has managed to put those worries to bed after a year and a half in Preds silks. Despite no longer being the goal-scorer he was during his peak with the Blue Jackets, the fourth-overall pick in the 2010 Entry Draft has morphed into one of the game's premier playmakers and is in the first year of an eight-year extension that will see him earn $64 million. Can you say thumbs up?
When we take a look at Columbus, they too have enjoyed plenty of team success since the trade but all of it has come during the regular season. In fact, part of the reason Kekalainen was open to making the move when he did was that many were expecting the club to compete for a playoff spot in 2015-16. Unfortunately, that did not occur and subsequent moves were made, including bringing Jones onboard for what was a fair but extremely steep price.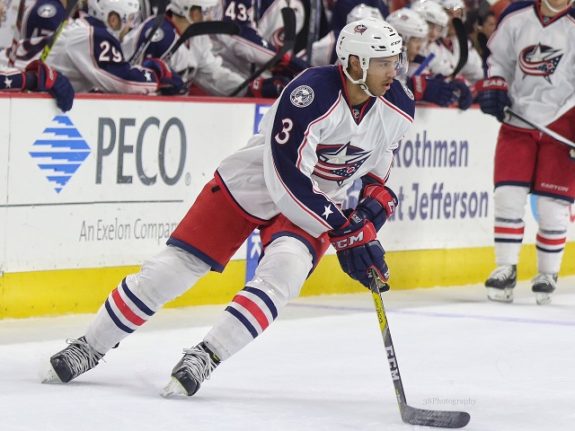 With a healthy Sergei Bobvrovsky back in the mix, the Blue Jackets went from having the fourth worst record in the league to the fourth best in 2016-17 and the towering American blueliner was a key piece in the turnaround. After putting up only eleven points in his final 40 games with the Predators, the 23-year old has collected 71 points in 129 appearances in Columbus and become a minute-eating machine in the process.
Seth Jones Nearing Elite Status
It may have taken a couple of years for the youngster to get comfortable in his NHL skin but Jones is now on the verge of becoming the dominant force he was during his days with the Portland Winterhawks in the WHL. John Tortorella uses the kid in all situations and has become the anchor of his backend. In short, the Arlington native is just starting to scratch the surface on what the future could hold. The sky truly is the limit on what he could do.
The Columbus Blue Jackets are closing in on an extension with Seth Jones. Source says its close.

— Darren Dreger (@DarrenDreger) June 29, 2016
Keeping all of that in mind, is it even fair to talk about who won this deal? It is abundantly clear that there is no loser and from a team standpoint, it is awfully difficult to not call both winners. At this stage in their careers, there's no reason to think either one has plateaued but chances are Jones may have the slightly higher ceiling due to his age. With that said, it is hard to imagine either side wanting a Mulligan on what was a great move for both organizations.
Also available from Rob Soria: