In order to have the best October in franchise history, the Tampa Bay Lightning needed just about everything to go right. Between the offensive domination of Steven Stamkos and Nikita Kucherov, Brayden Point's strong start to his sophomore campaign or the surprising play by rookie defenseman Mikhail Sergachev, the Lighting have a lot to be excited about. While it is easy to be transfixed by these big stories, there's a team of players behind the storylines who aren't receiving the same media attention.
While you can't highlight everyone who has done their job so far, it's worth talking about a few of the players who are doing their work night in and out with little fanfare. These are the role players who know what to do and do it very well. Sure, it may not be the most glamorous role but they are just as important to the Lightning's success as a Kucherov or Stamkos.
Anton Stralman
The work that Anton Stralman has put in for the Lightning since joining the franchise in the 2014 offseason will always be understated. Stralman has the moniker of being the Lightning's best defensive defenseman, a type of player who you only notice when he makes a mistake. He rarely makes mistakes so he largely goes unnoticed while his partners have a little more free rein to play the puck.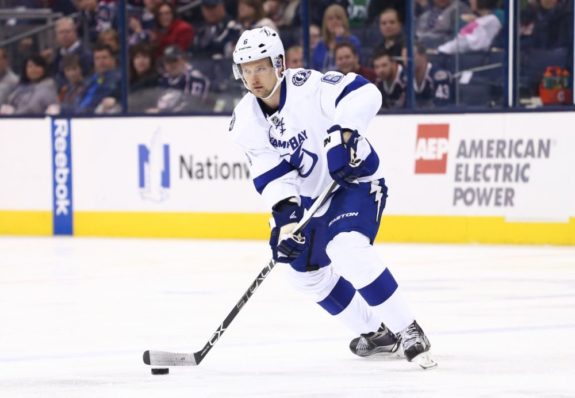 It was clear that something wasn't quite right during the 2016-17 season. This was likely a nagging injury from a broken leg Stralman suffered at the end of the 2016 season from which he returned too soon. The entire season, he was one step behind his normal self, causing some uncharacteristic mistakes and scoring chances.
This season, however, he looks to be back at full strength. He is helping to shut down the Lightning's blue line all while receiving the duty of mentoring Sergachev. So far, this has been a successful pairing for both players, as Stralman's rock-solid play allows Sergachev to have some space to learn the game in real time. There are few players who can take on the role of both mentor and top defenseman, but Stralman fits comfortably in the position.
Yanni Gourde
To say that Yanni Gourde's path to the Lightning's second line was a long one would be an understatement. As an undrafted player out of the Quebec Major Junior Hockey League, Gourde was overlooked by the NHL until he landed with the Syracuse Crunch in 2013-14. During his first year with the Crunch, Gourde promptly led the team in scoring. He worked his way up the prospect ladder until he found a breakout role with the injury-depleted Lightning in the 2016-17 season.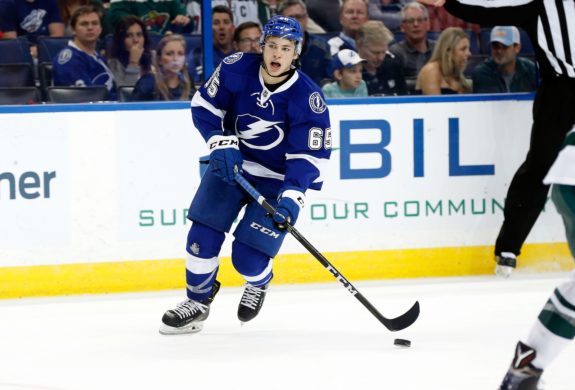 Gourde has played this year primarily on the second line next to Point and Ondrej Palat, and in many ways has been just as impressive as his linemates. He plays the puck hard, is not afraid to shoot, and manages to be in the right place when he needs to be. As a penalty killer, Gourde can create shorthanded opportunities to change the momentum of a game. If not for a little bit of poor luck, he could have double the points by now.
While Gourde may not have the name recognition of his teammates, he has the skillset for a breakout season this year. He knows what it takes to have success at all levels and it was no fluke that he started the year on the second line over more traditional Lightning names. Expect Gourde's role with the team to grow throughout the season as he becomes a more prominent player.
Related: Yanni Gourde Earned His Lightning Contract
Braydon Coburn
Much like Stralman, Braydon Coburn had a relatively poor 2016-17 season. The veteran defenseman was cumbersome on a Lightning blue line that was already slow after a myriad of injuries. Many speculated that he would be left off the Lightning's expansion draft protection list, as he had two years left on his new contract and didn't seem capable of living up to his old standards.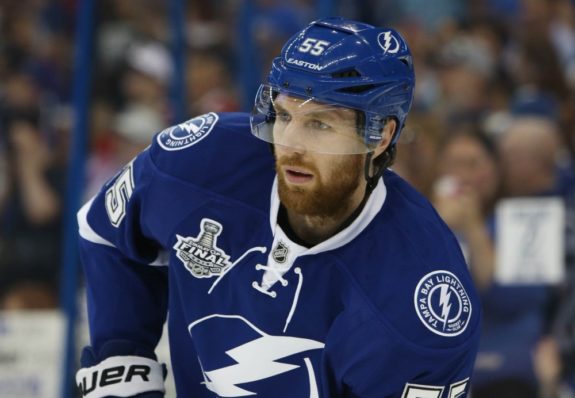 Fast forward to the 2017-18 season and Coburn looks to be back to his more consistent style of play. While he does have moments where he gives up goals, for the most part, Coburn's play has been positive. He goes out, performs his duties and then gets off the ice in a smart and clean manner. Both he and his partner Dan Girardi have looked solid to start the year off, and considering the many questions about these two players heading into the season, solid is a good thing.
Only time will tell if his play will continue, but right now, he's giving the Lightning a consistent 15 to 16 minutes of ice time each night proving he's worth his contract. While Coburn will never be a great fantasy pick, his five points to start the year is high for a player who has averaged 11 points in two years with the Lightning. Even at his worst, Coburn's veteran presence in the locker room can only be positive for young defensemen like Sergachev, Jake Dotchin, and Slater Koekkoek.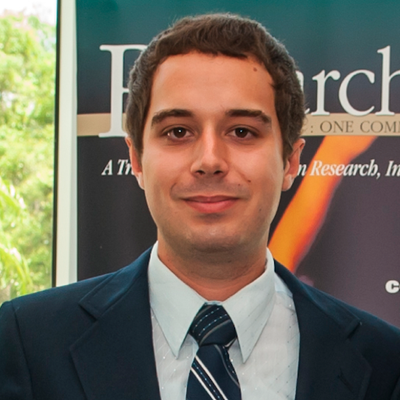 Eugene Helfrick is a Tampa Bay Lightning writer who is actually from Tampa Bay. He has written about the Lightning for six years, covering everything from their run to the 2015 Stanley Cup Final, to their crushing first-round exit in 2019, to their redemption in the bubble in 2020. While he is happy to talk about just about anything from cows to cars to video games, hockey will always remain one of his favorite pastimes.