Yanni Gourde
DOB: December 15, 1991
NHL Rights: N/A
Drafted: Undrafted
Height: 5'09″  Weight: 160 lbs
Position: Centre/left wing
Current Team: Victoriaville Tigres (QMJHL)
                        ◊◊◊◊
Currently first in the QMJHL scoring race in front of Zach O'Brien and Sebastien Trudeau, both playing for the Acadie-Bathurst Titans, with 33 goals and 79 assists for 112 points in only 63 games, Gourde is an overage player that blossomed this season as a 20 year-old player. The Saint-Narcisse, Quebec native, similar to Montreal Canadiens forward David Desharnais, has always had to overcome challenges related to his smaller stature in order to make his mark.
Left unprotected by the Levis Commanders while playing Midget AAA, he ended up with the Jonquiere Elites. And again, nobody believed in the 5'4" forward at the time and he went undrafted until the Tigres' general manager Jerome Mésonéro (whom I met in person), also a native of the South Shore near Quebec City, invited Gourde to the team's training camp in 2008-2009. Unfortunately for Gourde, he was the last player to be cut before the season. That year, the small winger/centre recorded 23 goals and 30 assists for 53 points in 41 games in Jonquiere and managed to play four games in the QMJHL with the Tigres before making the team out of training camp the following fall.
During his first complete year in Victoriaville as an 18 year-old, Gourde tallied only 11 goals and 17 assists for 28 points in 59 games playing sporadically on the team's third line. Finally, in 2010-2011, Gourde centered the club's second line playing with much better players and he managed to record 26 goals and 42 assists for 68 points in 68 games, a 40-point increase over the previous season.
If he continues his good play, Gourde is set to become the first undrafted player out of Midget AAA since Jean Savard of the Quebec Remparts to win the scoring title since 1976-77. Gourde currently has a 12-point lead over Zach O'Brien. Ironically, Gourde comes from the same minor hockey organization (Express Rive Sud de Quebec) that another small player who found his niche on the Montreal Canadiens' first line, David Desharnais. The latter is a native of Laurier-Station, Quebec, which is a 30-minute car ride from Saint-Narcisse.
While he is surrounded by several quality players such as Brandon Hynes (79 points), Philippe Haley (75 points), Yannick Dube (66 points), Philippe Maillet (66 points), Philip Danault (60 points) and Stefan Fournier (60 points), Gourde has 33 more points than any of them, which is a feat in itself.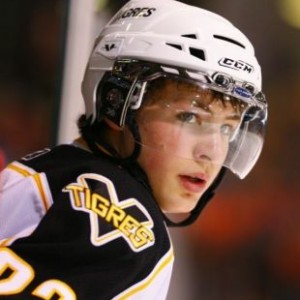 A player with a great offensive talent, a good peripheral vision, soft hands and an incredible skating, Gourde can also play with an extra edge and is not afraid to mix it up even tough he is not very big as shown by his 70 penalty minutes this season. Gourde also has eight game-winning goals (24.24% of his 33 goals), which shows he can produce under pressure in clutch situations.
Despite his smaller size, Gourde doesn't shy away from dropping the gloves and defending his teammates.
As a result of his phenomenal progression, Gourde has even been approached by a professional scout recently, but a very good playoffs run will certainly increase his overall value and put the spotlights on him, especially if the Tigres manage to make it to the 2012 Memorial Cup that will be played in Shawinigan, Quebec next spring.
If Gourde can bulk up to 175 lb this summer, he might stand a better chance to earn an invitation for a professional training camp and receive a two-way ECHL-AHL contract with an NHL team and follow Desharnais' path to the NHL. The diminutive pivot also needs to improve on face-offs as shown by his 46.7% efficiency (224/479), but that is something he can practice and improve over the years.
Nominated for the QMJHL Scholastic Player of the Year award earlier this season, Gourde, who is a grade-A student, is now among the five finalists to win the award. Each player selected received a $400 scholarship and the five finalists will receive an additional $400 scholarship and the winner will be awarded, in addition to the Marcel-Robert Trophy, a $500 bursary.
Gourde, who is studying to become a civil engineer, would not mind playing for an American University or in Europe if he doesn't receive the attention he deserves after a sensational offensive year with the Victoriaville Tigres, but his dream remains to play in the National Hockey League just as every kid!
NHL Potential: 2nd line offensive player
NHL Comparable:  David Desharnais
NHL ETA: 2014
A long-time Joe Sakic fan, Fred, 35, is a freelance sports writer and translator. Fred earned a Bachelor of Translation in 2002 at Laval University in Quebec City. He also writes on the Montreal Canadiens for HabsAddict.com and he is an associate editor and a baseball columnist on Dobberbaseball.com. He is also fluent in English, French and Spanish.