The question on the minds of many Blue Jackets fans is: "How can this team be fixed?" Depending on who you ask, you may get a different answer from everyone.
Some want the team completely blown up. Others want to see changes but not a rebuild. Others think the talent is there to the point where only minor changes are needed. Which is it?
Blue Jackets GM Jarmo Kekalainen definitely thinks some changes are needed. Reports are out there that he has been among the most active GM's in the NHL. That shouldn't surprise anyone. Being in last place will sometimes force your hand. Clearly, something is not working. The coach has already been fired. Next in progression is the players.
The question on everyone's mind is, what has Kekalainen and management staff discussed, and how close have they been to completing a deal? They've been active, but they haven't completed a deal. That should tell you how hard it is now to make a deal in this market. The prices are way too high. If the right deal isn't there, then no sense in pulling it off just to make a trade.
So back to our main question. How should the Columbus Blue Jackets be fixed? The way I see it, moves need made, but there is a lot to work with already on the roster. Blowing this up is not the answer. Addressing needs is the answer.
So what are their needs? There are three BIG ones that stand out above all else. If these can be addressed in a timely manner, the Blue Jackets are well on their way back. Let's look at each need one at a time.
A Top Defender
This, by far, is the biggest need for the Blue Jackets. Recall last offseason that management acknowledged the need for this to be addressed. It wasn't. When asked about it, Ryan Murray's name was mentioned as the guy. His health and playing was deemed "one of the biggest acquisitions of the summer."
It was a good theory. To his credit, Murray has stayed healthy this season. As of late, he has started to show flashes of what kind of player he can be. But early on, his play was sub par given the level of expectations. It lead to him becoming a healthy scratch (although it didn't happen due to injury). Murray was not meeting expectations. This trickled down through the lineup.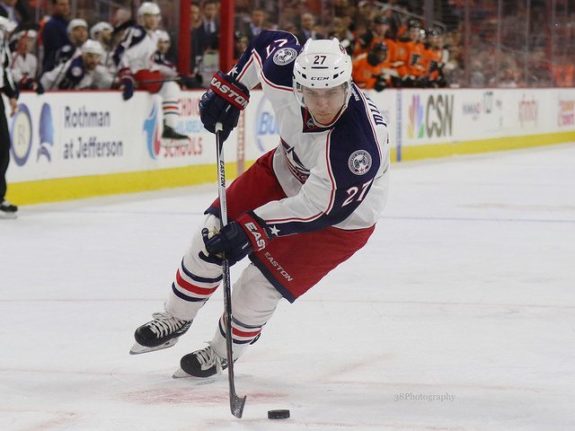 Murray certainly still has the upside to play as a top defender. This leads me to saying that the Blue Jackets need to get a top right-handed defender to put alongside him. This likely happens in a trade if the right one is available.
For example: let's say the Blue Jackets are somehow able to acquire a player like Seth Jones. This is what the pairs could look like given that scenario:
Murray-Jones
Johnson-Savard
Tyutin-Goloubef
Now, doesn't that look nice? This is a legitimate top four NHL defense corps in proper positions, with a solid third pair. Keep in mind also that prospect Zachary Werenski will soon join the Blue Jackets. He has top defender upside, as witnessed in this World Junior Championship.
The point here is, acquiring someone to play with Murray will do wonders for this team. It will balance out the rest of the pairs, and have an effect on the forwards and the goaltender. This MUST happen. The reward is too great to pass up.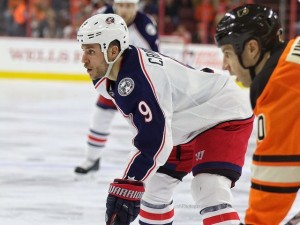 A Capable 4th Line
How many of you would love to see the likes of Mark Letestu and Derek MacKenzie back on the Blue Jackets? Why would you want them back? It's easy, because of the stability that they gave the fourth line.
The Blue Jackets haven't had that stability since they were in town. The results are telling. Without them, the fourth line has played limited, unproductive minutes. The puck was normally in their end of the ice, with no end in sight. There would be a good play here and there, but time and again, the same thing was happening. Opponents were exposing the Blue Jackets fourth line.
Gregory Campbell was brought in this offseason to address that. He's been better of late, but at the beginning, he was not good. Other players have shuffled through the rotation, but leading to the same results. There was no consistency, and other teams knew it. Thus, the top three lines played more, causing them to not be as fresh later in games or as the season wore on.
The effect of this move is almost as dramatic as getting a top defender, although it doesn't come with as much fanfare. The Blue Jackets need to find a defined, solid, fourth line to help balance the top forwards. It needs to be an asset, not a liability.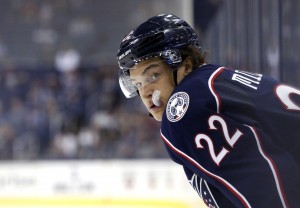 A Top-Six Right Wing
If I had to rank the three, this is the lowest on my list, but it is still important. Cam Atkinson has shown us he can handle the right side. But who else can?
Players like captain Nick Foligno and Brandon Saad have played on the right side most of this season. Saad doesn't seem to be missing a step at all. Foligno is starting to play well after a very slow start. The point here is, that these two are left-wing players. In fact, if you look at the organizational depth chart for Columbus, there are MANY left wingers on it.
Besides Saad and Foligno, there's Scott Hartnell, Matt Calvert on the Blue Jackets. There's Kerby Rychel and Sonny Milano on the Lake Erie Monsters. Rychel and Milano are not far from playing in the NHL full-time. That's six capable players, for three winger spots. These aren't fourth line players we are talking about here. What can make this tricky is that the top four, have term left, a minimum of two years after this season.
You'd think someone from that group won't last. If I was the Blue Jackets, I'd see if I could flip one of them for a natural right-wing player. Oliver Bjorkstrand is on Lake Erie and could make a run soon at making Columbus. If he's not ready, that second right-wing position is crucial to fill.
These are tweaks, not a blow-up of the team. If the Blue Jackets address their glaring needs, they are right in this thing. We'll see if opportunity knocks at the trade deadline, or after the season. Now it's your turn. How would you fix this team? Feel free to leave your comments below.