The Columbus Blue Jackets coaching staff has come under scrutiny for a majority of the season, and although the team couldn't have been expected to be a playoff contender in hindsight; the criticism is deserved. Head coach Brad Larsen has been making some puzzling decisions that have not only set the team back for this season, which has already been lost but potentially have long-term repercussions.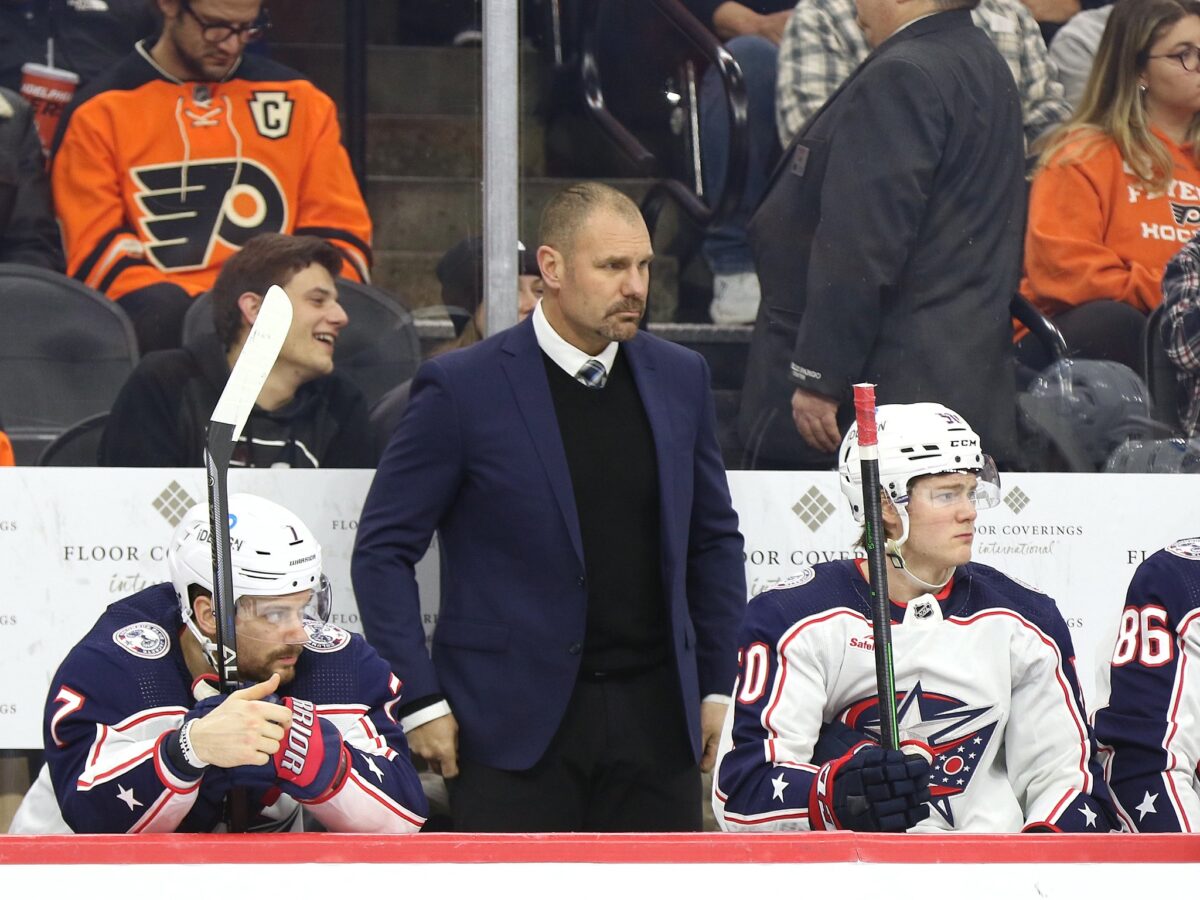 From the disappointing 9-4 loss to the Buffalo Sabres to the recently concluded seven-game losing streak, there have been many signs that the coach has lost the room in just the last month. It certainly has to weigh on a locker room when people are calling for a change less than halfway into the season, and it has been commonplace since the first month of it. The team is clearly still in a rebuild, yet Larsen and his staff refuse to coach like it and that is the main reason why the criticism is justified.
Refusing to Play the Youth
It was clear during the game against the Islanders on Dec. 29th that Larsen simply does not want to give the younger players adequate ice time. It appears he'd rather play the energy line of Eric Robinson, Sean Kuraly, and Mathieu Olivier than any of the team's stars or prospects. They had the second-highest time on ice during the game, trailing only the line of Johnny Gaudreau, Jack Roslovic, and Emil Bemstrom.
---
Latest News & Highlights
---
This is the time when they should be playing the youth as much as possible and evaluating their assets. Players like Liam Foudy and Bemstrom are starting to seem more likely to not stick with the club. However, it's impossible to know what the young players truly bring to the team without giving them a decent opportunity. Bemstrom has been the one player who has been given an opportunity since his emergency recall for the ill Patrik Laine, and he has thrived so far. At the same time, if they're going to keep Cole Sillinger in the NHL despite his struggles, there's no point in giving him minimal ice time. If the goal is for Kent Johnson to play with Johnny Gaudreau and Patrik Laine long-term which should be the plan, that's where he should be when all three of them are healthy. Injuries are a legitimate excuse for the team underperforming, but there is no excuse for the misuse of the organization's youth. 
Time to Build Chemistry
Larsen also has picked up a habit from his former mentor John Tortorella, as he refuses to keep lines together long enough for them to form any sort of chemistry. In fact, the aforementioned Kuraly line has been the most consistent combination, and they've been together for 24 games, while the second most common line has only been together for 14.
Injuries of course have had an impact on this, making it difficult to keep the same combinations, but it is certainly worth noting. Even when players are staying healthy, there has been consistent line blending. According to Natural Stattrick at the time of writing, Gaudreau, for example, has played on 17 different lines this season which doesn't give much opportunity to develop chemistry since that's essentially switching lines every other game. Meanwhile, his replacement in Calgary, Jonathan Huberdeau, has played on seven.
There will never be a situation where lines are set in stone, it's impossible for a multitude of reasons. However, giving the players an opportunity to play with the same people as often as possible can only provide benefits. 
Related: Blue Jackets Young Centers Need to Step Up in Jenner's Absence
Being a first-time head coach at the NHL level brings quite a few challenges, especially when thrown full force into a rebuild with very few opportunities to make yourself look good as Larsen has certainly seen in his first season and a half behind the bench.
Unfortunately, the mistakes he has made make it difficult to see him in the position long-term from outside of the organization. If he plays the youth and shows that he's going to do what is best for the team in the long run, it will restore some faith from the fan base. Coaches want their teams to win, that's obvious, but sometimes even they'll have to acknowledge that their team simply isn't ready to compete in the current season. When that happens, you have to move toward the future and build trust with the players while allowing them to build trust with each other. Sometimes taking a step back and doing so will move the team forward two or three steps. However, if Larsen doesn't get on board, then there will be more of the same going into 2023.
---
---
William Espy is a graduate of California State University, Stanislaus. He has been writing about hockey since 2016 on various platforms. He currently covers the Columbus Blue Jackets but had a previous stint covering the Calgary Flames.