The Columbus Blue Jackets know they will be picking third at the 2023 NHL Draft in Nashville. With the third pick of the draft, they will select…
That's where this story begins. The Chicago Blackhawks won the right to pick first overall and will most likely select Connor Bedard. The Anaheim Ducks will pick second and will most likely pick Adam Fantilli, although given their current center depth, we can't rule out a surprise.
---
---
We will assume the Ducks do select Fantilli for the purposes of this exercise. The Blue Jackets now hold the pick that will help shape how the first round of the draft goes. We know they will land an impact player. What we don't know yet is their mindset into which player they'll target.
The belief is that Leo Carlsson, Will Smith and Matvei Michkov would be in the discussion. Today, we are going to look at the pros and cons of each player to help give you a sense of the kind of decision that is involved.
The Blue Jackets are facing a lot of pressure to improve in 2023-24 after finishing in 31st place in the NHL standings. They must get this pick right. Since they get first dibs outside the top two, they get the chance to land the right player here. Let's dive into each player.
Steady Carlsson
Most public draft boards have Carlsson as the next best center behind Bedard and Fantilli. It's easy to see why. Carlsson has the size. He has elite upside. He can impact the game at both ends of the ice.
That sounds exactly like what the Blue Jackets need with the third pick. Add in the fact Carlsson played against men in the SHL and he's close to being ready to jump to the NHL. Given the need at center for the Blue Jackets, his quicker availability could play to his advantage.
---
Latest News & Highlights
---
What stands out about Carlsson is his playmaking ability and high hockey IQ. He can see the plays develop in advance while having a knack to find open space for himself and his teammates. Although he's spent time in Sweden on the wing, the long-term prognosis is that he'll play center in the NHL.
Here's our draft expert Peter Baracchini on Carlsson: "In any other year, Carlsson could be battling for the first overall spot given his overall potential and elite level skillset. But there is no doubt that in this year's class, he definitely has been running away and cementing himself as a top-three prospect and potentially a game changing player. He's definitely worth a top-5 selection, but given his upside, how can you not take him as the next centre behind Bedard and Fantilli?"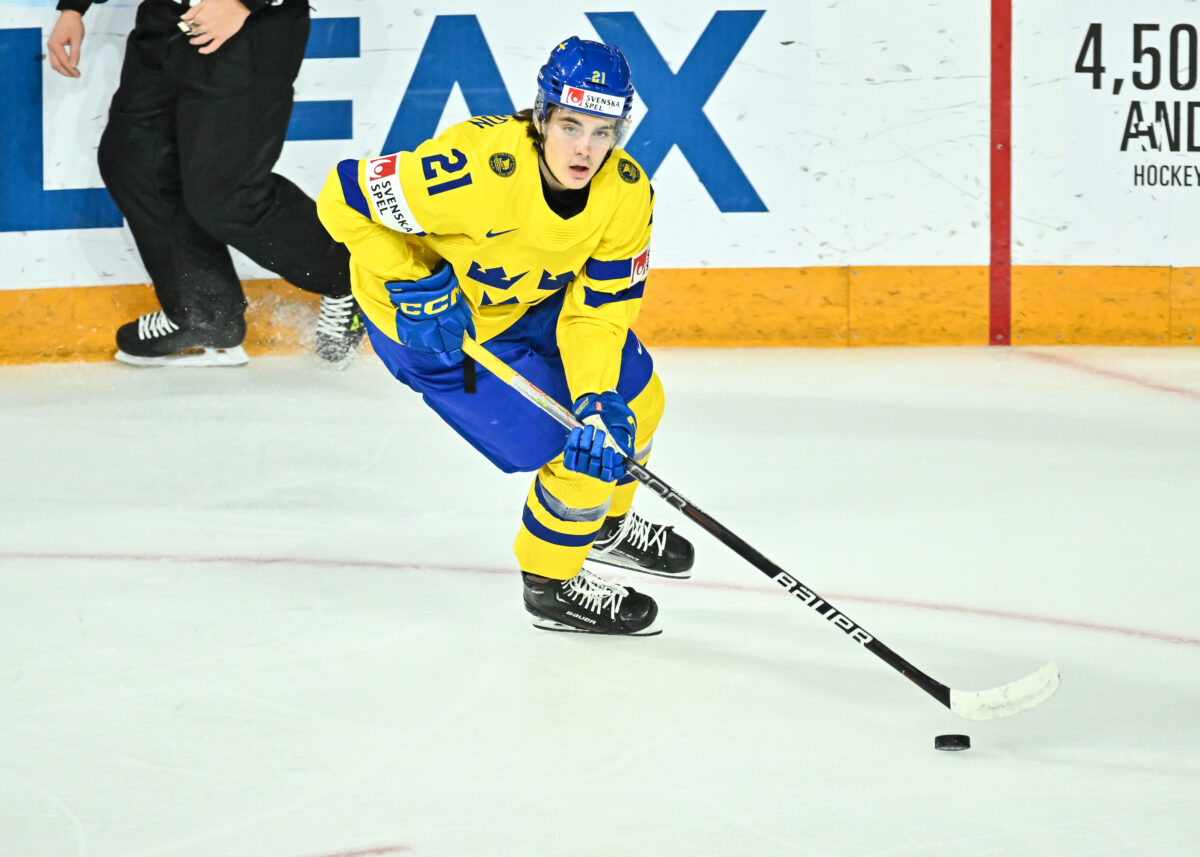 In terms of potential cons for Carlsson, there aren't many. Scouts cite the need to use his frame more in physical battles. Others point to his shot being good but not elite. This is a case where Carlsson is a potential cornerstone player who can do a lot of things well but it could be a step down from the elite.
Related: 2023 Draft Prospect Leo Carlsson is NHL Ready
Given the need for impact center, Carlsson should jump at or near the top of the Blue Jackets' list. You can bet they'll watch him at the upcoming World Championships as he will play for Team Sweden.
Smith Brings Elite Skill
Every draft always brings someone who is looking to crash the party at the top of the draft. In 2023, Smith used his U-18's performance to put himself on the map.
While Smith doesn't have the size of Carlsson and is likely further away from the NHL too, the way he processes the game and the speed he plays it with is at an elite level. There's a reason why he scored at similar levels to Auston Matthews and Jack Hughes.
Smith can create offense from nothing. He can start the rush. He can see the play developing and is able to make great passes to wide-open teammates. His MVP performance was not lost on NHL teams, especially the Blue Jackets.
Here is our Logan Horn on Smith: "The ability to make tough plays under pressure at high speeds is often referred to as "pace", and it is one of the biggest indicators that a player will find ways to succeed in the NHL someday against the fastest and smartest competition in the world. No matter what you call it, Smith has it. In fact, he thinks so quickly that he's often making plays in an effort to predict what defenses will do next which can sometimes be as dangerous as it is exciting."
The Blue Jackets need to find an impact center who can fit in with their wingers Johnny Gaudreau, Patrik Laine, Kent Johnson and Kirill Marchenko. Smith fits that description and can do it at a higher rate of speed than Carlsson.
If this is the pick, the Blue Jackets will need to wait at least a year as Smith is committed to Boston College. He's also played at a junior level and not at the pros yet.
Both Carlsson and Smith project to have long NHL careers. The answer to who the Blue Jackets will draft at the podium will come down to they believe will help them more in the long run. Carlsson is closer to ready and good at almost everything. Smith is a longer wait but have some elite characteristics. This isn't as much of a slam dunk as you'd think it is.
Michkov the Wild Card
We have to consider all possibilities for the Blue Jackets. While they are on record as saying they need a center and hope to leave Nashville with an elite one, there is a generational talent available that should get some teams to stop and think before choosing.
Michkov is that generational talent. His situation is well documented. He's not available until after his KHL contract runs out. He's also a winger which likely takes him out of consideration for the Blue Jackets.
You Might Also Like
GM Jarmo Kekalainen has always said take the best available player no matter the situation. That will be put to the test in Nashville. Taking Carlsson or Smith third would mean the Blue Jackets passed on what many scouts are calling a generational player. To add to this, Kekalainen has said if the players under consideration are close on their list, then they'll favor position.
Here is our Devin Little on Michkov: "On talent alone, you can make a solid argument that Michkov should be the second player off the board after Connor Bedard. Unless the team picking second can afford to be patient, however, there's a pretty high chance that he falls down the draft board a bit, possibly even outside of the top five. He should still be a top 10 pick, though. The further he falls, the more likely it is that we'll look at him as one of the biggest draft steals of the decade – and possibly even longer."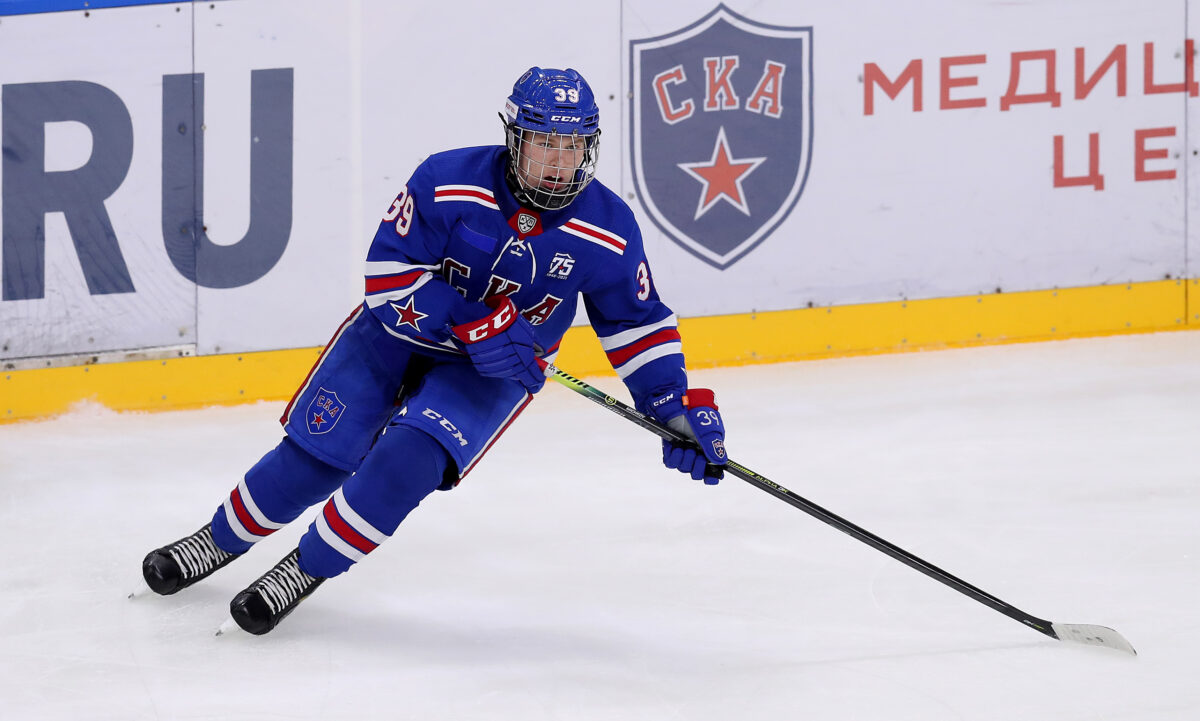 Some scouts have Michkov as the greatest Russian prospect to come from there since Andrei Vasilevskiy and even Alex Ovechkin. Could the Blue Jackets surprise us all and take Michkov to add to the contingent of Russians already there? Marchenko has played with Michkov before. When we asked Marchenko about what Michkov can do, he said "goal scorer."
Now it will be up to the Blue Jackets to take the player that's going to help them the most in the long run. Do they take the do-it-all center in Carlsson? Do they take the elite upside of Smith? Or do they pivot from center and land a generational talent that will take time to come over.
The one thing the Blue Jackets don't have too much of is patience. They need to improve and they need to improve now. That could take Michkov off the board.
All indications seem to point to Carlsson since he's the closest to being ready for the NHL. But Kekalainen has proven he could surprise at the podium. That's why the Blue Jackets will be the most interesting team going into the draft. Their pick will have a domino effect on everyone else.
Carlsson, Smith, Michkov or a surprise? That's what we'll be talking about from here on out.