The St. Louis Blues' 2022-23 season was a shocking disappointment for fans and management alike, leading to the team becoming sellers at the trade deadline and ultimately finishing in a draft lottery position outside the playoffs. So who bears the blames for the team's failings? And who succeeded despite the team's struggles? That's what we'll look to identify in our 2022-23 Blues' Report Cards series.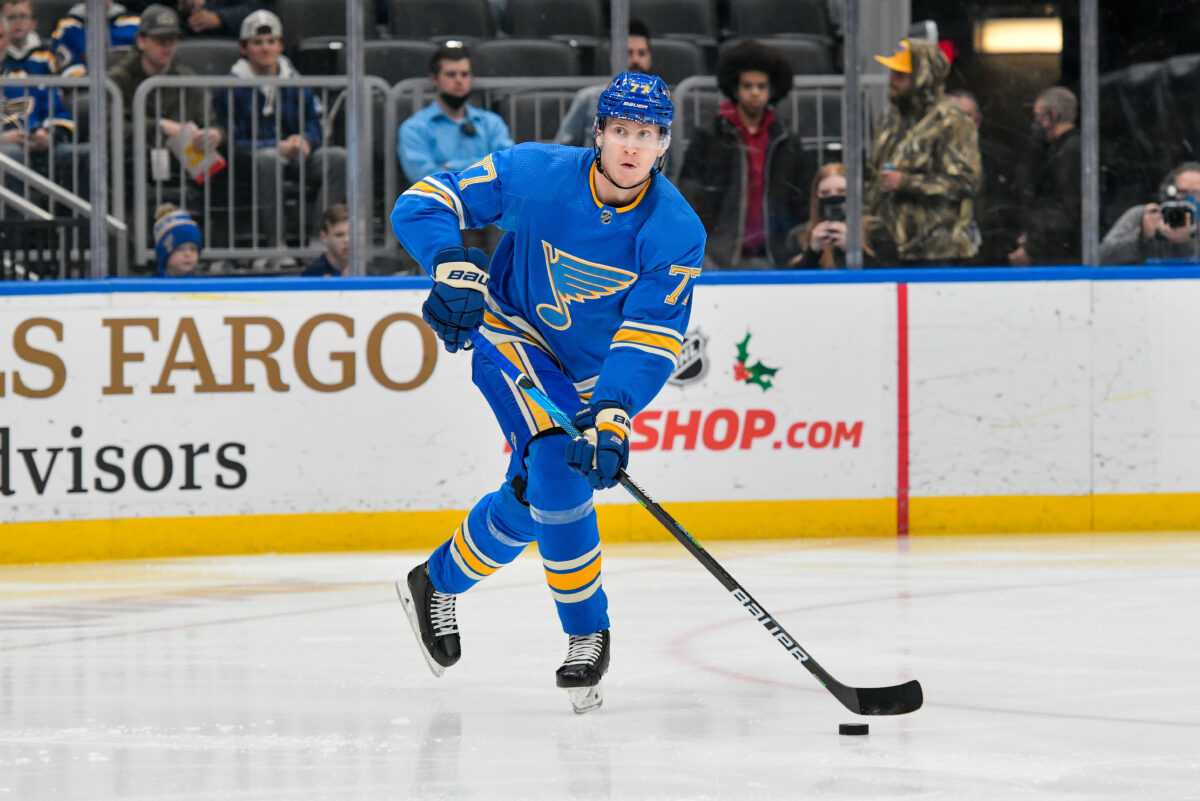 For many years, Niko Mikkola was a fringe defenseman in the St. Louis Blues' organization, hoping to take the next step and earn a permanent role in the team. As we now know, that role will never materialize — at least not with the Blues — because Mikkola was sent to the New York Rangers in a deadline trade alongside Vladimir Tarasenko. Before that happened, though, he played 50 games in a Blues' sweater, hoping to improve on a disappointing 2021-22 campaign. It was an up-and-down effort, but the towering Kiiminki, Finland native did enough to maintain his trade value. And for the Blues this season, that was as good as almost any defenseman was able to accomplish.
What Went Right: A Move to Manhattan
Mikkola started the season as a depth option in the Blues' organization, but he played every game that was available to him to be played, finishing with 81 games between St. Louis and New York. That was a big step up from his career high in the previous season (54), showing that Mikkola evolved into an everyday player this season. His point total dropped from 13 to six, but no one is looking to him for his scoring. His role is to provide some stability in the defensive zone for his team, and he did that. He was a slightly-plus player in preventing expected goals against (xGA/60), and for a mostly third-pairing defenseman, slightly above average is good enough. Unfortunately for the Blues, one slightly above average third-pairing defenseman could not redeem the team's anemic blueline, and by the trade deadline, with Mikkola on an expiring contract, he became fodder for general manager Doug Armstrong to trade for future assets.
The Rangers were looking for a shutdown defenseman and additional scoring and killed two birds with one stone by trading for Tarasenko and Mikkola in one fell swoop. The defenseman's ice time immediately climbed by over two minutes per game, he played at times alongside Adam Fox, and tonight, he will be dealing the New Jersey Devils to help the Rangers secure a spot in the second round of the playoffs. He's been a pleasant surprise for the Rangers. It's hard to argue that the move wasn't a big win for Mikkola, and for the Blues, it was too late to salvage anything from the season, anyway.
What Went Wrong: Blues Defensive Disaster
Mikkola deserves credit for playing well enough to drive interest in him at the deadline. But the team he left behind is a defensive disaster, and Mikkola's play was not good enough to overcome that. He should not have been expected to be the solution, but if he had taken a major step forward, perhaps he would have proven valuable enough to the Blues for them to want to keep him around rather than trade him.
Related: Grading the Rangers' Trade for Tarasenko & Mikkola
---
Latest News & Highlight
---
Instead, Mikkola moved on, and the Blues were left to pick up the pieces of a broken season. It is uncertain who will make up the Blues' defensive unit in coming seasons, but Mikkola will not be a part of it. His future appears to lie elsewhere, but he has evolved into an everyday NHL defenseman, and that is to his credit.
Key Stats
First full NHL season (81 games split between St. Louis and New York)
Average Time on Ice (ATOI) increased by over two minutes after move to Rangers
Final Grade: C
Mikkola did nothing extraordinary this season. But he did enough to remain a tradeable asset for Armstrong and the Blues' front office — better than many of his peers, to be blunt. He had a good 31-game stretch with the Rangers and has looked serviceable in the playoffs. He's an average third-pairing defenseman, but that can earn you a solid career in the NHL.
What's Next for Mikkola
Tonight, the Rangers and Mikkola will either extend their season or go home in a Game 7 defeat. Either way, the offseason holds free agency for the Finnish blueliner. But a reunion with the Rangers seems very possible. He has been a good fit and provides some size and solidity on the backend of their defense. But whether it's in New York or not, Mikkola is certain to have an NHL home next season. He has done enough to earn a spot for the foreseeable future.