Adam Fox (born February 17, 1998) is an American professional ice hockey defenseman for the New York Rangers of the National Hockey League (NHL).
He played two seasons in the U.S. National Team Development Program, and finished with the record for the most assists in a single season (in 2015-16) and the most assists in a career (in 2014-16).
Fox was selected by the Calgary Flames, 66th overall, in the 2016 NHL Entry Draft, but opted to play collegiate ice hockey for Harvard University.
In June 2018, Calgary traded Fox's NHL rights to the Carolina Hurricanes, who traded them to the New York Rangers in April 2019. He left college a year early, and made his NHL debut for the Rangers in 2019.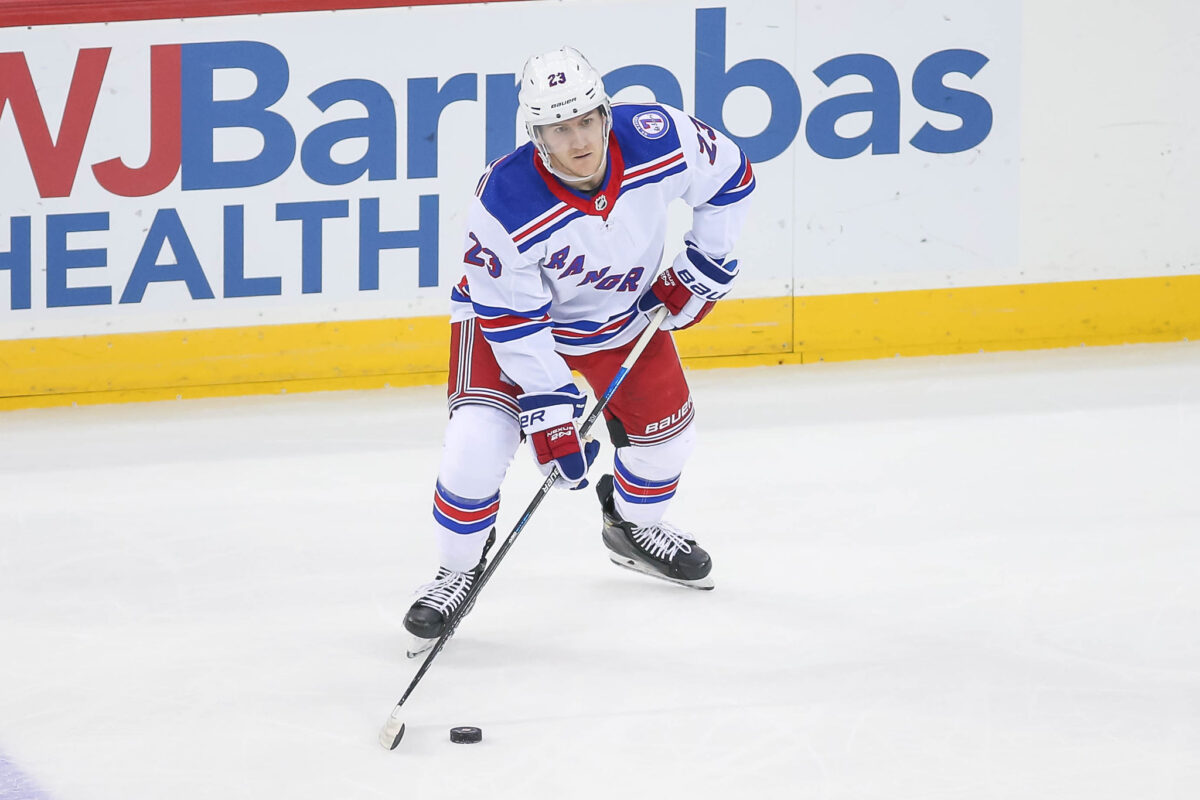 Adam Fox Statistics
Trade Tracker
Deeper Dive
Achievements
2014-15 U17 WHC Silver Medal
2015-16 U18 WJC All-Star Team
2015-16 U18 WJC Best Defenseman
2015-16 U18 WJC Bronze Medal
2016-17 NCAA (East) First All-American Team
2016-17 NCAA (ECAC) All-Rookie Team
2016-17 NCAA (ECAC) All-Tournament Team
2016-17 NCAA (ECAC) Champion
2016-17 NCAA (ECAC) First All-Star Team
2016-17 NCAA (ECAC) Rookie of the Year
2016-17 NCAA All-Ivy League First Team
2016-17 NCAA Ivy-League Rookie of the Year
2016-17 U20 WJC Gold Medal
2017-18 NCAA (East) First All-American Team
2017-18 NCAA (New England) Best Defenseman
2017-18 NCAA All-Ivy League First Team
2017-18 U20 WJC Bronze Medal
2018-19 NCAA (East) First All-American Team
2018-19 NCAA (ECAC) First All-Star Team
2018-19 NCAA (ECAC) Player of the Year
2018-19 NCAA (New England) Walter Brown Award
2018-19 NCAA All-Ivy League First Team
2018-19 NCAA Ivy-League Player of the Year
2018-19 NCAA Top Collegiate Player (Hobey Baker Award) Finalist
2020-21 James Norris Memorial Trophy
Sources