The St. Louis Blues' 2022-23 season was a shocking disappointment for fans and management alike, leading to the team becoming sellers at the trade deadline and ultimately finishing in a draft lottery position outside the playoffs. So who bears the blame for the team's failings, and who succeeded despite the team's struggles? That's what we'll look to identify in our 2022-23 Blues' Report Cards series.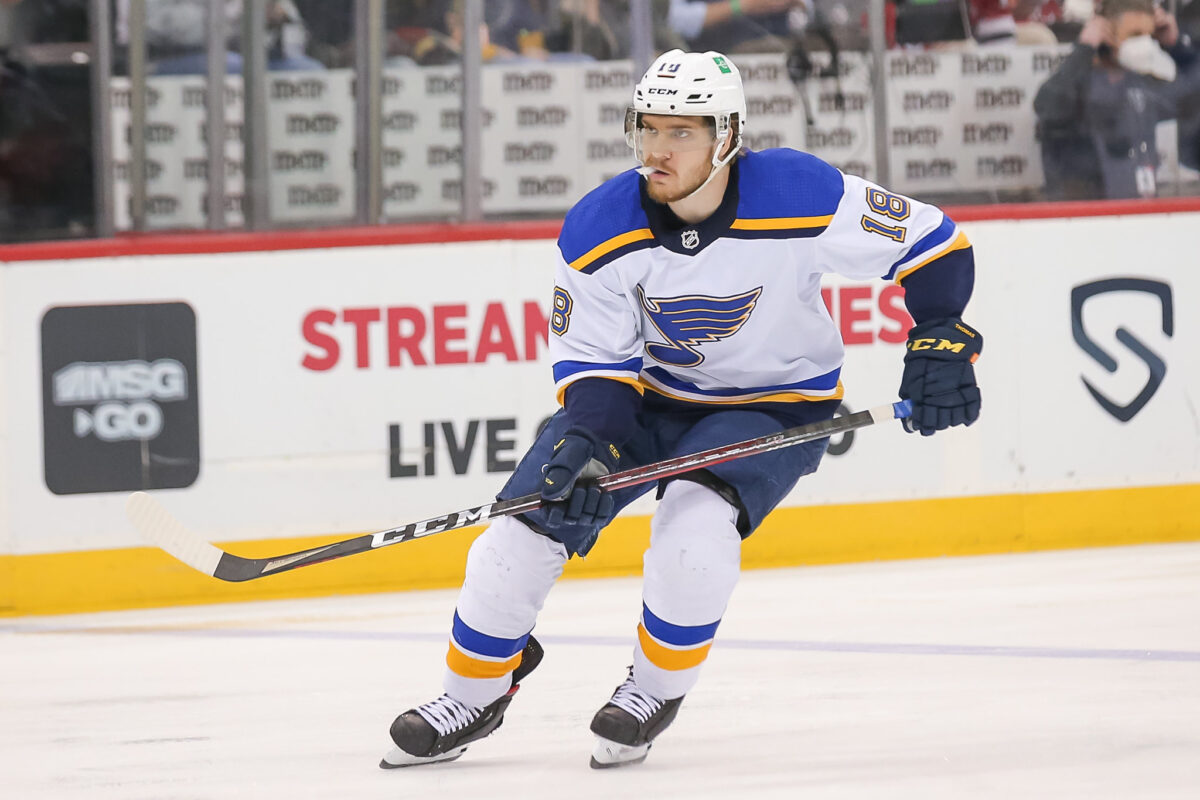 After inking a franchise-record eight-year, $65 million contract this summer, expectations for 23-year-old center Robert Thomas were extremely high going into the 2022-23 season. He broke out as a point-per-game player in 2021-22, scoring 77 points (20 goals) in 72 regular-season contests and another six in 12 playoff games. With the Blues set to move on from many key names this summer, Thomas is considered to be the next face of the franchise.
What Went Right for Thomas: Increased Role
When you're one of the highest-paid players on a team, expectations seem to grow. Such was the case for Thomas, who wore an 'A' as alternate captain often this season as his minutes and role increased. His average ice time jumped from 18:46 in 2021-22 to 19:21 this season, which doesn't sound like much, but it also came with a promotion to the top line, usurping (former captain) Ryan O'Reilly as the team's 1C.
Related: Blues 2022-23 Report Cards
In all, he finished first on the club in assists (47) and power play (PP) assists (17), third in points (65), fifth in goals (18), and fifth in average ice time (19:21). His PP minutes climbed as well, from 147.8 in 2021-22 to 218.6 in 2022-23, leading to a jump in his PP totals from 14 to 22 points. However, his greatest improvement came in the faceoff circle, where his faceoff win percentage (FO%) increased from 49.9% to 52.9% – an area where the Blues struggled terrifically after dealing O'Reilly (54.1%) and Noel Acciari (53.5%).
What Went Wrong for Thomas: Experience
After losing clubhouse stalwarts like O'Reilly, Vladimir Tarasenko, and even a recently acquired veteran, who is considered a "glue guy" (Acciari), the Blues found themselves lacking in the leadership department. While some could argue that teams no longer need a true captain, every locker room needs a voice; someone who can represent the players and be their mouthpiece through successes and hardships. Thomas could be that guy, but he may need to take notes from past leaders like O'Reilly, Alex Pietrangelo, David Backes, or even his teammate Brayden Schenn on how to be "the guy" in St. Louis.
Following a tough loss to the Vancouver Canucks on Feb. 23, head coach Craig Berube was frustrated and out of answers. "A lot of our best players are not doing the job…," he said. "I guess they don't care about the team. I don't know. I'm not sure why." The following morning, when asked about Berube's comments, Thomas' answer seemed to suggest a rift between the two. "Obviously, it's frustrating to hear that… I've been a part of this team for a long time, and what he said couldn't be further from the truth. I know everyone in that room cares, and it's frustrating to hear."
---
Latest News & Highlights
---
He went on to say that he needs "to step up and be better on the ice and off the ice," a sign that he knows that Berube and the front office will continue to lean on him and rely on him to be a leader as the team moves into its next competitive window.
Key Stats
52.91 FO%
47 assists
22 PP points
19:21 ice time
Final Grade: B
His point totals and overall numbers took a small step back this season, which is not a surprise given that the team struggled as a whole. Without a doubt, he's an elite playmaker and deserves to be centering the first line next season. Throughout the inconsistencies of 2021-22, Thomas was one of the few players who remained constant.
What's Next for Thomas?
The Blues are in a transition period, and Thomas will be one of the de facto leaders for the new core group as they gear up for the 2023-24 season. This will also be the first season of his eight-year extension and much more will be expected of him as he continues to grow into this new role. As the Blues' 1C, he's going to be in the middle of everything the team does for the foreseeable future.