The St. Louis Blues' 2022-23 season was a shocking disappointment for fans and management alike, leading to the team becoming sellers at the trade deadline and ultimately finishing in a draft lottery position outside the playoffs. So who bears the blames for the team's failings? And who succeeded despite the team's struggles? That's what we'll look to identify in our 2022-23 Blues' Report Cards series.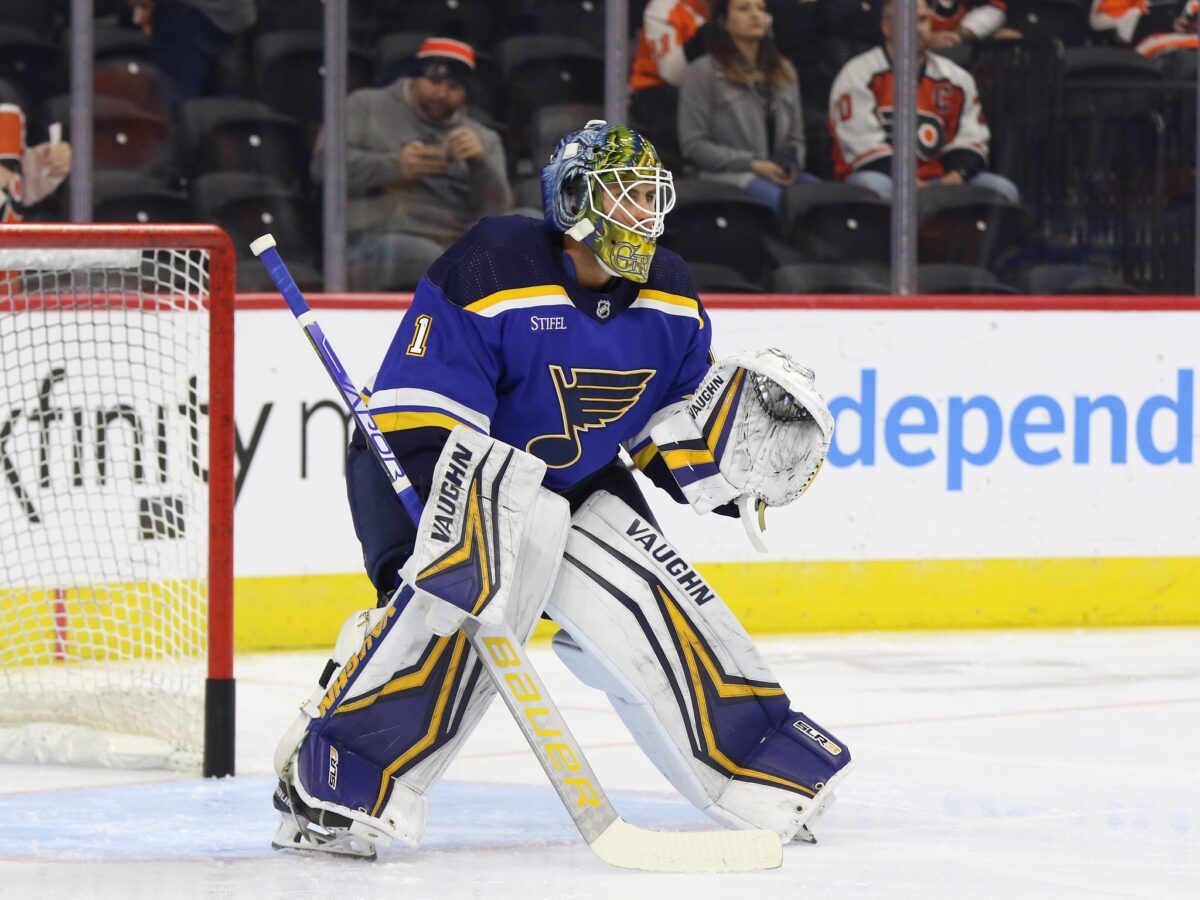 Heading into the 2022-23 season, the expectations in St. Louis for veteran goaltender Thomas Greiss were low and fairly in check. Then 36 years old and with 13 years of NHL experience, it was clear at this point that his best days were now in the proverbial rearview mirror. He spent the previous season with the Detroit Red Wings and posted an uninspiring .891 save percentage (SV%) to go along with a goals-against average (GAA) of 3.66, leading to him becoming an unrestricted free agent in the offseason. With Jordan Binnington clearly entrenched as the club's starter, the addition of Greiss for just $1.3 million to be his backup was a logical decision for general manager Doug Armstrong and the Blues.
What Went Right: Relative Consistency
His stats don't totally reflect his performance on the season. Greiss only made 16 starts and appeared in 21 games altogether, posting a 7-10-0 record with a .896 SV% and a 3.64 GAA, none of which are numbers to brag about by any means. But he also played behind a historically bad defense this season, often leaving him hung out to dry or forcing him to make a spectacular save.

In his Blues debut, he set the franchise record for the most saves by a goaltender in his first game with the club, stopping 39 of 42 shots in a 4-0 loss to the Winnipeg Jets. Perhaps the highlight of his season was his 47-save performance in a 5-4 OT win over the Washington Capitals. His 47 saves are tied for the fifth most in a single game in franchise history.
What Went Wrong: Continuing Downward Trend in Play
His 21 total appearances is the lowest of his career since 2014-15 when he made 20 appearances in his only season with the Pittsburgh Penguins. But even in making ten fewer total appearances and 12 fewer starts than in 2021-22 with the Red Wings, Greiss' overall numbers bared out very similarly.
2021-22: 28 starts, 10-15-1, .891 SV%, 3.66 GAA
2022-23: 16 starts, 7-10-0, .896 SV%, 3.58 GAA
Related: St. Louis Blues 2022-23 Report Cards
---
Latest News & Highlights
---
As the lost season was winding down, it was announced on April 7 that he would miss the remainder of the season with a lower-body injury, effectively ending his time in St. Louis.
Key Stats
16 starts
7-10-0
.896 SV%
3.64 GAA
Final Grade: C
Greiss was never going to be a "1B" type goaltender for the Blues. What they needed from him was consistency behind Binnington and to be a guy who could step in on back-to-backs or play every four to five games and provide good enough play in net. For the most part, he did that and provided nearly identical play from his previous season in Detroit.
What's Next for Greiss?
He'll depart from the Blues as an unrestricted free agent this summer as his role is expected to be filled by Joel Hofer in 2023-24. With him now being 37 years old and a veteran of 14 NHL seasons, it's likely Greiss could end up on an NHL roster next season serving as a backup. To me, it also seems just as likely that he could find himself without a job and could contemplate retirement. The scope of his season-ending injury and its subsequent procedure is currently unknown, but that could play a major factor in his decision-making for next season and beyond.