It is no secret that the St. Louis Blues have a problem with their blue line. After allowing 2.91 goals against per game (GA/G), good for 11th during the 2021-22 season, the team has found themselves among the bottom five teams in the league one season later allowing just over 3.6 GA/G as of this writing. The rise of nearly one additional allowed goal each night has caused not only Blues fans to go into a frenzy, but the front office to float out a few of the club's defenders as possible trade candidates, like veteran defenseman, Colton Parayko.
With less than 20 games left to play in the 2022-23 season, trade rumors are likely to pick back up for a number of the team's defensemen once the trade freeze is lifted for the offseason. Blues general manager, Doug Armstrong, has expressed a desire to accelerate the franchise's current re-tooling phase and return to the postseason as quickly as possible. The silver lining in all of this is that one of his biggest tickets could come through the abundance of NHL-ready defensemen on the team. However, the path to his success will not be easy. Let's take a look at the options the Blues have for their defensemen starting this coming offseason.
It's No Secret, the Blues Have Too Many Defensemen
After reviewing the 2023-24 roster, the Blues have eight defensemen under contract that can all make a case to be on the opening night roster, with a ninth (Tyler Tucker) that will need a new contract as well. With six positions available on a nightly basis, with one likely reserved as a healthy scratch, it is all but a foregone conclusion that Armstrong will be making at least one trade to clear up the congestion surrounding his defensive core. The question becomes, who stays and who goes?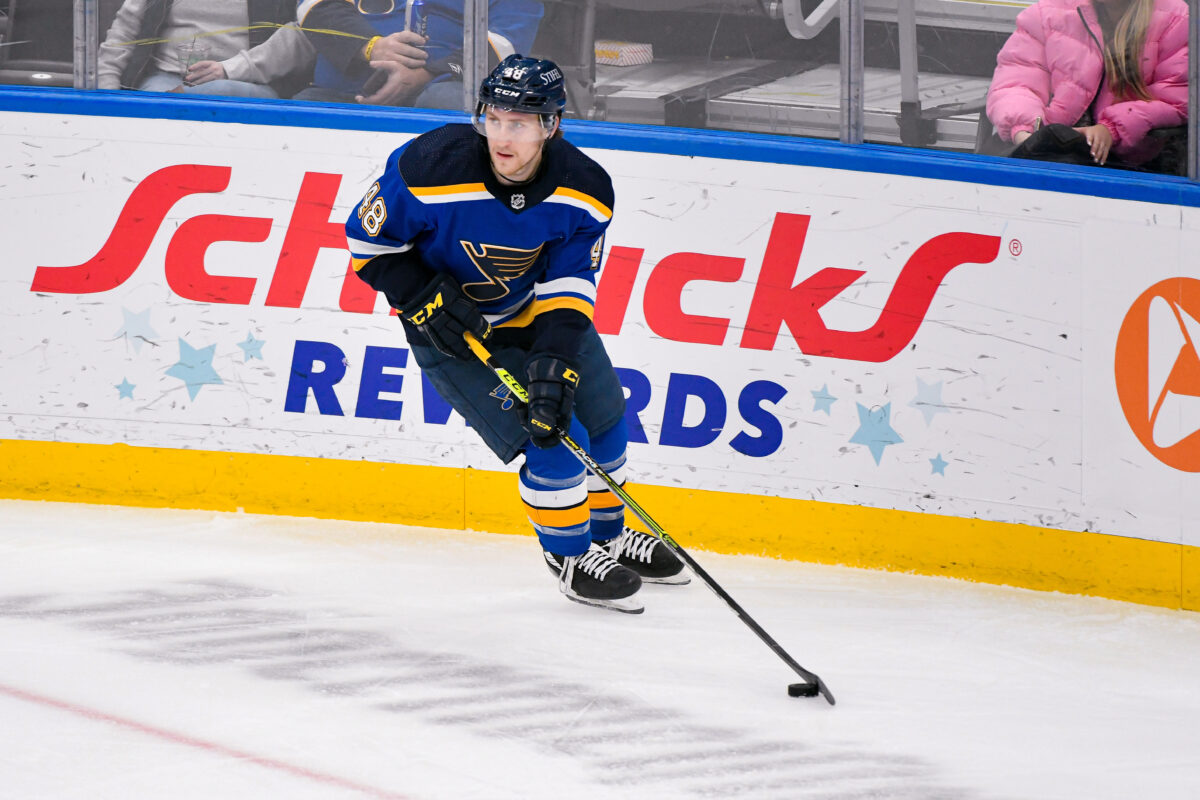 Looking at the Blues' CapFriendly page, they currently have three defensemen with a $6.5 million hit against the salary cap, and $26.775 million tied up between five defensemen or 32 percent of the currently projected $83.5 million salary cap for next season. The logical thought would be to move on from one of the pricey contracts to free up some cap space for a forward. However, each of the five defensemen holds either a full no-trade clause or a modified no-trade clause next season, controlling either some or all of their future in their hands. The only defenseman among this group that is not in full control of his trade destination, Marco Scandella, has a seven-team no-trade list.
The current salary cap construction for the Blues has recently prevented them from keeping players like David Perron and Ryan O'Reilly to provide valuable depth at the forward position year over year. To rectify the situation, Armstrong and the rest of the front office staff will need to do their homework in an effort to come up with the best solution moving forward to help reallocate those funds into not only a new look on their blue line but also a better looking forward core. The recent additions of Kasperi Kapanen and Jakub Vrana have not yet proven to be fruitful long-term options, but still, have potential. These players, along with additional internal and external options at the forward position will need to be explored over the coming months to fuel the club's rebuild efforts.
Current Blues Defensemen That Could Be Traded
Looking to the top of the defensemen payroll, Justin Faulk and Torey Krug, along with Parayko, could be some of the most highly sought-after defenders this coming offseason. While the eldest defender among the trio, Krug, will be turning 32 years old in the coming weeks, he is potentially one of the more logical trade options. Reviewing the depth chart for next season and assuming the health of all players will come to fruition, highly-anticipated prospect, Scott Perunovich, plays a similar style to Krug, making the veteran an expendable option. Though the veteran blueliner is nearing 700 regular season games played, the direction of the Blues at this time will allow for any growing pains that Perunovich may encounter while acclimating himself to a higher level of play in the NHL.
While fans may grow tired of a particular player's mishaps on or off the ice, injuries, or underperformance in reference to their contract, they can still hold substantial trade value, and Krug is no exception to that rule. Of course, any potential trade rumor and the chance of a trade happening must get full approval from Krug. If and where he would want to move on to would be entirely up to him if they looked to trade him before the 2025-26 season when his full no-trade clause is reduced to a 15-team modified no-trade clause.
Perhaps one of the most polarizing players on the Blues' roster comes from one of the tallest players as well. Parayko was heavily rumored as a trade candidate in the fire sale that they undertook prior to the trade deadline. He has steadily dropped out of favor as one of the top blueliners in the NHL, despite averaging 22 to 23 minutes of time on ice per game over the course of his career. The polarizing play of the defenseman has left many scratching their heads at what to do and what a true trade value is for the 29-year-old. With seven seasons left on his contract and a whopping $45.5 million owed, it will be a difficult hurdle to overcome should Armstrong find a willing trade partner. His status as a number-one defender on a team is likely gone at this point. Where teams around the league value him at though is the real question and will hold substantial weight when looking at his trade value moving forward.
Related: St. Louis Blues: 3 Potential Landing Spots for Colton Parayko
---
Latest News & Highlights
---
Aside from Robert Bortuzzo, the aforementioned Scandella is the only veteran defenseman on the roster that does not hold a full no-trade clause next season. With only seven teams that he can veto a trade to, Armstrong could have multiple suitors that he could turn to should they be interested in the 33-year-old's services. Based on Armstrong's history, it is unlikely that the Blues will want to retain any portion of his salary moving forward just to part ways with him.
Though the organization currently wishes to accelerate this process as quickly and smoothly as possible, it would not be surprising if they opted to retain 50 percent ($1,637,500) of Scandella's contract over the next two seasons to simply remove any barriers for younger, less expensive players to play on a regular basis. He has appeared in only nine games with the Blues during the 2022-23 season after undergoing hip surgery in September. While the club could have used his veteran presence on the blue line, his absence allowed younger players to earn an opportunity in the NHL.
Blues' Front Office Needs to Be Patient
Patience is a virtue and a practice the Blues will need to remember each day over the coming weeks, months, and even years. It is unlikely another Stanley Cup window appears over the next three seasons. However, should the front office play their cards right, it would not be out of the realm of possibilities that this club that currently holds three first-round draft choices in the coming 2023 NHL Entry Draft, along with multiple talented prospects find themselves in contention once more in 2026 or 2027. Growth and maturity for these prospects could come sooner than expected, but patience will still be key for a rebuild that has not been seen in St. Louis for years.