The St. Louis Blues' primary AHL affiliate is no longer the Chicago Wolves. On Tuesday, the Las Vegas Golden Knights and the Wolves announced that they had reached a five-year partnership. The Blues will still send their farm players to Chicago next season but will not affiliate with Chicago in 2018-19. "The St. Louis Blues will not renew our primary affiliation with the AHL's Chicago Wolves past the 2016-17 season," general manager Doug Armstrong said.
Working Together with Vegas
For the first time since the 2013-14 season, the Blues will not control their AHL affiliate and will be forced to share the team with Las Vegas.
NEWS: We have entered into an AHL affiliation agreement with the @Chicago_Wolves.

More: https://t.co/y1DtzwyBsv#BoldInGold pic.twitter.com/yXbHjl77qz

— Vegas Golden Knights (@GoldenKnights) May 16, 2017
"Part of my comfort level is my relationship with George McPhee (Las Vegas GM). We've talked extensively on the benefits of this relationship. They'll have players this year that will go to major juniors. I think quite honestly it's a competitive advantage for Vegas and us to join forces. We could put better products into the program," Armstrong said at his Tuesday press conference.
The Blues general manager does not believe that any disadvantages will occur if the agreement only lasts for one season. Due to the expansion draft format, Armstrong suggested the Golden Knights will end up with a good bunch of veteran talent, along with good young talent that will not all be ready for the NHL game, nor the AHL game. The hope is that the Blues should be able to supplement Las Vegas's group of players to mutually benefit both clubs.
Coaching Concerns
The downfall to the agreement is that the Blues will no longer be able to control how much ice time their prospects get with the team or what type of coaching they will receive.
The Wolves have been one of the more successful AHL franchises in recent history winning five division championships, three conference championships, and a pair of Calder Cups since joining the AHL in 2001. That recent success has led to the Blues' interest in Wolves head coach Craig Berube and his assistants Darryl Sydor and Daniel Tkaczuk as top candidates to replace Blues assistant coaches Ray Bennett, Rick Wilson, Steve Thomas, and goalie development coach Ty Conklin, who have been told their contracts will not be renewed for 2017-18.
Highlights: Army said staff needed a fresh start, hopes to have new coaches in place by draft. Berube, Sydor & Daniel Tkaczuk are candidates

— Jeremy Rutherford (@jprutherford) May 16, 2017
Looking Ahead
With Las Vegas becoming the 31st NHL franchise and the AHL only having 30 teams, the Blues, have become the odd team out, for now. Armstrong and the Blues have been rumored to be seeking a Kansas City, Missouri, location for their next AHL adventure, but those plans have seemingly fallen through for the time being. The desires for an in-state affiliate are still there but Armstong would not give any details on recent developments.
"I don't want to really get into the areas that we've talked to out of respect that they may have worked or they may not have worked or may not have worked but may have worked in the future," Armstrong said. "I'm going to keep that behind closed doors."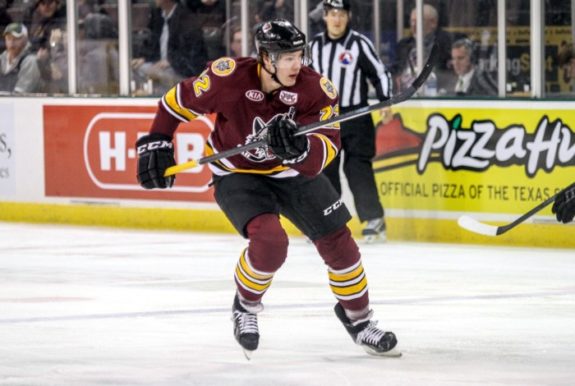 The Blues had also talked with other current AHL franchises about supplementing overflow if need be this season but those arrangements have also not been announced as of yet. The goal for St. Louis moving forward is to assist in the development of a 31st AHL franchise to become their new primary affiliate for 2018-19 and beyond.
"We were hoping to have it done this year so it's not something we're starting from ground zero on today," Armstong said. "We have had some irons in the fire but they didn't take hold. We talked to a couple groups about coming in for this year; it didn't happen, but we really have to put that at the forefront of our thought process. We hope to have something done that will (have) 31 NHL teams next year and 31 American Hockey League affiliates."