For the past season or two, Jordan Eberle's name has come up as a player the Edmonton Oilers would move for the right deal. In fact, there was speculation that Eberle was the name general manager Peter Chiarelli tried to move when he was instead forced to trade Taylor Hall for defenseman Adam Larsson. Apparently, the Devils said no dice and Hall was the player sent out of town to make the deal work.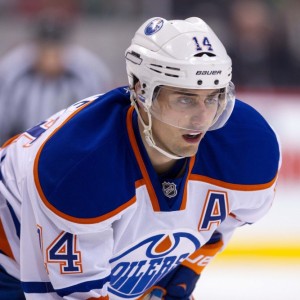 At the time, the Oilers called it the price you pay to get a top-tier defenseman. Considering Eberle was a useful scoring winger good for 55-70 points and 20- 3o goals, the Oilers had plenty of scoring options. When Edmonton then signed Milan Lucic, the actual deal made even more sense. A left-winger (Hall) out and a left-winger (Lucic) in.
This season, Eberle had a so-so year. He posted a bit below his NHL average, scoring 20 goals and 51 points, but the Oilers hoped he would do more. If you consider that he had an opportunity to play with Connor McDavid and was making $6 million per year to be a top-line player, many might call his season a disappointment. To make matters worse, the Oilers made the postseason for the first time in a decade and Eberle was virtually invisible. It was an opportunity the scoring winger was waiting for his entire career — especially since he has a history of scoring big goals in big games — and he did nothing. Not one goal and a measly two assists in 13 games.
As such, most of the mainstream media has him on the first train out of town.
What Now?
In the immediate future, Chiarelli isn't under the gun. His plan is to sign both McDavid and Leon Draisaitl come July 1st and solidify his top two offensive weapons, but the team is not in a dire salary cap battle until after McDavid's new contract kicks in. Chiarelli made reference to Eberle's significance to this team and that while admitting McDavid and Draisaitl are one and two, Eberle is number three.
As such, Chiarelli is weary about trading away his third best offensive threat, especially after he had a down year. Consider too, at least half of the NHL teams for which Chiarelli could find a trade partner for Eberle is up tight against the cap. A number of other teams have their own contracts to contend with and others need to see where the NHL Expansion Draft leaves them. At this point, the only takers would be a team with real cap flexibility. Then you need to cross reference those teams with ones who have a glaring need at right wing. Who out there fits that description?
If He Goes, Where?
Carolina Hurricanes
This is the NHL team with the most cap space. Their right wing depth is decent and young, which is promising for their future, but they might be in the market for a first-line winger who gets 50 points in a down year. The Canes will be looking to move a goaltender this summer and prior to the expansion draft.
New Jersey Devils
Is there any chance New Jersey looks at reuniting Eberle and Hall? The Devils and Oilers have a recent trade history and for a team that struggled as much offensively as the Devils did, adding a 50-point and 20-goal scorer who had produced his best seasons playing with Hall, there might be some appeal. The Devils have a ton of cap space and will be making significant changes this summer.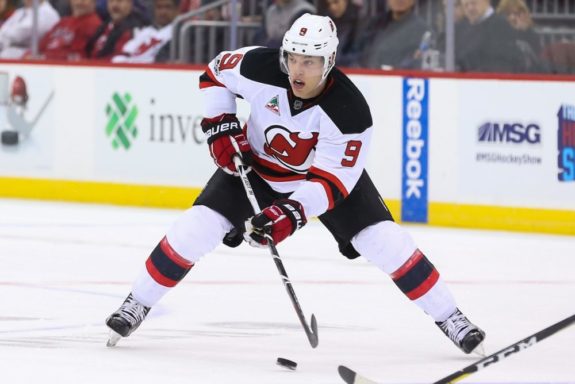 Near the forefront of that change is a potential sign and trade involving Ilya Kovalchuk. He looks to be front and center this summer and a lot of the talk will be around how the Devils construct that trade. New Jersey also won the NHL Draft Lottery. With that pick, there is every indication that they are likely to select center Nolan Patrick. A reunion of Hall with his old linemate Eberle centered by Patrick might have fans salivating.
St. Louis Blues
Sportsnet's Elliotte Friedman suggests the Blues are looking to fix their scoring needs and that a one-two punch of Vladimir Tarasenko and Jordan Eberle would be a great way to solve some of those issues. It would take a lot of creativity to make it work, but St. Louis is a good team who will be looking to make tweaks to their roster in an attempt to find that combination of players who work.
Vegas Golden Knights
Who knows what to expect here? What we do know is that GM George McPhee wants his expansion franchise to be competitive quickly. Eberle would help that happen and 50-point wingers don't get afforded to expansion teams that often.
Dallas Stars
A very reliable source in Edmonton, Jim Matheson mentioned he thought the Dallas Stars might be a fit. Some major contracts come off the books for Dallas including Ales Hemsky and Patrick Sharp. The Stars aren't loaded for top-line right-wingers and Jim Nill is not the kind of GM looking to start a rebuild. With a coach like Ken Hitchcock and a new goaltender in Ben Bishop, Dallas wants to look at last season as a blip on the radar, moving past it as soon as possible and getting back to their winning ways.
I'd say Dallas is prime destination for Jordan Eberle if he gets traded because Sharp and Hemsky are UFA and Eaves was traded

— Jim Matheson (@NHLbyMatty) May 15, 2017
The Reality of the Situation
Trading Eberle doesn't fetch the kind of return the Oilers probably want. Moving his cap is important, but perhaps not this summer. Eberle may be the whipping boy in Edmonton right now, but Chiarelli was just named as a finalist for NHL GM of the Year on Tuesday. You don't get noticed for an award like that by making rash decisions before you have a trading partner. You also don't get nominated for an award like that until you've decided that the player you're trading doesn't fit into your immediate plans. This status of limbo seems to be where Eberle is at right now.
This status of limbo seems to be where Eberle is at right now. The sensible thing to do is wait and see. Then again, who knows. I once suggested the Oilers might leave Eberle exposed at the NHL Expansion Draft. If a crafty enough deal comes along, it's not completely out of the realm of possibility.