In his roughly 550-game NHL career, Craig Anderson has been taunted by a raucous crowd in Game 7 of a Stanley Cup playoff series in Madison Square Garden. He's faced Sidney Crosby, Alex Ovechkin and Patrick Kane at full speed on breakaways. And he's been in the line of fire of 100-plus mph slapshots from Shea Weber and Zdeno Chara.
None of them hold a candle to his fiercest opponent: cancer.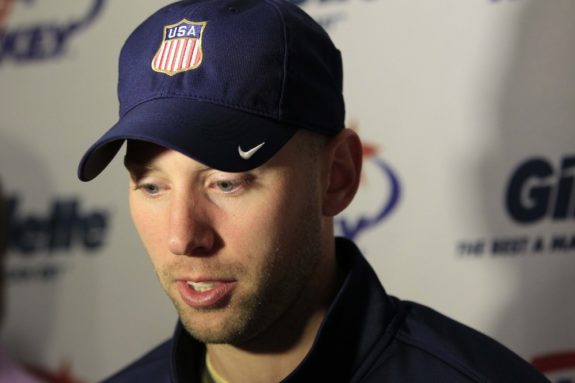 Early this year, he got the devastating news that his wife, Nicholle had been diagnosed with nasopharyngeal carcinoma, a cancer located in the upper region of the throat behind the nose. She has since undergone extended radiation and chemotherapy treatments at a New York hospital.
Diagnosis
According to her blog, Nicholle began experiencing symptoms like coughing phlegm, dry mouth, night sweats, and extreme tiredness. She passed it off as symptoms of her pregnancy with her third child.
Fortunately, her doctor gave it more attention. After feeling a lump in her neck, she had an ultrasound and the doctor eventually discovered cancer in her lymph node.
"The following day, I was in surgery to biopsy the mass they found behind my nose," she wrote on her blog. "After gathering all of the information from both biopsies and multiple tests, I was diagnosed with nasopharyngeal carcinoma."
A New Perspective
The news turned Anderson's world upside down while also bringing a new sense of clarity.
"It makes you realize how lucky and fortunate we are to play a game we love," said Anderson.
"Win or lose, it's a hockey game – there's more to life. You learn that when you have kids, but when you go through something this traumatic and difficult, hockey is a job. I'm passionate about it, but at the end of the day, hockey will go on, whether I'm in it or not.
"You don't know how much time you have with someone. Life is precious."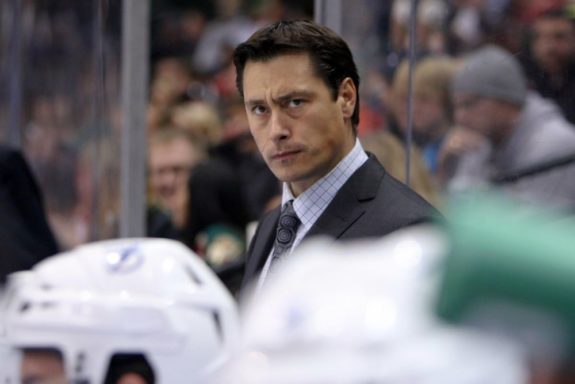 Battling Together
With his team's blessing, Anderson has been able to be by his wife's side as she battles the disease.
The couple has been together nine years and has two children, Jake and Levi. Sadly, doctors discovered from an ultrasound that their third child had heart defects and an undeveloped cerebellum. During the preseason, Craig took a leave of absence as Nicholle miscarried.
"It was a devastating time in our life," Nicholle Anderson said on her blog. "I can recall reading negative comments of his personal leave judging his character and dependability to the job he loves dearly.
Craig's absences have actually brought his team, his coaches, the Ottawa community and the entire hockey world together like never before.
"We've been with him 100 percent with what their family has been going through," said teammate Mark Borowiecki.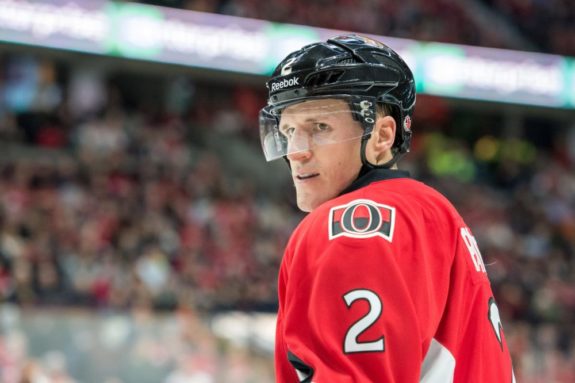 "Andy's been an incredible inspiration to all of us, the way he's been able to deal with what Nicholle is going through and his whole family," said defenseman Dion Phaneuf. "We want to support him and her as much as we possibly can."
Unbelievable Focus
When fellow goaltender Andrew Hammond suffered a groin injury in late October, Nicholle urged Craig to rejoin to the team. Then, in a game you couldn't script, in his first game back since learning of his wife's diagnosis, he responded with a 37-save shutout win over the red-hot Edmonton Oilers.
But for Anderson, it wasn't about the shutout. Nor was it about winning first star of the game. Or for that matter, being named the NHL's first star of the week for stopping 59 shots in two shutouts during the week.
Instead, it was about finding strength and courage to keep moving on. And feeling the love of teammates, opposing players and fans.
Following the road win in Edmonton, the teary Anderson was surrounded by his teammates and seemingly the entire hockey world.
#Sens Craig Anderson gets a shutout & 1st star a day after his family announces his wife Nicholle has cancer. https://t.co/qZQsPqZ42E pic.twitter.com/90Ze8oxdl6

— CBC Ottawa (@CBCOttawa) October 31, 2016
Even Cam Talbot, the Oilers goalie who came out to receive second-star honors, joined the hometown Edmonton crowd to applaud Anderson who was named the game's first star.
"I can't imagine what was going through his mind. I don't know if I would be able to do what he did right now. We send our thoughts and prayers to him and his family," Talbot said to the media after the game.
Getting Help in the Crease
Knowing Anderson was going to be away from the team for considerable amounts of time, Mike Condon was soon acquired from Pittsburgh to fill in.
He was leaned on heavily, playing in 40 games, including a span of 27 consecutive appearances.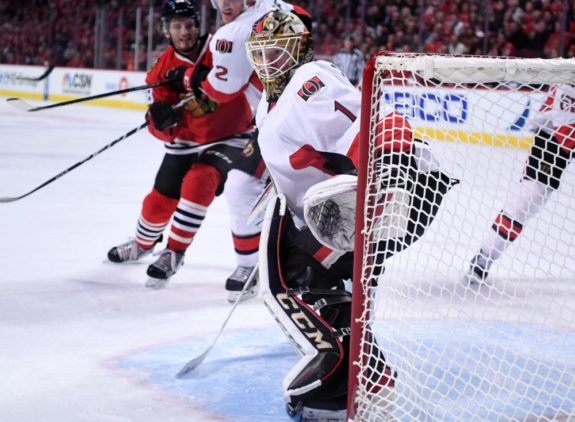 Hockey Fights Cancer
The NHL's Hockey Fights Cancer initiative is a galvanizing movement founded in 1998 by the NHL and the NHL Players Association to raise money and awareness for hockey's most important fight. It's held in October to coincide with Breast Cancer Awareness Month.
It acknowledged those who are fighting the dreaded disease and who have passed because of it. Cancer has touched the hockey community many times. Mario Lemieux, Phil Kessel and Saku Koivu have all battled the disease. And this season, Sens GM Bryan Murray stepped down this season to receive his treatment.
Murray announced in November 2014 that he had Stage 4 colon cancer and it had also spread to the liver and the lungs. He stated that 'there is no cure for me at this point" and that he may have had cancer for up to 10 years before its detection.
Getting Involved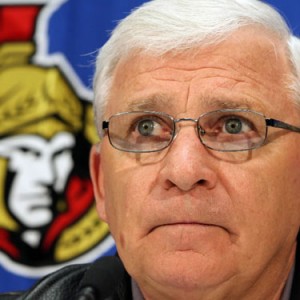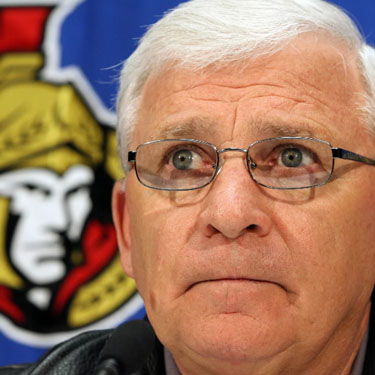 The Hockey Fights Cancer movement manifests itself in countless ways. Players often wear Hockey Fights Cancer logos on their helmets. Coaching staffs wear lavender Hockey Fights Cancer ties. There are online auctions, raffles, ticket donations to local children's hospitals and cancer-affiliated programs, fundraising walks, merchandise for sale and more.
According to its website, nearly $20 million has been raised since its inception to support national and local cancer research institutions, children's hospitals and player and local charities.
"Many people have approached us about asking how they can support us during this challenging time. We simply ask for your thoughts and well wishes and that those who choose to, continue to support their local Cancer Society for research on how to cure this disease," said Craig and Nicholle.
Forget the Battle, Win the War
During this conference final playoff series, regardless of whether you're a Penguins fan or Senators fan, take a minute to celebrate Craig and Nicholle Anderson.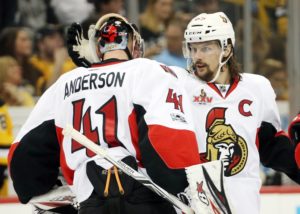 Beyond highlight reel saves, the emotion, camaraderie and sportsmanship from fans, players and coaches that surround them epitomize what makes hockey the best sport on the planet.
"We love hockey. It's a great game. But there are things that are bigger." – Senators coach Guy Boucher
"We would like to express our gratitude to the Ottawa Senators organization, from [owner] Eugene Melnyk to [general manager] Pierre Dorion, [head] coach [Guy] Boucher and the players to the other wives, girlfriends and fans who have gone to great lengths to allow us both to battle this together," said the Andersons.
Sometimes hockey is much more than just a game. No one knows that more than the Andersons, who are winners just knowing they have a world of hockey fans supporting and fighting alongside them.