After selecting Jake Neighbours 26th overall on Tuesday, the St. Louis Blues continued to add to their prospect pool on Day 2 of the 2020 NHL Draft with six more picks. They did not choose anyone until the third round but ultimately walked away with two centremen, three defensemen, and one goaltender. All but two of them were over 6-foot-3, so it was obvious what sort of attribute they were targeting going in.
Related: 2020 NHL Draft Guide
So, who are these fresh faces that could possibly make an impact in the NHL one day? Let's find out!
Dylan Peterson, C – Round 3, Pick 86
The Blues entered the day with no picks until the third round after they traded their second-round selection to the Montreal Canadiens in the Marco Scandella deal back in February. With their first of two third-round picks in this draft, they chose a wild-card in American power forward Dylan Peterson.
At 6-foot-4 and 192 pounds, Peterson definitely has the size and skill to compete in the NHL. He also fits the Blues' identity, just like Neighbours did in the first round. He's strong on the boards, tough on the cycle, and not afraid to mix things up in front of the net. All of those factors check all the boxes of what the Blues like to see in their players.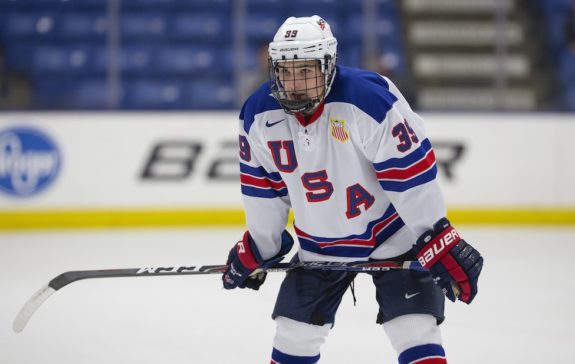 If Peterson can clean up his consistency issues and train with a skating coach to fix up his mechanics, he will be a very good third or fourth line center at the NHL level. His ceiling, however, could be even more, as he has the potential to become an elite power forward in the NHL. His ETA is probably at least four years down the road as he's committed to Boston University of the NCAA. If all goes well, he could be with the Blues not long after that.
Leo Loof, D – Round 3, Pick 88
The Blues continued to add more size and speed to their pipeline by selecting 6-foot-1 defender Leo Loof. He still needs to fill out his frame, but that will come with time and development. He is an elite skater with a calm demeanor whenever he has the puck, especially on the power play where he is a gifted quarterback.
Loof still needs to deal with his defensive issues, but with some coaching, he should turn into a solid bottom-pairing defenceman in the NHL. Although, we could be surprised, as I don't think many people thought that former 86th overall pick Colton Parayko would develop into the elite defender he is today.
Tanner Dickinson, C – Round 4, Pick 119
With the Blues' next pick they chose another pivot in the speedy Tanner Dickinson of the Ontario Hockey League's Soo St Marie Greyhounds. He wasn't a prolific scorer with just nine goals and 40 points in 64 games, but his speed and agility created a lot of chances for him throughout the season.
Of all the picks the Blues made in this draft, Dickinson was by far the smallest at only 6-foot-0 and 169 pounds. Though his speed should make up for it, especially with how the league is trending towards that sort of skill. Despite his speed, he is not the best forechecker out there. However, he is smart and good defensively, so it should get better as he fills out his frame.
Dickinson might not ever make it to the NHL, but speed kills, so I would not count him out. He will probably finish his junior eligibility, fight for a spot in the American Hockey League, and possibly earn a call-up or two with the Blues in a few years' time.
Matthew Kessel, D – Round 5, Pick 150
The Blues moved to the fifth round and chose another big American in UMASS (Amherst) defenseman Matthew Kessel. As with most of their picks today, size is one of his strengths and he definitely knows how to use it. He also plays a very reliable game on the backend, which was praised by his head coach earlier this season.
He [Kessel] goes out and he's the same every shift. He competes, he's smart, he's got good puck sense, good puck skills, he's a really complete defenseman. He helps you on both ends of the ice and he's got tremendous attitude.

UMASS (Amherst) head coach Greg Carvel (from 'Matthew Kessel making major contributions for UMass despite late arrival', Daily Hampshire Gazette, 11/8/19)
Kessel finished his freshman season with 7 goals and 11 points in 34 games and was counted upon to be a key defenseman for his team as well. The Blues have a strong defense already, but with the anticipated departure of Alex Pietrangelo, they have to start planning for the future as Kessel becomes the second defender chosen on Day 2.
Will Cranley, G – Round 6, Pick 163
The Blues broke the trend of pivots and defensemen by going with a goaltender in the sixth round. At this point in the draft, it's probably a good gamble to select one, especially after trading away Jake Allen earlier in the offseason. Their choice was Ottawa 67's backup netminder Will Cranley.
Even though Cranley is a goaltender, the Blues didn't shy away from adding more size to their organization. At 6-foot-4, he already has the frame of a starter in the NHL, and the athleticism to match as well. On a dominant 67's team, he was nearly unbeatable finishing with an 18-2-0 record while posting a 2.89 goals against average, a .894 save percentage and four shutouts. He even had a shutout streak of 159 minutes and 36 seconds at one point in the season.
Despite all that success, Cranley still needs to work on his mental game and rebound control. He also played behind a very strong team, which may have covered up some of his deficiencies at times.
Noah Beck, D – Round 7, Pick 194
With their final selection in the 2020 draft, the Blues selected yet another collegiate defenseman in Noah Beck. He spent the 2019-20 season as a part of the USHL's Fargo Force where he finished with 4 goals and 27 points in 42 games. He will be attending Clarkson University when the NCAA starts playing again.
The Blues stayed with the trend of selecting big, mobile defensemen by selecting Beck. At 6-foot-3 and 192 pounds, he represents the second-largest blueliner chosen next to Kessel, who was picked earlier in the fifth round. They are clearly looking to continue their identity of being a big and heavy team by choosing three defensemen who all play that style of game. He might not make it to the NHL, but as we've seen with the success of collegiate players in the past, it's not wise to count him out.
Blues Get Bigger & Faster After Day 2
The Blues probably won't see the fruit of this draft for many years, but they did add a lot of size and speed to their prospect pool after Day 2. They shied away from wingers this time but added a lot of depth and skill at the center ice position with Peterson and Dickinson and loads of size and mobility with Loof, Kessel, and Beck. Time will tell if any of them hit in the NHL, but at the end of the day, the potential is definitely there for all six of the players they chose on Wednesday.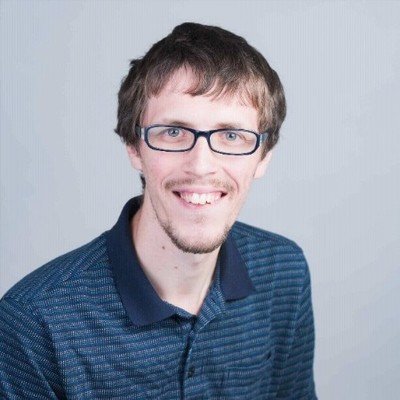 Matthew Zator is the assistant managing editor at THW and a writer who lives and breathes Vancouver Canucks hockey, the NHL Draft, and prospects in general. He loves talking about young players and their potential. Matthew is a must-read for Canucks fans and fans of the NHL Draft and its prospects. For interview requests or content information, you can follow Matthew through his social media accounts which are listed under his photo at the conclusion of articles like this one about Tyler Motte.
Matthew also co-hosts The Hockey Writers Prospect Corner on YouTube.