The headlines in August announced the signing of Bobby Ryan by the Anaheim Ducks  to a five-year extension for twenty-five million, five hundred thousand dollars – a fitting reward for the hard-working, six-foot two-inch, two-hundred twenty pound sniper whose talent and hard work earned him a silver medal at the 2010 Olympics and an important spot in the Ducks powerful offensive lineup.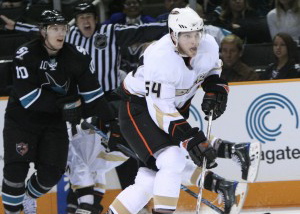 Ryan had a meteoric rise through the amateur ranks, jumping in 2003 from the Los Angeles Junior Kings to the Owen Sound Attack (OHL), where he played for four years.  After amassing 89 points in his second year, the eighteen-year-old was drafted second overall in the 2005 NHL entry draft, second only to Sidney Crosby, a fitting climax to his brilliant on-ice play.
More to the Bobby Ryan Story
Just prior to the draft, burdened heavily by a haunting family secret, young Ryan decided to unload, come clean, tell the world the truth and no longer live in fear of random discovery.
Bobby Ryan was born March 17,1987 to Robert Stevenson and his wife, Melody.  His parents named him Robert Shane Stevenson.  The family lived in Cherry Hill, NJ where his dad owned a successful insurance company.  On October 30, 1997, returning home from a night of heavy drinking, his father accused his wife of drug abuse and in a bizarre series of events chased her out of the house, down the street into a neighbor's house, caught her and beat her badly, putting her in a local hospital with four broken ribs, a fracture to her skull and a punctured lung.  Young Bobby was ten years old.
Robert Stevenson was arrested, charged with attempted murder and five other felony counts.  While out on bail, rather than face a stiff jail term,  he fled to Canada where his wife, who had forgiven him, and his son soon joined him.  The family was on the run, living as outlaws, moving from place to place, looking for a new home where Bobby could pursue his passion for the game of hockey.
They settled in El Segundo, CA, just outside of Los Angeles, where Bobby joined the Los Angeles Jr. Kings.
Robert Stevenson became Shane Ryan.  Bobby also changed his name.
"My parents made it clear," Bobby says.  "They were serious. You are Bobby Ryan, no matter who asks, no exceptions!"
In a careless moment, the father rented a video at a local store with an old credit card, was quickly discovered by federal marshals and sent back to New Jersey to face the scales of justice.  Back in New Jersey, pleading guilty to aggravated assault and jumping bail, he was sentenced to five years in prison.  The family once again was lost in turmoil.
Despite all this, Bobby climbed the ladder of hockey success from L.A. to Owen Sound, to Anaheim.  He  finally decided in 2005 to tell his story, to come out of the dark into the light.  "It wasn't easy by any means," says Ryan, "but through it all I became more independent.  I certainly don't have any skeletons left in my closet."
Ryan's Rookie Year
In his rookie year with the Anaheim Ducks, the high-flying center had 31 goals, added 26 assists and was second in the voting for the Calder Trophy for rookie-of-the-year. Last year he increased his totals to 35/29/64.
The brain trust of the Ducks breathed easier once the sophomore ended his holdout and signed with the club.  They can now look forward to five years of production from the kid from New Jersey.
Robert Stevenson has paid his debt to society.  The couple, still together after all these years, live a quiet life back in Cherry Hill.
Bobby Ryan is one tough kid.  He deserves al the  kudos he receives and every dollar he earns.