While the off season was relatively quiet in terms of the on-ice zones, with Ethan Moreau being the sole newcomer to the roster, the same cannot be said for the coaching ranks, which saw a wholesale makeover.  When the dust settled, only goaltending coach Dave Rook was left standing, signalling that the franchise was serious about embarking in a new direction.  Of course, Tyler Wright also returns as Development Coach, but a) I am focusing on the coaches behind the bench , and b) I expect Tyler to be around forever!  Gone are Ken Hitchcock, Gary Agnew, Claude Noel and Gord Murphy.  Entering are Scott Arniel, Brad Berry, Bob Boughner and Dan Hinote, with Kevin Collins also joining the fold as the new Strength and Conditioning coach.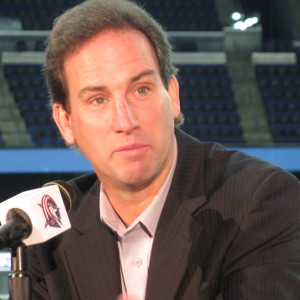 The fan base has, to this point, been of two minds on the off-season developments.   One camp seems to believe that Hitchcock was a scapegoat, that GM Scott Howson is the "true villain", and that changing the coaching staff with the current player base amounts to nothing more than putting lipstick on a pig.  This same contingent tends to favor any move that would bring a "name" player to Columbus — Phaneuf, Kaberle, Souray, etc. — and would like others on the roster to disappear.  The other camp, for the most part, believes that the team can win with the existing talent, that Hitchcock's system was not suitable for the post-lockout NHL and that the new regime just might be the injection of energy the team needs to move forward.
As is often the case, truth likely lies somewhere in between these two extremes.  While this deals more with front office issues, the subject of my final installment of this preview, some important points need to be made here.  First, prior to Hitchcock, it was really undisputed that the product on the ice was in chaos.  There was no identifiable system or strategy, talent outside of Nash was marginal, and the transition from Dave King through MacLean-Gallant-Agnew was nothing more than institutionalized turmoil.  Enter Ken Hitchcock, with an impeccable coaching  pedigree, a Stanley Cup and . . . a system.  However history may eventually judge Ken Hitchcock's tenure in Columbus, he brought order to the chaos, credibility to the on-ice product, and the club's first-ever playoff appearance.
Unfortunately, as in a Shakespearian tragedy, the seeds of doom are sown in the very attributes that create success.  New GM Scott Howson provided Hitch with a lot of new talent — but most of it was very young talent. Hitchcock has a stellar reputation as a coach, but his ability and willingness to trust young talent was not near the top of his resume.   A lot had gone right for the 2008-2009 squad — tremendous goaltending, manageable injuries,  some good veteran leadership (i.e. Michael Peca) and adequate offensive production.  However, the breaks went the other way in 2009-2010, and the young club had trouble dealing with adversity.  The "defense first" system provides little margin for error, and when the defense faltered, and the goaltending did the same, the system was not geared for making up the difference.  Add the loss of Peca and a compressed Olympic year schedule, and the downfall was complete.
Sometimes it takes a monumental fall from grace to see things as they really are, and last season provided just that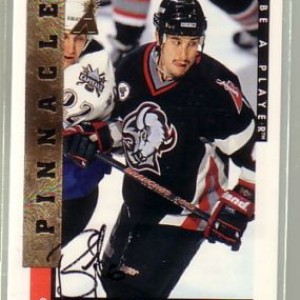 opportunity for Jackets' management.  They saw incremental improvement when interim coach Claude Noel assumed the reins, but there was a sense that Noel's quirky, stream of consciousness style was not going to win the day.  It was time to clean house, and Howson's willingness to take a chance by extending an offer to NHL neophyte Guy Boucher showed a) that the local media campaign awarding the post to Portland coach Kevin Dineen was off the mark, and b) that Howson was willing to step outside his comfort zone and take a calculated risk to set the ship on a new course.  That Boucher declined the offer in favor of the chance to work with Steve Yzerman again in no way diminished Howson's sense of commitment to significant change.
Enter Scott Arniel, former AHL Coach of the Year, with a dynamic, offense oriented system, and significant NHL time under his belt.  Brad Berry, Arniel's assistant at Manitoba followed shortly thereafter.  Bob Boughner, the part-owner and president of the highly successful Windsor Spitfires franchise signed on, in what was widely seen as a coup for the organization.  Clearly, Boughner has his sights set higher, but recognizes he needs to put in the NHL time to get there, and likes what he sees in Columbus.  The final enlistee was Dan Hinote, recently retired as a player and another enthusiastic member of the Blue Jackets bandwagon.
What do these guys bring that the former regime lacked?  A couple of things.  First, this is a coaching team filled with real-world, recent on-ice NHL experience. That was a notable gap with the former staff.  From Hitchcock on down, there was an academic, theoretical aura about the approach to hockey that never quite settled right.  Theory works fine as long as you are winning, but practical experience gets you through the rough patches.  It has to inspire more confidence in a young player to know that the coaches have "been there, done that, got the T-Shirt", when asked to play a certain way.  Secondly, they bring an approach that appears more flexible, permitting the players' individual talents to shine through.  Under Hitchcock, it often appeared that square pegs were being hammered into round holes, and the square pegs didn't care for it.   The talent pool Howson has assembled is, for the most part, a nimble, quick, high talent assemblage of young people, accented by a few veterans and a few more physical "tweeners".   Putting this talent pool into Hitchcock's system struck me as akin to harnessing Secretariat to a milk wagon.  Nobody is going to be happy at the end of the day . . .
Arniel says that he wants the players to understand that "he has their pack when they try and make a play", which is about as far from the atmosphere of the last three years as you can get.  From the public statements,  Arniel seems to be advocating an aggressive, but not reckless, style of play that focuses on possession and exerting pressure.  That approach feels right for this young, talented team in search of direction.  These kids know how to play hockey, they just need a framework for some success, guidance (not micromanagement), and trust.  Arniel and his staff seem prepared to provide that, so long as the trust is coupled with accountability.  Thus far in camp, the players seem to be buying into the system, and a squad of largely "B" team members handled Atlanta 5 – 2 on the road in the pre-season opener last night.  A more interesting test comes tonight at home against Washington, when a lot of the young guns — Nash, Brassard, Filatov, Umberger, Moore and Mason — will be on the ice.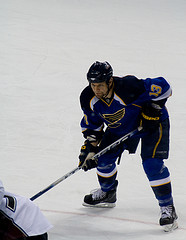 Many of the young players have been accused of "quitting" on Hitchcock and the team last year, and that may or may not be true.  However, having spoken with many of them, it seems clear that they desperately want to win, and are excited about the opportunity for redemption that this season provides.  While perhaps not a panacea by itself, the coaching transformation has infused enthusiasm and an approach to the game that seems to be more in keeping with both the talent on the club, and the style necessary to compete effectively in the post-lockout NHL.
While critics have pointed primarily to defense and goaltending as the Jackets' shortcomings, the team has never finished higher than 20th in scoring.  Offensive production has been a thorn in their side, and watching teams like Chicago effectively turn things over to a cadre of young guns, and find success, has finally caused the light bulb to go off.  While mistakes will be made, and some wild and woolly times are undoubtedly ahead, this coaching staff provides the team with the ability to score their way out of trouble on those nights when defense is wanting or goaltending is subpar.  That is a necessary piece of the arsenal in today's NHL, and its arrival in Columbus is long overdue.