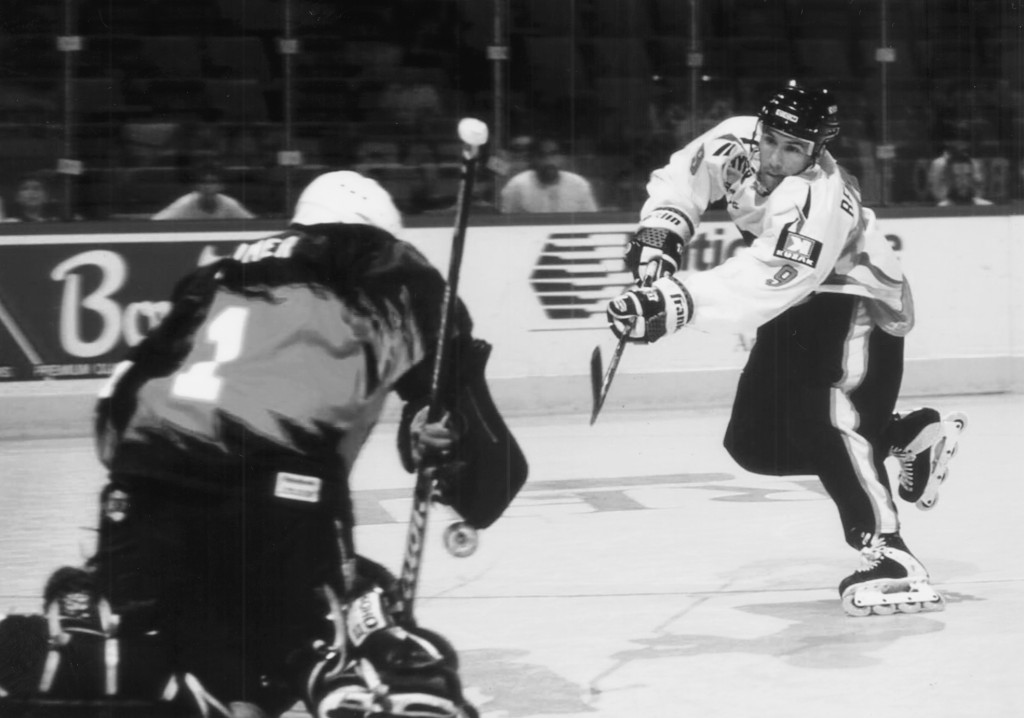 Long Island Jawz's high-scoring Hugo Belanger, a Chicago Blackhawks draft pick, shoots on Orlando Jackals goalie Mark Reimer. (Photo courtesy of Jim McIsaac: Getty Images, Bruce Bennett Collection).
As I was just finishing up a season preview for the Islanders at work, my managing editor came to me with a book called Nassau Veterans Memorial Coliseum by Nicholas Hirshon.
The book is one of many in a series entitled Images of America, and it features over 200 pages with photos chronicling events ranging from the Coliseum's inception to notable concerts to classic WWF events.
In an otherwise hectic morning, time seemed to freeze when she handed me that book.
I thought to myself, for a building with such a bad reputation and impending destruction lurking within the bureaucracy of the Town of Hempstead, the place has seen some pretty good years.
Anyhow, my boss, like many others, does not have a great understanding of the game of hockey (although to her credit, she did recognize – and correctly pronounce – Bryan Trottier), so she gave me the job of picking out a few pictures from the Islanders portion of the book. I ended up selecting a Trottier and Mike Bossy shot, one LOL picture of the prized fisherman mascot Nyiles (NIGH-les) and a photo of John Tavares celebrating his first goal on bended knee (think R-trigger celebration in NHL '11).
As I made my way toward the end of the book, which is a great read for hockey fans and LI natives (who among us isn't a fan of picture books), I came across a picture of Hugo Belanger. The name rang a very faint and distant bell in my brain.
Belanger is shooting the puck on goal from the low slot. More importantly, he's wearing Franklin gloves, a Kuzak patch on his left arm and is wearing a converted pair of Mike Modano CCM's with four wheels on the chassis.
I was transported, amazingly, and without the use of a hot tub, through time to the year 1996.
My dream as a kid was to play roller hockey professionally. I'd answer the "What do you want to be when you grow up" inquiry – which is the hardest question ever by the way – by saying I wanted to play in RHI.
Roller Hockey International.
Fellow classmates would laugh and say, "You'll never make it Cory, you're not good enough," or, "Why don't you just become a veterinarian or fireman like the rest of us," or, "You should probably just be a model or an actor with that face."
But I had my dream and I wasn't going to waiver.
Correction.
I wasn't going to put my dream on waivers.
Roller Hockey International was founded in 1993 and came to Long Island three years later with the Long Island Jawz. According to Hirshon's book, the team name came from the popular 1975 film and the team's advertisements promised, "…summer fun for the whole family with chills, thrills, excitement and entertainment … without the terror."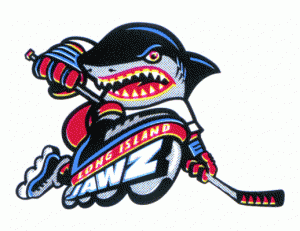 What a gem. (Photo courtesy of hockeydb.com)
Is it just me or is the shark the best logo for a sports team?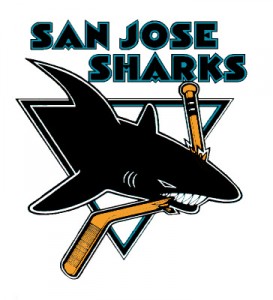 I remember totally ruining a puck (shooting around in the street like a moron) with this logo for the Sharks inaugural season on it and still haven't forgiven myself. (Photo courtesy of wheresnate.com)
Hockey, like football, is a game of inches. (Photo courtesy of unrealitymag.com)
At its peak in 1994, RHI featured 24 teams playing a 22-game season. Altogether, 31 franchises had played in the RHI, and of the bunch, five teams were crowned Murphy Cup Champions. The Anaheim Bullfrogs (twice), Orlando Jackals, St. Louis Vipers, San Jose Rhinos and Buffalo Stampede were among the league's elite, forever enshrined in obscure sports history as the select few who can say they drank from the Murphy Cup.
Many recognizable players played for the RHI, including Trottier, Manny Legace, Nick Fotiu, Francis Bouillon and Darren Langdon.
Hirshon noted that Belanger – even while wearing Franklin gloves – went on to score 48 goals and 54 assists for the Jawz in 1996 and was drafted by the Chicago Blackhawks. Former NHL player and recent Montreal Canadien Glen Metropolit scored 32 goals in the league, according to Hirshon.
Kelli Anderson, in a 1993 article for Sports Illustrated, pondered whether the RHI would develop into a national sport (WNBA) or lose interest after a year (WNBA).
The league ended up somewhere in the middle.
The 90s was a fun decade.
Anderson noted that the average weekly salary for RHI players was $314, with $672,000 in performance-based bonuses distributed to coaches and players throughout the league.
Can any economists out there crunch the numbers for a modern day equivalent?
I'd definitely quit my job for $314 a week, even in 2010. Do I have the chops to make it as a full-time RHI-er? I was voted as a starter for the B Division All-Star Game in the ECRHA back in 2007, so yeah, I think they could find a roster spot for me.
Sidenote: please don't show this article to my boss. I like having a job, even if it's not fulfilling my childhood aspiration.
The founders of the RHI had plenty of aspects working in their favor when the league was introduced. Roller hockey was a cheap alternative to ice hockey and the league would be played during the summer when the NHL wasn't in session. The sport could be played virtually anywhere (but ice) and notoriety from the Mighty Ducks 2 street hockey scene had brought the game to unthinkable heights.
Of course, the $314 question was if the game could put fans in the seats.
In Anderson's article, a fan gave one of the most American responses ever, one that may have come straight from the mouth of a founding father:
"We'll be back," said San Jose Shark season-ticket holder Duane Gardner after the Blades had outlasted the Skates 11-9. "I think this is going to catch on like a son of a gun."
If the league had in fact caught on like a son of a gun, I doubt the NHL would even be around today, so I suppose that worked out for the best.
The professional roller hockey circuit today, whether it be NARCh, PIHA or MLRH (or the collegiate level's NCRHA), mirrors the wide-open and high-scoring style of play in the RHI. The NHL even took a page out of the RHI book, adopting shootouts to determine a winner after regulation. In the spirit of similarities, RHI had a "lockout" in 1998, much like the NHL in 2004.
The average number of goals scored in the RHI was 16.7, which is awesome. You couldn't crack open a peanut without the score changing three or four times.
RHI even had it's own video game made for Super Nintendo, but for reasons unknown, was never released.
This gold mine actually has images of all the jerseys worn in the RHI. You know that your website is old when tripod.com is the host.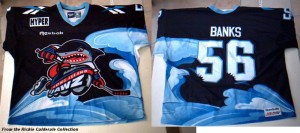 Not only does Long Island have the best pizza and shopping malls, they also had they best RHI jerseys! Strong Island what up!
While the Long Island Jawz's missed the playoffs in their only season in the RHI with a 16-9-3 record, I'd bet all my peanuts that most Long Island hockey fans, even after the Coliseum's impending demise, will forever remember that one beloved year in a shark tank all their own.
Nassau Veterans Memorial Coliseum by Nicholas Hirshon, $21.99, Arcadia Publishing. Available at local retailers, online bookstores, or through Arcadia Publishing at www.arcadiapublishing.com or (888) 313-2665.