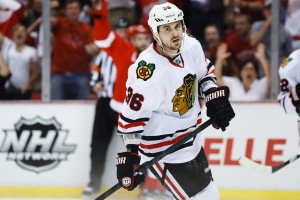 Loyal soldier, clutch combatant, and resident rat – Dave Bolland returns to his old home tomorrow night as a member of the Toronto Maple Leafs. You guessed right if you figured at some point in this article I'd mention Bolland's Cup winning goal. Right after the big boys tied up Game 6 at TD Garden, the 4th line hopped the boards for a centre ice face off with just over a buck showing on the clock.
If you still don't get what makes the Chicago Blackhawks so great, think about whether your favourite team would throw it's 4th line on the ice in the last minute of a Cup finals game against Milan Lucic and David Krejci. Easy to do when Dave Bolland centres that line. Head coach Joel Quenneville's faith in the feisty forward paid off. Watch Dave Bolland score the Stanley Cup winning goal for the millionth time.
http://www.youtube.com/watch?v=7Yz2VfZDKFI
Twitter is talking about Dave Bolland
Twitter is chirping Bolland's name often today. I'll feature some of the best tweets from Leafs and Hawks reporters, sharing player quotes.
According to Mike Zeisberger of the Toronto Sun, the Chicago Blackhawks will honour Bolland's return with a video montage at some point in or before the game tomorrow night at the United Center.
Word out of Chi is that #Hawks are putting together video honouring Bolland that will be on United Center screen Sat. night #Leafs

— Mike Zeisberger (@Zeisberger) October 18, 2013
The video montage is a fresh reminder – Bolland was an important piece in Chicago throughout a legendary time in franchise history. He is one of only 8 roster players to enjoy victory in 2010 and 2013. The list of two-timing Hawks includes the likes of, Niklas Hjalmarsson, Marian Hossa, Patrick Kane, Duncan Keith, Brent Seabrook, Patrick Sharp and captain Jonathan Toews. Pretty good company for a guy they call "rat."
What do Patrick Kane and Dave Bolland have in common? They have both scored Stanley Cup winning goals as members of the Chicago Blackhawks. Courtesy of Bolland's Cup winning brothers, some funny comments have emerged. This one from Patrick Kane, reflecting on Bolland's time in Blackhawks' red. Tweet courtesy of Mark Lazerus, beat writer, Chicago Sun Times.
Kane's favorite Dave Bolland memory was his feud with the "Sedin sisters." "As far as things that you guys know about," he said. #Blackhawks

— Mark Lazerus (@MarkLazerus) October 17, 2013
Bolland may have been the hero in the final minute of Game 6, 2013, however, Toews played his part setting up Bryan Bickell's tying goal only seconds before. Tim Sassone, NHL Blackhawks Hockey Columnist, tweeted Toews' take on getting shut down by Bolland tomorrow night.
Toews on getting shut down by Bolland. "We'll see about that. I know his tricks too so it works both ways." #Blackhawks

— Tim Sassone (@TimSassone) October 18, 2013
Another good one from Toews, via Mark Lazerus.
Jonathan Toews on playing Dave Bolland: "They don't call him the Rat for nothing, but I know all his tricks, too." #Blackhawks #Leafs

— Mark Lazerus (@MarkLazerus) October 18, 2013
Bolland himself must be pumped about returning to Chicago, the franchise that gave him a chance to play, opportunity to contribute, and stage to be hero. He told Chris Kuc of the Chicago Tribune the following:
Former #Blackhawks and current Leafs center Dave Bolland on return to UC: "The emotions will be pretty high when I walk into that building."

— Chris Kuc (@ChrisKuc) October 18, 2013
It will be an emotional affair for Bolland no doubt, but the loving memories will fade quickly when the puck drops and the Hockey Night in Canada feature game begins. CBC followed the Hawks all the way to the finals last season, nationally broadcasting every series they played.
Bernier lets in Hybrid icing fluke goal
Bolland's Leafs are coming off a 3rd period collapse on home ice to the Carolina Hurricanes. The Buds carried a 2-0 lead into the final frame only to see it slip from their grip entirely on a shaky goal allowed by Jonathan Bernier. Check out the Hybrid icing induced gaffe here, courtesy of Yahoo Sports.
Quenneville says Hawks were "awful" against Blues
The Blackhawks record to begin the 2013-14 season is impressively 4-1-2. However, after a few weeks of play they are singing the blues. Last evening's overtime loss to the St. Louis Blues marks the second game between the leading candidates for 1st place in the Central Division. The Blues have won both games, walking away with 4 important points, to Chicago's 1 earned in the season series thus far.
According to head coach Joel Quenneville, the Hawks started strong, then quickly lost their way, slowing down against a tough to beat Blues team. Tim Sassone provides a Quenneville quote describing the Hawks performance against the Blues as "awful."
#Blackhawks Quenneville on loss: "Awful. I didn't like our game at all. The first 12 minutes I liked, but after that, we just slowed down."

— Tim Sassone (@TimSassone) October 18, 2013
At the moment, Quenneville's club places 16th in goals per game, according to NHL.com. While early season stats are often inaccurate, last season's 2nd best team in GPG would like to improve quickly in the offensive department. Luckily, the Leafs suffer from a propensity to provide opponents with scoring chances. Good opportunity for the Blackhawks to turn up the tempo and get some goals.
Featured Writer | Contributing Leafs Writer for TheHockeyWriters.com | Editor & Founder at TheHockeyDaily.com | FOX Sports affiliate | Yardbarker Network | Follow on Twitter @S_Ientile & @TheHockeyDaily for daily hockey featured stories and discussion.