By Matthew Macaskill (@Habsology)
When the Montreal Canadiens traded Jaroslav Halak to the Saint Louis Blues, they were without a natural backup for Carey Price. Enter Peter Budaj, who signed a two-year deal with the Habs on July 1, 2011 worth $2.3 million dollars.
In his first year with the Canadiens, Budaj posted average numbers on a team that would finish last place in the NHL's Eastern Conference. In 17 appearances, the goalie from Banska Bystrika, Slovakia went 5-7-5 with a .913 save percentage and 2.55 goals against average.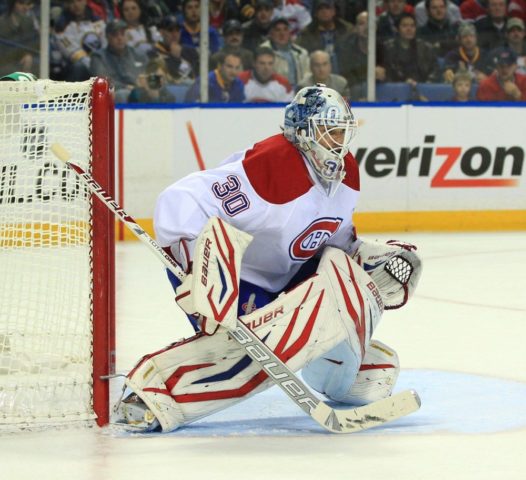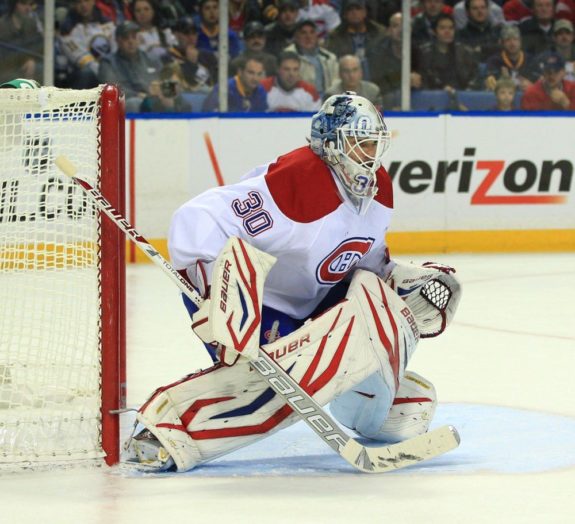 In the following season when Montreal completed a 180 degree turnaround to win their division and secure second place in the East, Budaj lost only a single game in regulation. An 8-1-1-1 record allowed the Canadiens to re-sign the 31-year-old to a new two-year deal without hesitation. The pact came with a modest raise to $1.4 million dollars per season.
Michel Therrien – "I am confident in Peter Budaj. Every time we needed him, he performed well."

— Canadiens Montréal (@CanadiensMTL) May 9, 2013
Budaj's ability to maintain his conditioning and readiness in order to play at a moment's notice may be his most impressive quality. The life of a backup is not easy. Especially when you're starter is Carey Price, a goalie among those considered to be Team Canada's number one at the Olympics in Sochi, Russia.
But Budaj does it. His easy-going, positive personality compliments Price, who's quiet, nonchalant demeanor often confuses pundits. The Canadiens' goalies have a strong professional relationship, which is only strengthened by Budaj's ability to give the team a chance to win. Trust isn't always easy to come by, but knowing Budaj can be counted on is a relief for Price.
In his first game after signing the new two-year deal with the Habs, Budaj allowed only one goal on 28 shots in a 4-1 victory over the Edmonton Oilers. With a full 82 game schedule on the docket, Price can rest assured he doesn't have to face it alone.
It's Carey's team right now; I have his back. – Peter Budaj

— Canadiens Montréal (@CanadiensMTL) April 10, 2013
Budaj had Big Skates to Fill with Avalanche
When the Colorado Avalanche selected Peter Budaj 63rd overall at the 2001 NHL Entry Draft, Patrick Roy had just won a Stanley Cup. By the time that Budaj cracked Colorado's lineup during the 2005-06 season, Roy was two years into retirement and the Avalanche were facing an identity crisis in goal.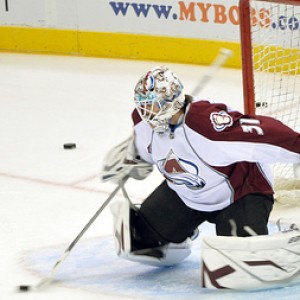 Budaj made the most of his opportunity in Colorado. His best season came in just his second year in the league when he posted 31 wins in 57 games. Unable to match his success, Budaj shared the crease in the four years that followed with the Avalanche before moving onto Montreal.
While Peter Budaj came to the Canadiens happy to serve as Carey Price's backup, his experience as a starter in Colorado is an asset. Signed to an affordable contract, the Habs have an ideal balance in Budaj. He has 242 career games to his credit with the Avalanche, but isn't a threat to Price's throne in the way that say, Jaroslav Halak was.
Budaj matured in Patrick Roy's shadow, one that was cast long over the organization since his retirement in 2003. A shadow that appears to have been finally illuminated with Roy's return to the team as its Head Coach and Vice President of Hockey Operations. Maybe it was this experience that best primed Budaj, a veteran at 31-years old, to back up a goalie of similar regard (but not yet glory) in Carey Price.
Behind the Mask: Budaj's Ned Flanders
For fans of the animated television series The Simpsons, the presence of character Ned Flanders on Budaj's mask is welcomed but peculiar. While Homer Simpson, a man who can do no right, is the show's protagonist, Ned Flanders, a man who can do no wrong, serves as his foil. In the hockey-crazed city of Montreal where starting goaltenders are over-scrutinized for every mistake they make, maybe it's better to play the role of the dependable, but blame-free, backup. From okily-dokilies to jaw-dropping saves, Budaj's versatile personality and strong sense of humour are intangibles in the dressing room.
In the following clips, Peter Budaj provides an analysis of his goalie mask designs. The first one is particularly interesting because he explains the inside joke that led to the Ned Flanders cameos.
Playoff Inexperience the Biggest Knock on Budaj
One knock on Peter Budaj is that he's yet to win a playoff game after eight seasons in the NHL. While he's appeared in six postseason matches with the Canadiens and Avalanche, he has only two losses to his credit and carries a .860 SV% and 4.69 GAA.
Hell of a spot for #Habs Peter Budaj to make his first career playoff start. He was terrific this season

— Dave Stubbs (@Dave_Stubbs) May 9, 2013
Budaj made his first career playoff start in Montreal last year against the Ottawa Senators. Unfortunately, with the Habs already down 3-1 in the series and an injury-depleted lineup, the odds were stacked against him. Budaj allowed six goals on 29 shots and the Canadiens took an early exit from the 2013 playoffs.
Without doubt, Carey Price is Montreal's man in goal when the playoffs roll around in the future. But if for any reason Price had to sit, the team will have to count on Budaj to finally bring his reliable regular season play to net first playoff win.
With Budaj Habs Can Remain Patient with Fucale
At the 2013 NHL Entry Draft many expected the Canadiens to draft Memorial Cup winning goaltender Zackary Fucale with their first round pick. They didn't. Instead they selected Michael McCaron and Jacob De La Rose with the 25th and 34th overall picks respectively. When the 36th overall pick rolled around, they finally made the Laval, QC native the first goalie taken in the draft. It was a dream come true for the 18-year-old, who signed a three-year entry level contract with the Canadiens during training camp.
#Habs Fucale: "Getting picked by Montreal is so special. No matter what round you get picked, the goal and dream stay the same."

— Chantal 🐾 (@pucksnlife) July 1, 2013
At 31-years old, Budaj still has a few good years in the tank. Traditionally goaltenders take a little longer to develop. So keeping Budaj as Price's backup beyond his current two-year contract would provide the Habs with the opportunity to remain patient with Fucale's development.
It could be argued that Price was rushed up to the NHL level after proving his ability to win at the World Juniors and the AHL level. There's no need to rush Fucale, who has an opportunity to follow in Price's footsteps and represent Canada at the international level at the World Juniors this year and next.
Fucale is eligible to play the next two seasons with the Halifax Moosehads in the QMJHL. By the time Fucale is ready to join the professional ranks, Budaj will be seeking a new contract with the Canadiens. It might be in management's best interest to keep 'Ned' around another year or two to allow Fucale to continue his development and get some seasoning in the AHL.