As we approach the all-star break, races are heating up. Teams are jockeying for position. Transactions are being made, shaping the second half of the season. Games are being won and lost. As we come down the final stretch, fans will be glued to their seats and constantly refreshing standings to see where their team sits. However, some fans will be looking at these standings in reverse order because the race to get Connor McDavid or Jack Eichel is hotter than any playoff chase.
Tanking is All the Talk
A team square in the middle of this race, or more accurately, flat at the bottom is the Buffalo Sabres. So instead of talking about line combinations, potential trade-deadline acquisitions and playoff possibilities, the talk around town has been tanking. As a matter of fact, the debate over tanking and how fans should react has created a hotly contested debate.
Ten straight losses by the #Sabres. The Tank is back! #EmbraceTheTank #Buffalo http://t.co/5mvT8UY1t3 pic.twitter.com/79QR9fZBcN

— WGOINBuffalo? (@WGOINBuffalo) January 18, 2015
The question this discussion is centered on is, should fans outwardly root for (or at least hope) their team to lose in order to finish at the bottom of the standings to secure a high draft pick or increase the lottery odds of doing so? In one corner, hockey pundits believe that fans should cheer for there team through thick and thin, always being supportive. The other side of the argument suggests fans have every right to hope for the best outcome for long-term success, which for most underachieving franchises would be acquiring a generational talent.
My favorite part of tank/anti-tank is that tank crowd points to logic and odds while anti-tank crowd claims ethics or morality. #Sabres

— Eric Schmitz (@3rdManIn) January 18, 2015
The debate seemed to reach a boiling point on Buffalo sports radio WGR 550. On-air personality Jeremy White goes on a rant about why he shouldn't feel bad for cheering for the Sabres to finish last. Take a listen below.

Within the same breadth is the argument about whether or not Sabres fans have the right to boo the poor product being displayed on the ice. Similar to the argument previously presented, some believe that a "true fan" is always supportive of their team and never shows such a display of "disrespect." Other will tell you, fans deserve to be entertained and if they're displeased, they have a right to display their discontent.
So what's proper etiquette? Should fans boo? Should fans "embrace the tank"? The only way to answer this is to understand and define what a fan actually is.
What it Means to Be a Fan
We've all heard terms like, "bandwagoners," "fair weather fans" and "diehards." There seems to be a need to build a fan hierarchy in order to rank fans in different classes and put ourselves above others. Someone's bound to put you down because you don't know the third-line right winger that played on your favorite team during the second half of the 1983 season. Or maybe you'll be scorned because you happened to miss the 47th game of the regular season.
Well… all of that is nonsense!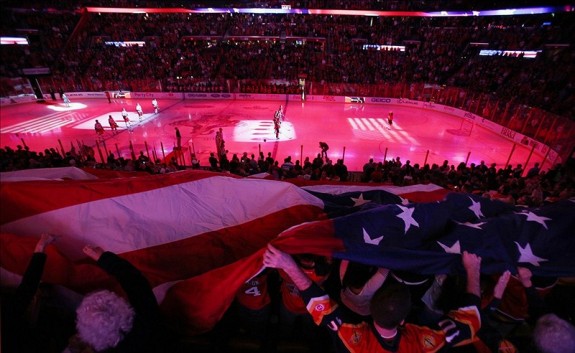 As long as you're conducting yourself in a respectful manner and enjoying your experience, no one can tell you how to be a fan. Fans pay good money to see their favorite team play, shell out piles of cash on memorabilia and invest a lot of time in watching and following along. That alone gives a fan any right to support a team how ever he or she sees fit. If you deem that the team deserves to be booed, then boo. If you think acquiring the first pick will help your team succeed, then hope for that to happen.
After all, the true essence of sports and fanhood is a collective group of individuals uniting for a common cause and creating a sense of community. Rather than creating degrees of separation, it's about coming together as one.
What are your thoughts on booing, tanking and being a fan?