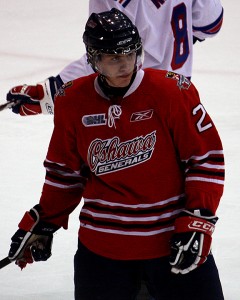 The Columbus Blue Jackets have agreed to terms on a three-year entry level contract with Boone Jenner, selected by the Blue Jackets in the 2011 National Hockey League entry draft ( 2nd round 37th overall). It was announced Wednesday by Executive Vice President of Hockey Operations and General Manager Scott Howson.
Jenner, a native of Dorchester, Ontario, is a 6'1 196 Center currently playing in his third season with the Oshawa Generals of the Ontario Hockey League.
In 43 games in the 2011-12 season, Jenner has accumulated 22 goals and 49 points, along with 59 penalty minutes. Over three seasons and 171 games played with Oshawa, the center has collected 66 goals, 98 assists and has racked up 207 penalty minutes.
Jenner was originally selected by the Oshawa General 4th overall in the 2009 Ontario Hockey League priority selection draft after having been a member of the Elgin-Middlesex Chiefs AAA hockey team, an organization that competes in the Pavilion League of the Minor Hockey Alliance of Ontario.
After a successful first season in the OHL, Jenner was named captain of Team Ontario at the 2010 World U-17 Hockey Challenge. In 2012, he was selected to play in the 2012 World Junior Ice Hockey Championships for Team Canada.
"He is very industrious, very hard-working, very determined," GM Scott Howson said. "We have very high hopes for him."
Jenner is well know for his faceoff ability, willingness to block shots and get into the dirty areas along the wall. He has good leadership skills for an 18 year old player, something that will be a welcomed addition in Columbus.
Jenner's contract will begin July 1. He will compete in the Columbus Blue Jackets main camp with hopes of earning a spot on the parent club. His eligibility with Oshawa is intact in case the talented prospect falls short at camp. He will not be eligible to play in the American Hockey League due to his age.
"How long it takes, I don't want to handicap that. But we know he has the drive and competitiveness to be a good NHL player," Howson said.
With five games remaining in the 2011-12 schedule, Blue Jackets fans have something to cheer about with the signing of Boone Jenner. A promising young talent that can only bode well for the future of young talent in the Columbus Blue Jackets Organization.
Follow me on Twitter @ DarrenCoslov