One of the three key pieces that the Boston Bruins were missing at the beginning of the 2022-23 season was defenseman, Charlie McAvoy. Also sidelined to begin the season were Matt Grzelcyk and Brad Marchand, all of who were recovering from offseason surgeries. The Bruins had enough forward depth to overcome their leading scorer from the previous season, but losing two of your top-four defensemen is less than ideal.
Related: Bruins Won't Get Salary Cap Relief This Offseason
---
Latest News & Highlight
---
McAvoy had a mid-November return time frame and that is when the former Boston University blue liner returned for his sixth season with the Black and Gold. As usual, he made an impact right from his game and continued it all season long.
Charlie McAvoy's 2022-23 Regular Season
Despite missing the first month, McAvoy still managed to play in 67 regular season games. In his first game back at home against the Calgary Flames on Nov. 10, he scored his first of seven goals on the season. He scored a highlight reel goal on a game on Jan. 22 at home against the San Jose Sharks. He took a pass on the Bruins side on center ice 4-on-4 and skated through the San Jose defense and made a nice move to beat James Reimer. He scored a game-winning goal in a 4-3 win over the Flames on Feb. 28 on the road with seven seconds left in the extra session in a game where Linus Ullmark made 54 saves. He didn't score a lot, but when he did, it was a must-watch.
In McAvoy's absence at the beginning of the season, Hampus Lindholm played at a high level and really played at that high-level all season which was one of the reasons that Black and Gold had the start to the season they had. As each season has gone along in his career, McAvoy's offensive game continues to impress and he finished the season with 45 assists. One of the best-way defensemen in the NHL, he averaged 22:18 a night this season and had a plus/minus of plus-29. His best partner this season was Lindholm as both are top-pairing blue liners that can play off of each other in all three zones.
McAvoy Struggled in the Postseason
It's no secret that after the historic regular season Boston had, it was also a historic postseason, but for different reasons. The Bruins grabbed a stranglehold of their first-round series against the Florida Panthers, before dropping the final three games to end their season in frustrating fashion. All of the defensemen struggled at different points in the series and in reality, so did McAvoy.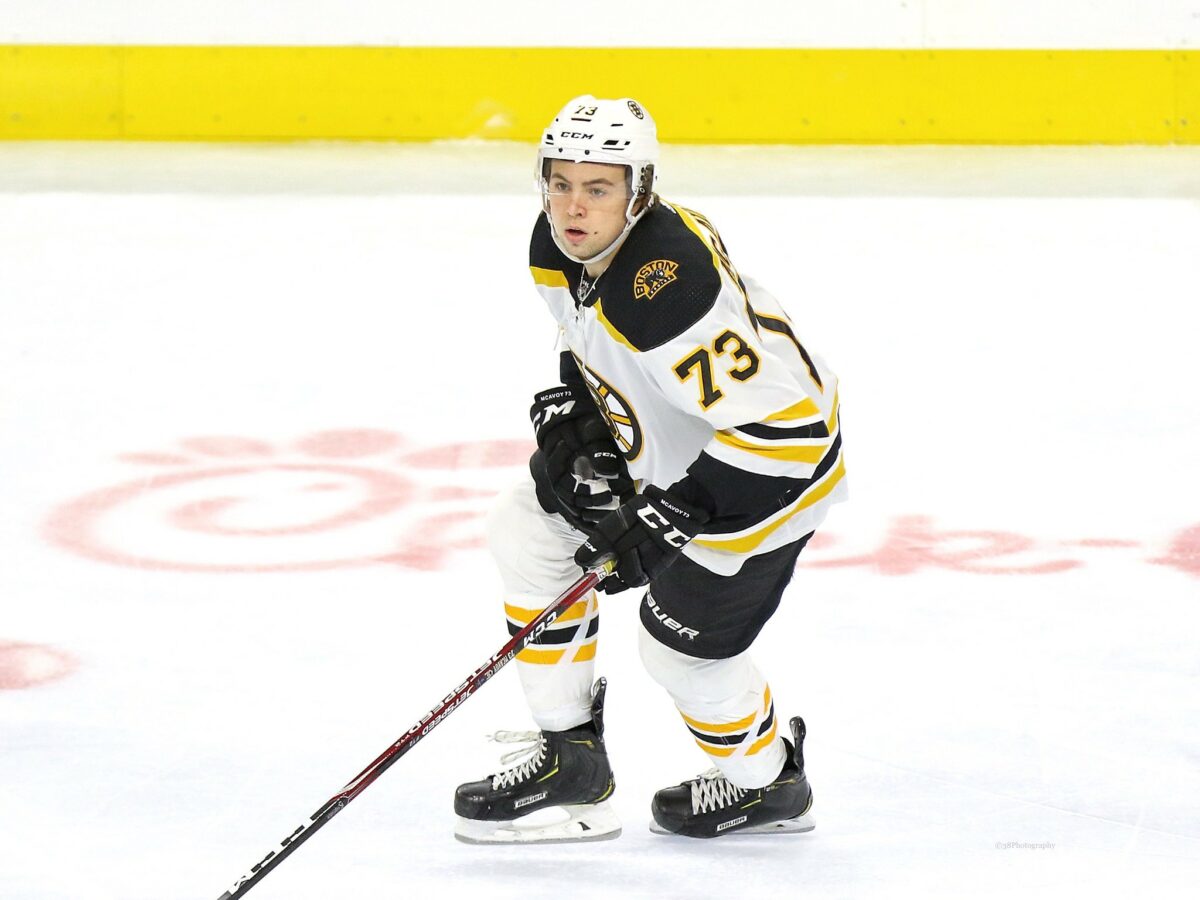 In the seven games, he had five assists, averaging 25:28 a night, while dishing out 29 hits and sacrificing his body to block 15 shots. His one problem and it was a problem as a whole for all of the defensemen, was giveaways and he finished eight. Following a 6-3 loss in Game 2 at home, McAvoy set the tone for the Bruins in Game 3 on the road right from the opening face-off when he laid a heavy hit along the boards on Florida's Eetu Luostarinen. Teammate Taylor Hall took notice of the hit that sparked a 4-0 victory.
"I thought what set the tone was Charlie McAvoy laying a big hit in the first shift,'' said Hall. "That was kind of a telltale sign of the night and how hard we were going to play.''
Unfortunately for McAvoy, Hall, and the Bruins, that's not how the series ended nine nights later in Boston in Game 7.
McAvoy Is a Building Block for the Future
As the Bruins wait for word on the future of Patrice Bergeron and David Krejci's futures, it's clear that the core group that led the Black and Gold to their Stanley Cup championship in 2011 is all but gone, which means general manager (GM) Don Sweeney is forced to build a new core. That core should be, and will be, built around McAvoy and David Pastrnak. McAvoy is going into the second year of an eight-year, $76 million contract extension he agreed to prior to the 2021-22 season that carries an average annual value (AAV) of $9.5 million.

It would not be surprising to see him named a captain before his tenure in Boston is done, but he certainly is a nice building block to start with, along with Pastrnak. As the Bruins move forward and bring a different-looking roster in for the 2023-24 season, it starts on defense with McAvoy.
Grade: A
---
---