If you've been following my offseason coverage for the Detroit Red Wings, you may have noticed a steady progression.
First, I asked the big question of whether the Red Wings should continue their rebuild or push for the playoffs. There's no right or wrong answer – this is evidenced by the inclusion of luck as a factor in scenario planning. Both approaches can succeed or fail. It's ultimately up to the decision-maker on how much risk they're willing to accept.
Next, I conducted post-campaign analysis, evaluating year-over-year performance of both the Red Wings as a whole and individual players. While past performance doesn't guarantee future results, it is helpful to know trends and areas for improvement.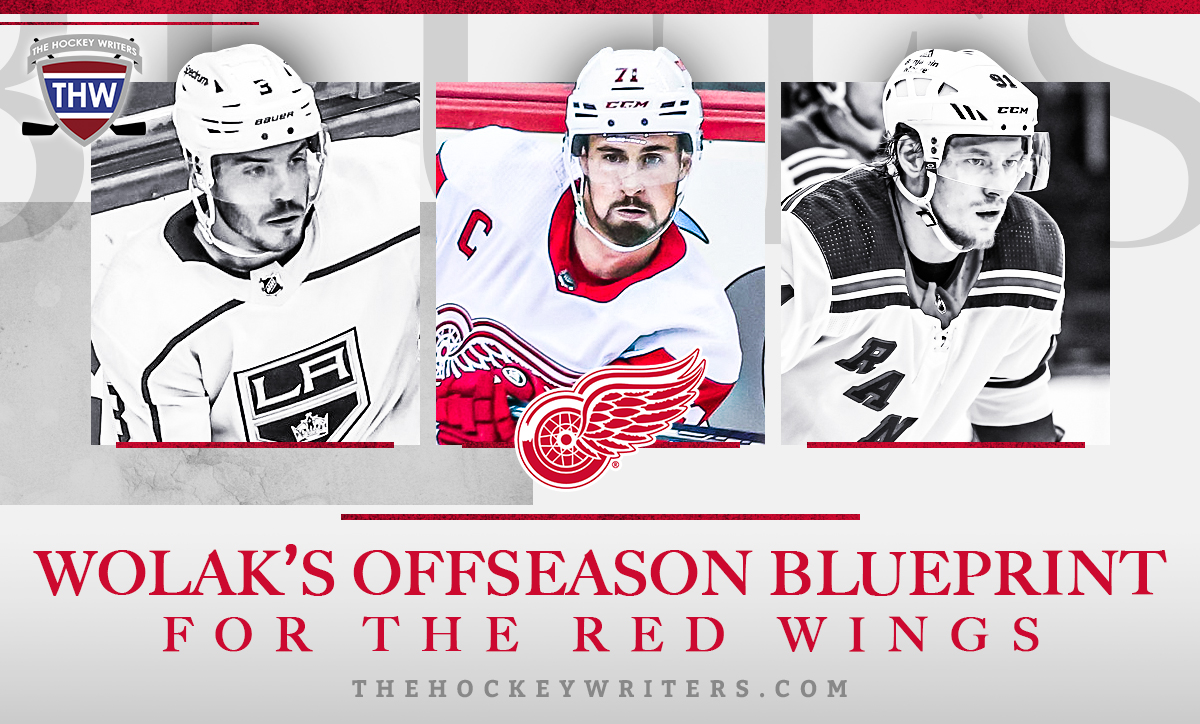 Then, I analyzed the current state of the Red Wings. I did a deep dive into their organizational depth and identified gaps that need to be addressed. I also projected what Detroit can expect with their restricted free agents (RFAs). 
Now—with all of this data and analysis at my fingertips—I'm here to make my recommendation for how the Red Wings should approach their offseason. 

I've included my strategy for RFAs, the draft, trades, unrestricted free agents, and lineup optimization below – all geared toward achieving the goal of reaching the 2024 playoffs. In my opinion, actively trying to make the playoffs is a more favorable approach than tearing down and rebuilding for another year.
It can be done. The Red Wings can reach the playoffs in 2024. Here's how.
Red Wings' RFAs
First, we'll start with Detroit's RFAs since they are typically signed or tendered qualifying offers prior to the draft. Below are the RFAs that I'm re-signing. You can find a more detailed overview of the contracts here.
C Joe Veleno – Three years, $1.75 million AAV
RD Gustav Lindstrom – One year, $800,000 AAV
RW Matt Luff – One year, $787,500 AAV
LD Jared McIsaac – One year, $787,500 AAV
RD Wyatt Newpower – One year, $787,500 AAV
In my contract projections article, I predicted that the Red Wings would part ways with Lindstrom. But since this is my approach to the offseason, I'm going to bring the blueliner back to compete for a depth role in training camp with no guarantees.
2023 NHL Draft
Next up is the draft, which will feature the Red Wings picking ninth and 17th in the first round. I used Draft Prospects Hockey's simulator to conduct a mock draft – here is who Detroit ended up with:
No. 9: C Dalibor Dvorsky – AIK (HockeyAllsvenskan)
No. 17: C/LW Otto Stenberg – Frölunda (SHL)
No. 41: C Jayden Perron – Chicago (USHL)
No. 42: LW Daniil But – Yaroslavl (MHL)
No. 43: Traded!
No. 73: RW Coulson Pitre – Flint (OHL)
No. 118: RW Connor Levis – Kamloops (WHL)
No. 137: RD Sam Court – Brooks (AJHL)
No. 169: LW Liam Engstrom – Örebro (J20 Nationell)
No. 201: C Cole Knuble – Fargo (USHL)
I'm sure you're curious who the Red Wings acquired for the 43rd-overall choice. I traded the pick to the Los Angeles Kings for right defenseman Matt Roy, with the intention of him playing on the second defensive pair. You can read more about Roy, how he'd improve the Red Wings, and why the Kings would trade him here.
As for the rest of the draft, I prioritized forwards for two reasons. First, the Red Wings desperately need more goal-scorers in their prospect pipeline. Dvorsky, Stenberg, Perron, and But will bring plenty of offense in time.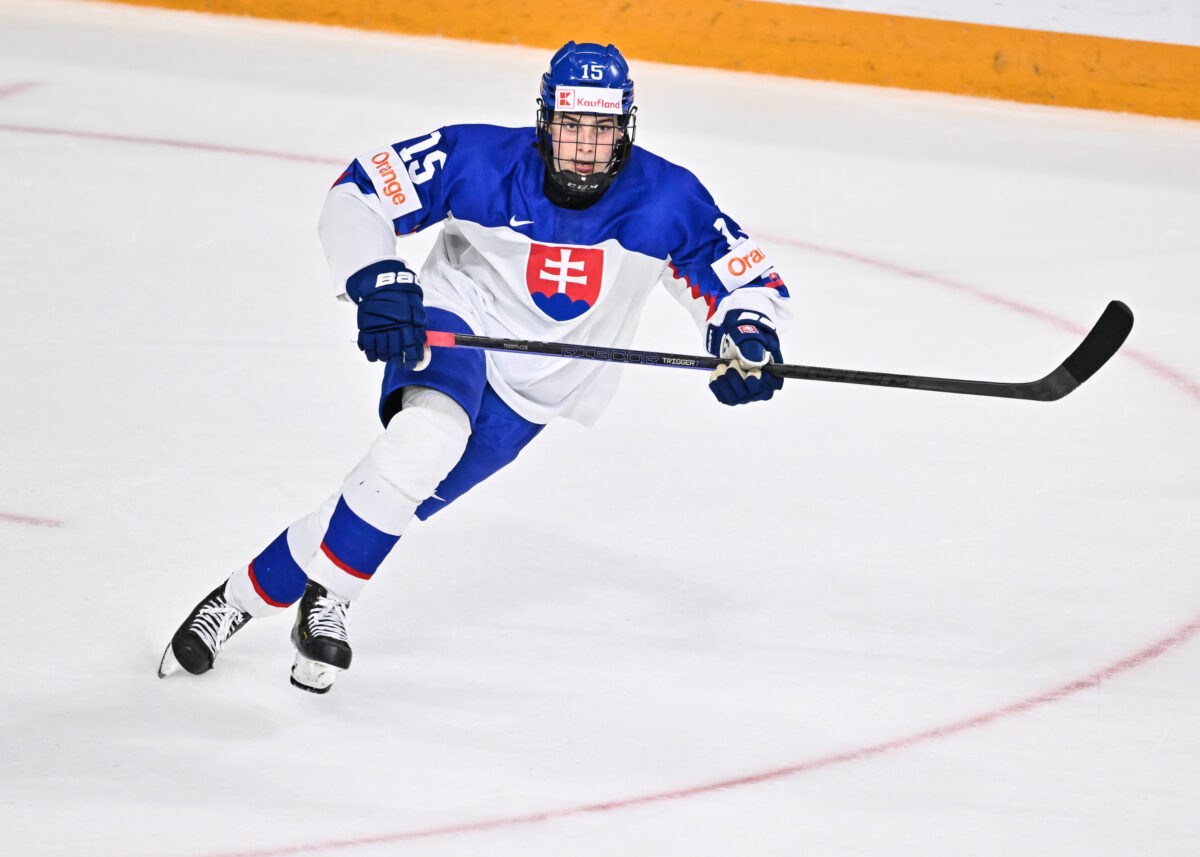 In addition, the 2024 draft class has several high-quality defensemen projected to be first-round picks. Nothing against David Reinbacher and Axel Sandin-Pellikka, but Detroit might be better served waiting a year before they commit a critical draft pick (or two) to a cornerstone blueliner.
---
Latest News & Highlight
---
I wouldn't anticipate any of these prospects playing meaningful minutes in Detroit next season. If anything, Dvorsky and Stenberg could come to North America after their SHL seasons wrap up and join the Red Wings and/or Griffins for a game or two.
Red Wings' UFA Additions
Moving on to unrestricted free agents, there are a few players who can serve as solutions for Detroit's various needs this offseason. Below are the UFAs that I would sign, along with contracts that I think would win them over to the Red Wings.
RW Vladimir Tarasenko – Two years, $7 million AAV
C Nick Bjugstad – One year, $2 million AAV
RW Austin Watson – One year, $1.5 million AAV
G Adin Hill – Two years, $3.5 million AAV
G Alex Nedeljkovic – One year, $1 million AAV
RW Mitchell Chaffee – One year, $775,000 AAV
RW Kirill Tyutyayev – AHL-only contract
RD Seth Berton – AHL-only contract
RD Jeremie Biakabutuka – AHL-only contract
G John Lethemon – AHL-only contract
Let's start with the big fish: Tarasenko. The Red Wings need goal-scorers and have a propensity to acquire former St. Louis Blues players, making the 31-year-old winger an ideal target.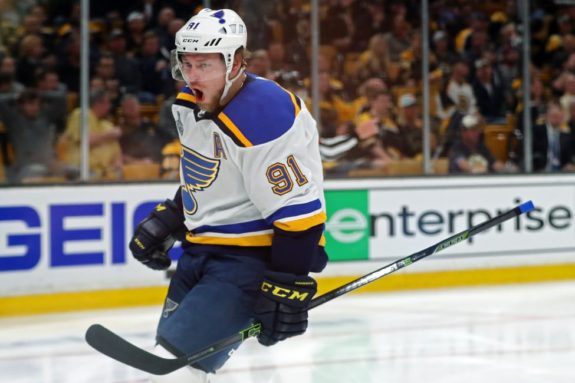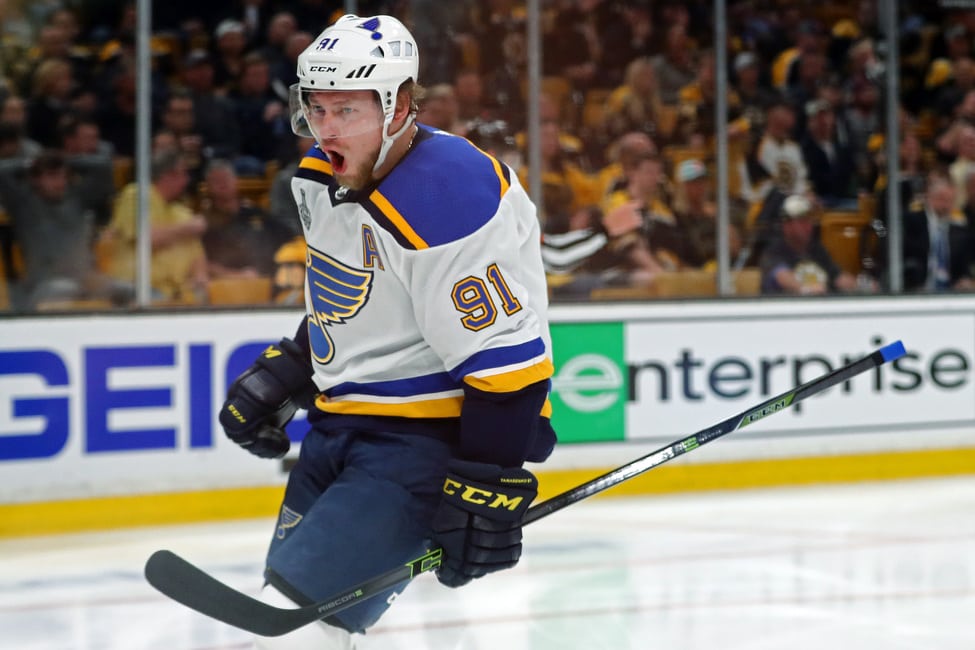 He could probably fetch a longer term elsewhere, but Detroit can offer a higher AAV than most teams due to their excellent salary cap management. A $7 million cap hit won't hurt the Red Wings either – they have plenty of space to work with (~$29 million if the salary cap is set at $83.5 million).
At five-on-five, Tarasenko can still be effective in a top-six role. He would also elevate the power play by rekindling his chemistry with David Perron. The two drove St. Louis' second-ranked power play in 2021-22, and combined to score 16 goals and accumulate 48 total points in just under 120 minutes of ice time together.
Bjugstad would give the Red Wings a sorely needed right-handed center. He and Austin Watson would also provide a physical presence and factor into the penalty kill as well. Bjugstad is strong defensively, as evidenced by his 56.58 goals-for percentage last season, which, mind you, was spent mostly in Arizona with the lackluster Coyotes.
In my opinion, Adin Hill is the best 1B/backup goalie hitting the market this summer. Stylistically, Hill is a predictable goalie—his save selection methodology and approach to play around him is consistent—and that's a good thing for a defense like Detroit's that's still developing. He's similar to Husso in that regard, which ensures stability and reliability regardless of who is in net. 
Hill's impressive play during the 2023 playoffs is also noteworthy, though it may require me to revisit this recommendation later on – the Vegas Golden Knights may want to retain him at all costs if he keeps winning.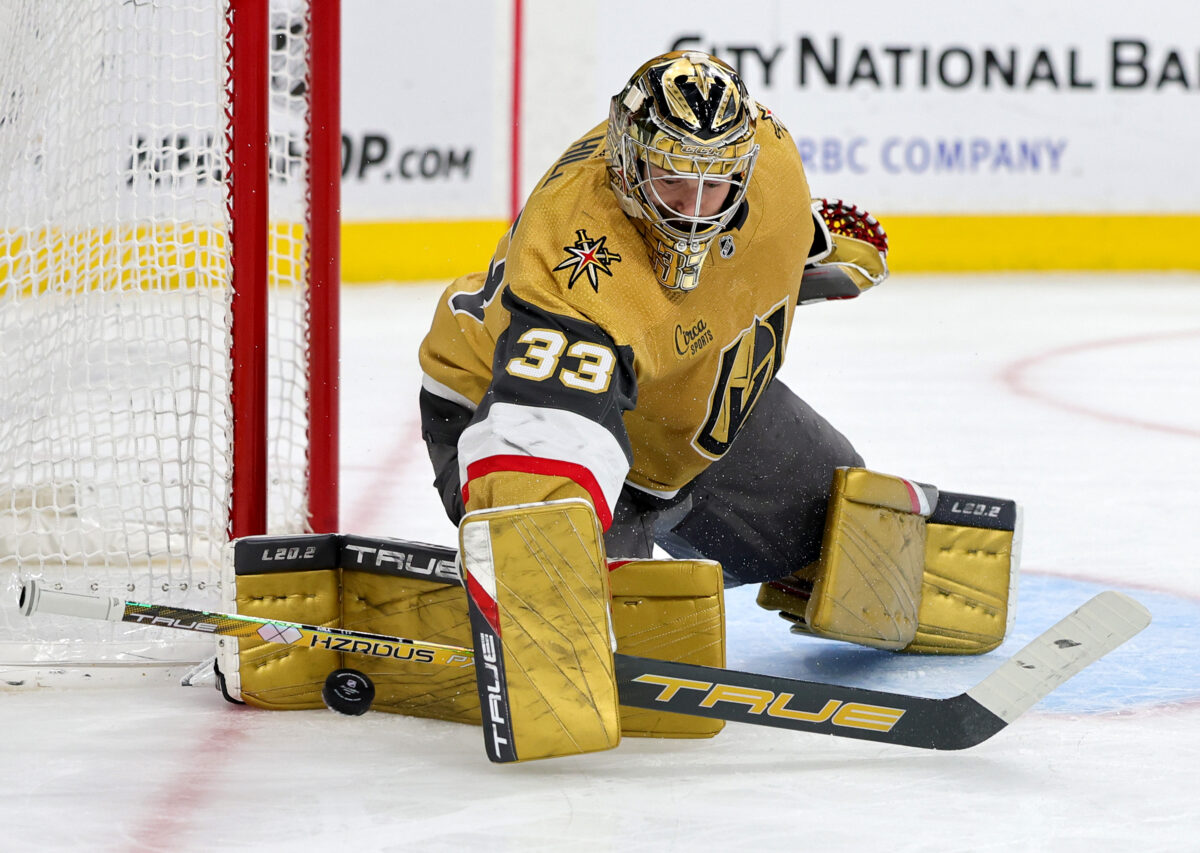 There's also Alex Nedeljkovic, who I suggest be brought back as Detroit's third-string goalie. He may want to go elsewhere for a greater opportunity, but a $1 million contract and the fact that the Red Wings have deployed three-plus goalies each year for the past seven seasons is an attractive offer in my opinion. Plus, three of the four Conference Final teams in the 2023 playoffs deployed their third-string goalie sometime during the postseason, so Nedeljkovic would likely still see quality NHL time at some point.
The contract would be one-way, so if he was assigned to the AHL, he'd be paid handsomely to mentor Sebastian Cossa. There wouldn't be any salary cap implications for the Red Wings, either.
Related: Red Wings Should Avoid These Prominent Free Agents
Speaking of the Griffins, the remainder of the signings would be for AHL depth. Mitchell Chaffee—a Grand Rapids native—would play the most significant role of the bunch.
Additional Trades
I considered a few trades for top-six forwards while putting this recommendation together, but ultimately passed due to the high acquisition costs. Elias Lindholm, Tyler Toffoli, and Nick Schmaltz were discussed. In the end, it made more sense to go after Tarasenko on the free agent market.
Red Wings' 2023-24 Roster
With RFAs, the draft, and free agency behind us, it's time to take a look at what they all add up to. Below is the projected opening night roster, special teams units, and more.
| | | |
| --- | --- | --- |
| LW | C | RW |
| Vladimir Tarasenko | Dylan Larkin | Lucas Raymond |
| Michael Rasmussen | Andrew Copp | David Perron |
| Robby Fabbri | Nick Bjugstad | Jonatan Berggren |
| Dominik Kubalik | Joe Veleno | Filip Zadina |
|   | Austin Czarnik | Austin Watson |
| | | |
| --- | --- | --- |
| LD | RD | G |
| Jake Walman | Moritz Seider | Ville Husso |
| Olli Maatta | Matt Roy | Adin Hill |
| Ben Chiarot | Albert Johansson |   |
|   | Gustav Lindstrom |   |
Flexibility is the theme here. 
In the top six, Tarasenko could slide down to the second line to play with Perron. Derek Lalonde could then move either Rasmussen or Copp up to the top line, with the other centering Tarasenko and Perron. Raymond and Perron could also switch. Regardless, the Red Wings have two competitive trios at the top of the lineup.
In the bottom six, I opted to put complimentary players together – both the third and fourth lines have a forechecker, playmaker, and shooter. Watson and Czarnik could swap in for just about anyone, giving Lalonde options depending on the roster makeup of a given night's opponent.
Czarnik is on the roster over Elmer Soderblom, Carter Mazur, and Marco Kasper for a simple reason: Detroit would be fine scratching him. Ideally, the young players are playing important minutes. And due to the Red Wings' organizational depth, those minutes would be in the AHL. That said, injuries happen—especially during training camp and the preseason—so it's entirely possible Soderblom, Mazur, and/or Kasper end up in Detroit after all.
On defense, the Walman-Seider pairing would remain intact. No reason to break up what was a solid duo last season.
Moving down the depth chart, the second and third pairs are only temporary. Ideally, Simon Edvinsson recovers from offseason shoulder surgery, gets up to speed, and joins Roy on the second pair. That would push Maatta down to the third pair with Chiarot. 
When Edvinsson returns, it makes sense to assign Johansson to the Griffins where he can play top-pair minutes. But until then, the 22-year-old will get an opportunity to prove he belongs in Detroit.
Proposed Red Wings Power Play
| | | |
| --- | --- | --- |
| Position | PP1 | PP2 |
| Quarterback | Moritz Seider | Jake Walman |
| Left Flank | Lucas Raymond | Jonatan Berggren |
| Right Flank | Vladimir Tarasenko | Dominik Kubalik |
| Bumper | Dylan Larkin | Robby Fabbri |
| Net Front/Side of Net | David Perron | Michael Rasmussen |
The plan would be to run the same power play alignment and strategy as Detroit did last season. Tarasenko would join PP1 as the trigger man on the right flank, with Raymond serving as the main facilitator.
As for PP2, Berggren would serve as the facilitator given his outstanding vision and playmaking abilities. In addition, the Red Wings could give Zadina reps as the bumper and swap Edvinsson in for Walman once he's healthy.
Proposed Red Wings Penalty Kill
| | | | |
| --- | --- | --- | --- |
| Position | PK1 | PK2 | PK3 |
| Forward 1 | Michael Rasmussen | Dylan Larkin | Joe Veleno |
| Forward 2 | Nick Bjugstad | Andrew Copp | Filip Zadina |
| Defense 1 | Ben Chiarot | Olli Maatta |   |
| Defense 2 | Moritz Seider | Matt Roy |   |
I know what you all are thinking: Chiarot on PK1?! Yes, that's correct. This is the role Yzerman and company envisioned for the veteran defenseman when they signed him. I'm banking on Chiarot having a better season in 2023-24.
Bjugstad and Rasmussen would be on the ice for the opening faceoff of a kill so that the Red Wings have a strong-side center regardless of where the faceoff is. Also, Watson would slot in for Zadina when he's in the lineup, and Walman would be the next man up if one of the four defenders listed above was the one penalized.
Grand Rapids Griffins Lineup
Can't forget about the Griffins! Here's how their lineup would look with my recommended signings:
| | | |
| --- | --- | --- |
| LW | C | RW |
| Taro Hirose | Joel L'Esperance | Matt Luff |
| Elmer Soderblom | Marco Kasper | Carter Mazur |
| Amadeus Lombardi | Alexandre Doucet | Cross Hanas |
| Dominik Shine | Tyler Spezia | Mitchell Chaffee |
|   | Riley Sawchuk | Kirill Tyutyayev |
| | | |
| --- | --- | --- |
| LD | RD | G |
| William Wallinder | Wyatt Newpower | Alex Nedeljkovic |
| Jared McIsaac | Donovan Sebrango | Sebastian Cossa |
| Eemil Viro | Antti Tuomisto | John Lethemon |
| Seth Barton | Jeremie Biakabutuka | Jan Bednar |
From top to bottom, this is a quality team. There's no reason why these Griffins can't make a deep run in the 2024 Calder Cup playoffs.
Final Word
Detroit's opening night roster would have a total cap hit of $73,330,556, leaving $10,169,444 available in cap space. Even with all the additions, the Red Wings are in great shape financially.
While it's too early to tell how this team would compare with their Atlantic Division rivals—it's unclear what their offseason plans are and what injuries might happen before the season starts—this Red Wings team would be much more competitive than last year's squad. This is a team that can and should qualify for the 2024 playoffs – on paper, at least. It's ultimately up to the players and the coaching staff to make that goal a reality.
Data courtesy of CapFriendly and Natural Stat Trick.