After finishing the 2022-23 season with a 35-37-10 record, the Detroit Red Wings will pick ninth in the 2023 NHL Draft. And while the draft lottery once again failed to deliver for the Red Wings, they still have the opportunity to select an impact player at No. 9.
Related: Red Wings 2023 Draft Coverage
One prospect who could be available when Steve Yzerman steps to the podium is Slovakian center Dalibor Dvorsky. His blend of offensive firepower, elite hockey IQ, and a commitment to a two-way game would give the Red Wings another cornerstone player to build around.
Player Overview – Dalibor Dvorsky
2021-22 Player Stats:
AIK (J20 Nationell): 10 GP – 10 G – 11 A – 21 PTS
AIK (Allsvenskan): 38 GP – 6 G – 8 A – 14 PTS
Slovakia (U18 WC): 7 GP – 8 G – 5 A – 13 PTS
Slovakia (U20 WJC): 5 GP – 1 G – 2 A – 3 PTS
I've been tracking Dvorsky throughout his draft year and keeping tabs on what the scouting community has said about the Slovakian center. While watching the U18 World Championship, my opinion on the prospect finally crystalized – he's the real deal.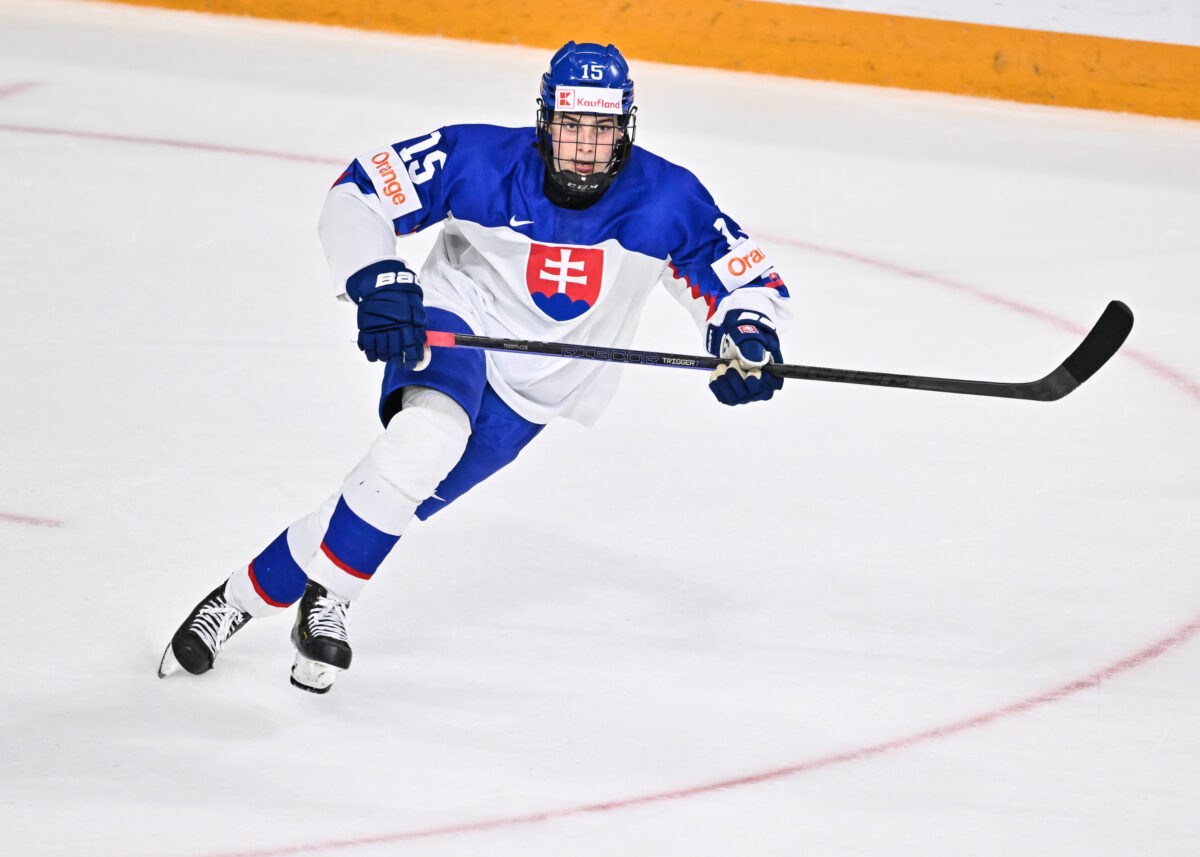 Dvorsky's hockey IQ is through the roof. Everything funnels through him while on the attack. Dvorsky is comfortable skating through traffic with the puck, fending off defenders, and creating opportunities for his teammates. He's not dynamic, per se, but his processing and decision-making are elite.
"He's a smart player, I think his on-ice vision is exceptional, he has a great shot, I think he reads situations on the ice very, very quick and can adapt no matter what the level is," noted AIK coach Anton Blomqvist. (from 'How Dalibor Dvorsky became a top 2023 NHL Draft prospect — and why he's not done' – The Athletic – 4/23/23)
It's all there – the vision, the processing, the ability to attack the offensive zone in a variety of ways. Plus, Dvorsky can score, too. He has a great release and can tee up dangerous one-timers from the right flank on the power play. 
In addition, Dvorsky's play away from the puck is also a strength. He has great awareness in his own end and was constantly put in key situations at the U18 Worlds, taking all of Slovakia's important faceoffs. 
Some have criticized Dvorsky's skating. He's not a burner, by any means. Personally, I don't have an issue with it. He drove play effectively for Slovakia and leveraged his vision and hockey IQ to find open space and teammates. His skating is fine – it's just not a strength of his.
Related: THW's Free 2023 NHL Draft Guide
---
Latest News & Highlights
---
What is a strength, though, is Dvorsky's compete level and overall drive. In fact, this might be his best attribute. There is a clear desire to improve and be better next time, whether that's the next shift, game, or season. And that's a mature perspective to have, especially when you're one of the youngest players in the draft class.
Dvorsky's Fit with the Red Wings
As outlined in my review of Detroit's organizational depth, the Red Wings are missing a true gamebreaker in their prospect pipeline. Dvorsky has the potential to be just that.
Marco Kasper will be a highly effective NHLer soon enough, but he's probably not going to be a point-per-game player. The same goes for Carter Mazur. Dvorsky, though, has the tools to be a potent top-six—if not top-line—forward for the Red Wings.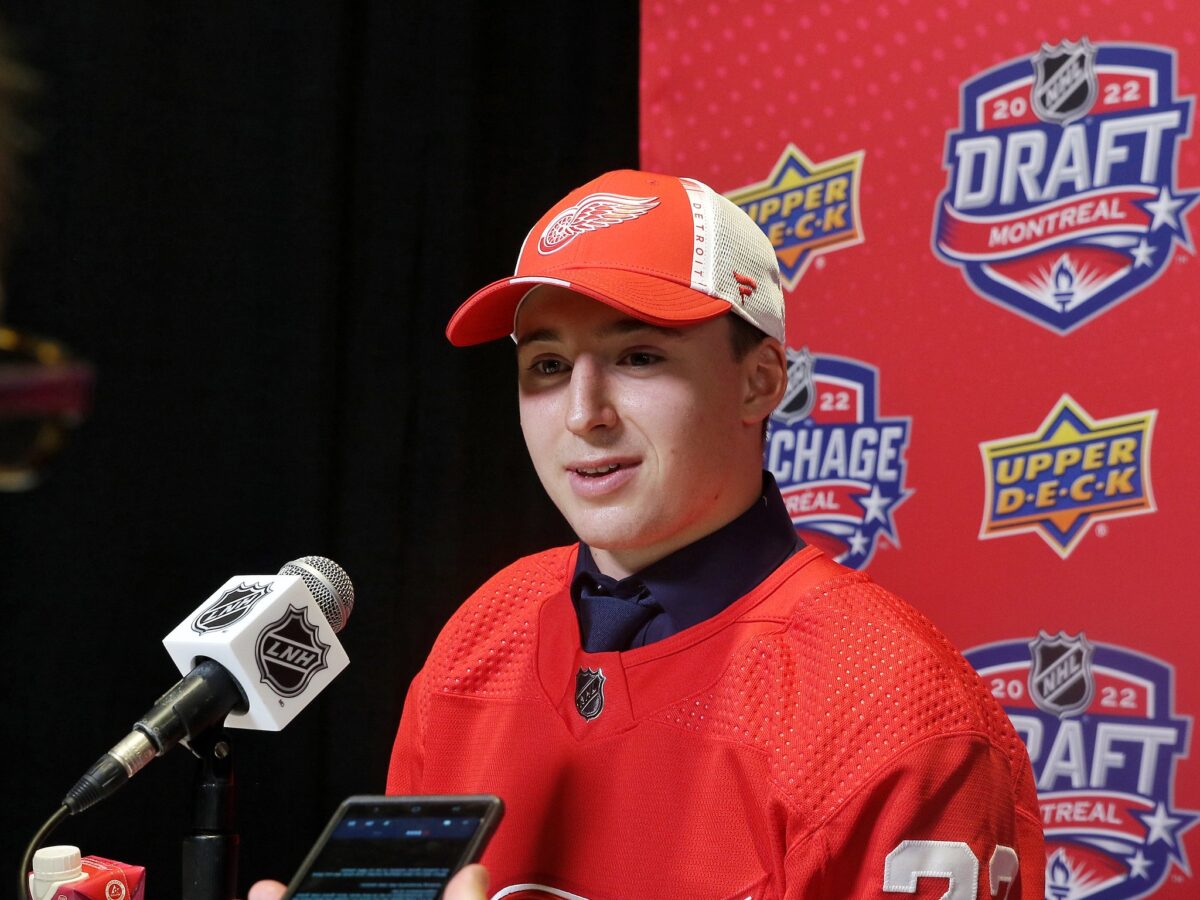 Since he can play center or on the wing, Detroit will have some flexibility down the road. A lineup with Kasper, Dvorsky, and Dylan Larkin will likely feature one of them on the wing to maximize their ice time. If it's Dvorsky, that's not a problem – he can drive play from the flank as well.
Lastly, Dvorsky is a great cultural fit for the Red Wings – something Yzerman has valued since rejoining the organization. His high character, strong desire to improve, and overall work ethic fit right in with Larkin, Kasper, Moritz Seider, and others at the center of Detroit's rebuild.
Best Player Available?
It's entirely possible that Dvorsky is selected prior to the No. 9 pick. That's not a guarantee, though. 
If he's available, Dvorsky would be my top pick for the Red Wings. I believe he has a higher ceiling and better overall skill set when compared to Ryan Leonard, Oliver Moore, Brayden Yager, and others in the seven to 12 range.
Other Quotes
"Dvorsky is quite dangerous inside the offensive zone. He has excellent puck skills in small areas and can make checkers miss routinely in open ice. He can make tough plays and find seams. He excels as a goal scorer, though, with a wrist shot and one-timer that he can often finish from range." –Corey Pronman, The Athletic (from '2023 NHL Draft ranking: Connor Bedard leads Corey Pronman's tiers of the top 142 prospects' – The Athletic – 5/30/23)
"Dvorsky is a highly talented and intelligent playmaker who can threaten coverage in a variety of ways, whether that's carving through it in control and finishing cleanly from the home plate area, sliding off of coverage to find pockets of space to get open into, or drawing coverage and facilitating (he does a wonderful job hanging onto pucks and waiting for options to open)." –Scott Wheeler, The Athletic (from '2023 NHL Draft top 32 prospects: Scott Wheeler's post-U18 worlds ranking' – The Athletic – 5/1/23)
"In every area as a person, he's a top, top character in all levels. … This kid, you're not going to meet a better person, you're not going to meet a harder worker, he loves the game and if you ask him to work two hours he's going to go four." –AIK coach Anton Blomqvist (from 'How Dalibor Dvorsky became a top 2023 NHL Draft prospect — and why he's not done' – The Athletic – 4/23/23)
Stats courtesy of EliteProspects.