Connor Levis
2022-23 Team: Kamloops Blazers (WHL)
DOB: October 5, 2004
Place of Birth: Vancouver, British Columbia, Canada
Ht: 6'2″ Wt: 194 pounds
Shoots: Right
Position: Center/Right Wing
NHL Draft Eligibility: 2023 Draft Eligible
Rankings
THW – Baracchini: 93rd
NHL Central Scouting: 75th (NA Skaters)
Daily Faceoff – Ellis: 88th
FCHockey: 117th
Craig Button: 99th
Connor Levis isn't one of the top prospects available in the 2023 NHL Draft, but don't let that convince you that he doesn't have tools that could lead to a fruitful career in the NHL. He doesn't bend the game to his will like Connor Bedard and he doesn't ooze offensive potential like Matvei Michkov, but he does have a strong understanding of what his strengths are and how he can use them to make an impact for his team.
It starts with Levis's size and how willing he is to use it. He isn't exactly huge at 6-foot-2, 194 pounds, but he sure isn't small. He uses his size and considerable strength to engage in board battles and fight for loose pucks in open ice. When he has the puck, it's hard to knock it off his stick. As he continues to physically mature and add strength to his frame, he has the potential to develop into a real bull in a China shop, especially in the offensive zone.
Related: 2023 NHL Draft Guide
---
Latest News & Highlight
---
Levis isn't exceptionally creative on the attack, but he is effective. He tends to defer to simple plays rather than creating time and space through stickhandling and deception. When he runs out of space, he'll send the puck back up high to one of his defenders or in deep behind the opposing goaltender. He's a smart player that plays within himself; he collected 67 points in 68 games this season in the Western Hockey League mostly by playing a foundationally-sound game that complimented his teammates.
Levis's willingness to go to the dirty areas of the ice and play a "hard" game presents a few paths forward for him. As a center, he has the instincts and work ethic necessary to develop into a defensive matchup center in the NHL, but his intelligence and hard work would also gel well alongside higher-end players. That being said, he has spent time on the wing this season, and his path to the NHL probably lies there instead of down the middle. In the same way that defensive-defensemen are at their best when you don't notice them, he is at his best when he falls back into more of a support role, elevating the players on his line in the process.
Levis plays with pace, but he isn't necessarily "fast". He has a lot of power behind his skating stride and it's hard to catch him flat-footed. If there is a foot race to a loose puck, he may not get there first, but he won't be too far behind – and he'll be ready to battle for it when he does arrive. Instead, the pace in his game comes from his decision-making and willingness to move the puck off of his stick in a quick manner. He isn't a puck-hog; there are times where it almost seems like he's playing hot potato with the puck with how quickly he gets rid of it. You have to be decisive with the puck to play like that, and he would fit in with a quick-strike offense because of it.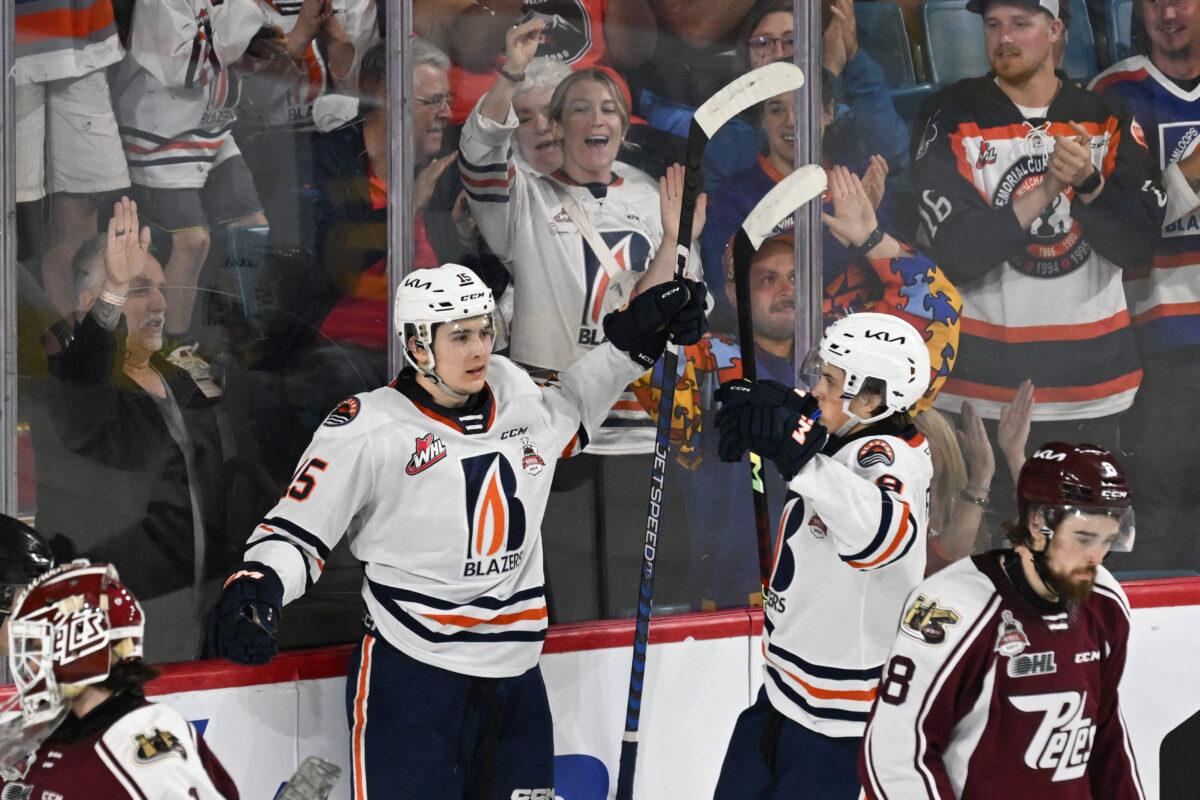 Levis is solid in the defensive end due to strong positioning and his overall decisiveness with the puck. He doesn't attack opposing forwards, he contains them. He waits to engage until the puck ends up along the boards or the opposition hesitates a little too long. His defensive contributions don't stand out from the crowd, but he's not a liability in that end of the ice. His on-ice intelligence should allow his defensive game to blossom as he develops further.
Other THW Profiles
Connor Levis – NHL Draft Projection
Realistically, "Levis Watch" begins in the third round of the 2023 draft. He does have NHL tools and seems like a prospect that should develop into a quality pro at some level, but his overall upside is a bit too limited to consider him in the first two rounds. Most outlets have him ranked towards the end of the third round or beginning of the fourth round, and that seems like a pretty reasonable spot for him to go.
Quotables
"Levis effectively utilizes power in his turns, displays explosiveness, and showcases the length of his stride to maintain good positioning both offensively and defensively. He is not a highly active puck handler nor a significant source of creative offensive plays. Instead, he quickly advances the puck and finds teammates, often opting for rapid passes or taking swift shots, redirects, or tips when given the opportunity." – Joel Henderson, FC Hockey
"Levis a good-sized winger with strong puck skills and vision. Inside the offensive zone and on the power play he's able to create for himself and his teammates because of his strong hands and vision. He has a decent shot but is more of a pass-first type of wing." – Corey Pronman, The Athletic (from "2023 NHL Draft ranking: Connor Bedard leads Corey Pronman's tiers of the top 142 prospects", The Athletic, 5/30/23)
Strengths
Strong on the puck
Plays with pace
Decisiveness
Unselfish
Hockey IQ
Under Construction
Offensive upside
Sometimes too unselfish
Foot speed
Making a consistent impact
NHL Potential
Levis seems like a player that has some untapped potential on both sides of the puck. If he can grow some confidence in his shot, he could become an effective, gritty playmaker. His on-ice intelligence should pave the way for him to become a good pro; he will have to elevate his game and find his niche in order to secure a future in the NHL.
Risk/Reward
Risk – 2/5, Reward – 3/5
Fantasy Hockey Potential
Offense – 5.5/10, Defense – 6/10
Statistics
---