After a dismissive and decisive sweep of the Pittsburgh Penguins in the Eastern Conference Final, the Boston Bruins have their second chance in the past two years at raising the Stanley Cup, and there's a good chance that Nathan Horton is as excited as anyone on the roster about the opportunity.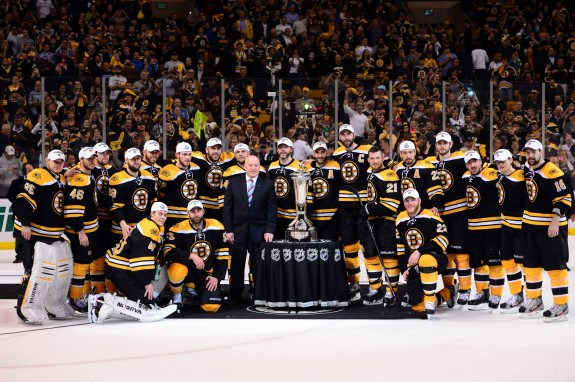 To say that Nathan Horton was a key factor in terms of the Bruins ability to reach the Final in 2011 would be a massive understatement. In 21 playoff games, he scored 8 goals and 9 assists, and had a penchant for scoring THE big goal. Whether it was in double overtime in Game 5 of the first round against the Montreal Canadiens, or in overtime in Game 7 of that series to advance to the second round, or the lone goal scored in Game 7 of the Eastern Conference Final against the Tampa Bay Lightning, Horton always seemed to be coming up big when it mattered most.
The problem is that while he made a significant contribution in 21 playoff games, his teammates went on to play 4 more without him after he was knocked out of the series against the Vancouver Canucks by a late and suspension-worthy hit by Aaron Rome. He was present at Game 6 of that series in Boston, and was in Vancouver to pour some Boston water on the ice prior to Game 7 and to the Cup after it, but due to a concussion suffered from the Rome hit, he wasn't able to actively contribute in four of those Final games.
The good news for Nathan Horton and the Boston Bruins is that he is fully back and once again playing at a high level in the 2013 Playoffs. Horton has scored 17 points in 16 games, including 7 goals, good for second on the Bruins behind David Krejci and tied for 3rd among all playoff participants. He has an On-Ice Corsi rating of 17.09, leads the NHL in +/- with a +21 (a clear 7 ahead of teammates Krejci and Milan Lucic), and has chipped in 3 game winning goals.
In short, Nathan Horton continues to do all that the Bruins hoped he would when they acquired him from the Florida Panthers (AND Gregory Campbell) on Draft day in 2010 for Dennis Wideman.
What a return to the Stanley Cup Final in 2013 provides for Nathan Horton is the opportunity to finish what has been started as an active member of the lineup. No one's trying to diminish the impact that he had in 2011, and in many ways the Bruins wouldn't have been there without him. But there's something to be said for seeing something through to the end, grinding it out alongside your teammates, and fighting for the Cup while on the ice.
That opportunity was taken from Horton 2 years ago, and quite frankly may not come again.
As every Bruins fan is well aware, Nathan Horton is a unrestricted free agent at the end of the season, free to sign with any of the league's other 29 teams (Cup contender or otherwise). Based on the way he has played in recent weeks, on top of his performance back in 2011 and the almost 200 regular season goals he has scored, he's likely in line for a large payday, and quite possibly probably won't be returning to Boston in the fall.
So, in what could be his last 4-7 games as a Bruin, look for Nathan Horton to try to grow his legend as a peak playoff performer, while attempting to make good on this second chance (and hey, maybe even boost his profile as an impending free agent).
Follow Ian on Twitter for more hockey updates and commentary.