Raise your hand if you believed the 2013 Boston Bruins were going to advance to the second round of the NHL Playoffs after Nazem Kadri of the Toronto Maple Leafs scored to make it 4-1 on Monday night.
You, lone sir / madam, need to get to Vegas ASAP.
The common sentiment midway through the 3rd period of Game 7 was that the Bruins were indeed finished, on the cusp of dropping a decisive game on home ice for the second year in a row. I think I tweeted something along the lines of "it's the end of the B's as we know 'em", figuring that there would be some changes ahead for this group over the summer, the only question being whether small or big.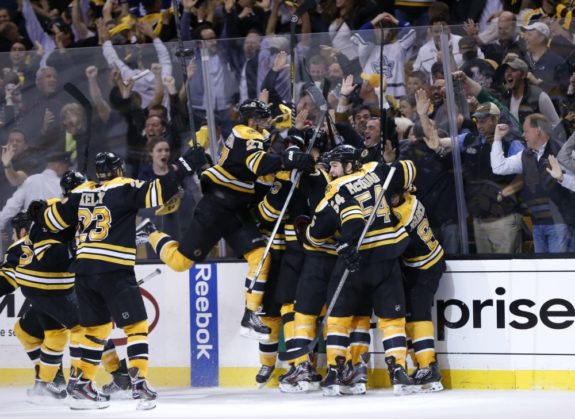 After the game, Milan Lucic admitted as much, saying in an interview on CBC "if we lost this game I doubt this team would stay together."
Or, as Tuukka so eloquently put it in this frame-worthy post-game quote:
Tuukka Rask on playing in OT in a Game 7: "It's do or die. You're either a hero or an asshole."

— Mike Cole (@MikeColeNESN) May 14, 2013
Even when Nathan Horton scored to make it 4-2, many a tweet was sent out pointing out that it was Phil Kessel who was now in line to get the series winning goal – how fitting.
Suspended Belief
Look, there were several reasons to legitimately and logically believe that this game and this series was over, beginning with the fact that these Bruins had failed to rise to the occasion time and time again during the regular season, and hell, even in Games 5 & 6 of the series.
While many had thought that this series would be a cake walk for the Bruins, it was, in reality, a 4 vs 5 match-up, meaning that whatever recent history existed between these two particular teams, either could win, a point proven through the first 6 games.
On top of that, and with the grand exception of 2011, the Bruins and their fans had been subject to bitter Game 7 disappointments in 4 of the past 5 playoff seasons, so this was to be nothing new.
All that aside, and with the score being what it was at that point in the game, simple math dictated that a Bruins comeback was seemingly impossible, especially considering the fact that they were playing without 3 of their top 6 defencemen from the beginning of the series.
Yesterday, Tyler Dellow crunched some numbers to estimate the odds of seeing a comeback of that magnitude, and this was his conclusion:
Once every 4757 years, your favourite team will go out of the playoffs like this. Given that it's a 30 team league, if I've done my math right, you'll see a team go out like this once every 159 years. It's about twice as rare as a Halley's Comet sighting. (mc79hockey.com)
In that context, to say that people "quit" on this team is a stretch; find me someone who literally said that they were walking away from the Bruins forever as that game was going on. Even as some fans broke the cardinal rule of never leaving a game before the final whistle, one can't deny that the frustration was palpable enough to warrant such a reaction.
Based on my Twitter timeline, there seemed to be a collective "welp" among Bruins supporters, a shrug of the shoulders signifying that this team, despite all the expectations that come with being a true Cup contender, had somehow managed not only to drop the ball, but give it a swift kick onto the school roof like, in Tuukka's words, a bunch of "assholes." It was an acknowledgment that, in all likelihood, Kessel and Kadri had indeed hammered the proverbial nails into the Bruins coffin with a pair of 3rd period goals, just as the reaction from Toronto suggested.
But, the Bruins experience kicked in, they were able to flip that good old switch, and they elevated their game in the most opportune of ways. First Tuukka thwarted a Lupul breakaway attempt, then Lucic scored to make it 4-3, Patrice Bergeron tied it up with 51 seconds to go, and the comeback was made complete at 6:05 of the 1st OT after Bergeron buried another one.
And at some point during all of this, belief was restored. Bruins fans, who just 30 real minutes prior had every right to believe it was over, now had every reason to be the happiest hockey fans in the world.
On to the Next
So what does it all mean moving forward? Well, for one thing, the Bruins are now lined up to host the New York Rangers in Game 1 of the Eastern Conference Semi-Finals on Thursday night, with the dream of another Stanley Cup still very much a reality.
There are, however, significant questions about the state of the blue line (with undisclosed injuries to Andrew Ference, Dennis Seidenberg & Wade Redden), as well as an overall lack of offensive production up front from anyone not named Lucic, Krejci & Horton (Bergeron's heroics notwithstanding.)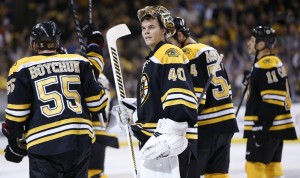 Despite having home ice advantage, the Bruins may well be considered underdogs in this series, a status that may suit them just fine. At the end of the day, this series – much like the last one – may come down to goal tending, with Vezina candidate Henrik Lundqvist looking to continue to hold off the younger Tuukka Rask – Boston's unquestioned best player in round one – in his attempt to rise to "King"(or dare I say True Bruin) status.
No matter what happens, Game 7 proved is that hockey (like life) can't be viewed through clear-cut, black and white frames. Folks who expected the series vs the Leafs to be a continuation of Boston's recent dominance over Toronto were buying into an old narrative, and those who say they would have wholeheartedly "believed" in their team in that same position don't possess the same contextual and historical viewpoint as today's average Bruins fan.
And for those questioning whether this comeback was fair or right, and whether the Bruins deserved it because of their "dishonorable" play, I would direct you to Ellen Etchingham's brilliant piece called "Hockey Isn't Fair".
As Bruins fans have been witness to over the past few years, anything can happen, especially in the playoffs. And with every new opportunity, and with every new scenario, it's worth looking to the words of a younger Tyler Seguin, a tweet that may just become the perennial mantra of the Boston Bruins and their fans moving forward:
https://twitter.com/tylerseguin92/status/80682180971470848
If the first round proved anything, it's that all bets are off for this team moving forward. Based on their overall effort in round one, the injury concerns, and the fact that the remaining field is incredibly deep, there's no telling how far (or not) this team can go.
Two things are for sure, though: 1) that comeback can't be taken away from the Bruins and their fans, and will be remembered as an all-time moment regardless of how far they go, and 2) never count 'em out, even when the odds seem insurmountable.
Follow Ian on Twitter for more Bruins updates and commentary.