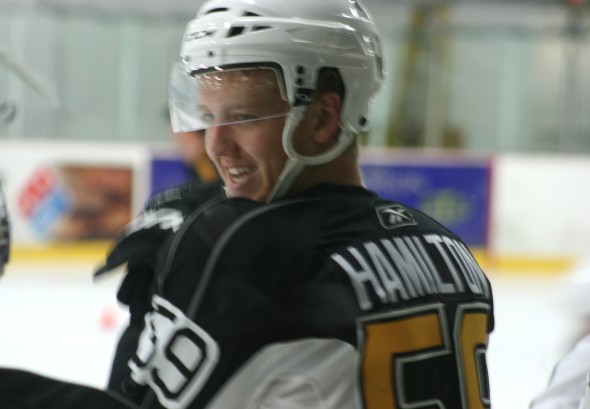 The Boston Bruins' 2012 Development Camp concluded on Monday with the proto-B's pointing their sticks at the rafters saluting yet another packed house in Wilmington. The five-day event prompted significant interest despite the absence of a new top-ten pick for the first time since 2009.
All thanks to Brian Burke aside, the new Bruin properties on-display made some noise during the long weekend.
Malcolm Subban was at least as good as advertised (and to many eyes, even more) at his first Development Camp as a member of the Boston Bruins. His amazing athleticism and capacity for the frequent mind-blowing save quieted many a fan who came into the building grumbling about his first-round selection.
He wasn't the only 2012 pick to make noise. Colton Hargrove and Cody Payne both made noise as forechecking presences with intriguing skillsets. Seth Griffith's outstanding hands and shot impressed even those who'd seen him before. Matt Grzelcyk's wheels, smart outlet passes and gritty play reinforced his value as the B's third-rounder.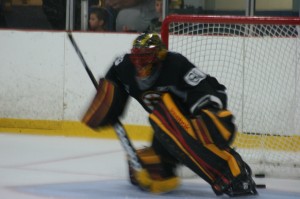 Injuries played an unfortunate factor in the proceedings. Alex Fallstrom of Harvard missed the entire weekend with an injury. Alex Khokhlachev was unable to participate in contact-drills while recovering from a kidney laceration. Sixth-rounder (2012), Matt Benning, appeared to suffer a groin pull that kept him out of much of the second-half of the camp.
Still without question, this was one of the most talented blueline corps in Bruins' Development Camp history. Headlined by two players who'll contend for a spot on the Bruins in the fall in Torey Krug and Dougie Hamilton, this was an extremely smooth-skating bunch.
Zach Trotman, Rob O'Gara and Matt Grzelcyk each impressed with their four-directional mobility, speed and (in the case of the first two) improved defensive acumen. Tommy Cross's improved sandpaper game was on-display in this his sixth Wilmington camp.
The forwards were highlighted by the 'Usual Suspects' of Jared Knight, Ryan Spooner and Khokhlachev – whose skating had improved significantly and appeared to have grown during the season.
Brian Ferlin's speed, vision and finishing capabilities certainly drew some attention. Justin Florek gained a step in the past year and will likely head to Providence after a productive and promising camp. Anthony Camara's hands and finishing took some strides forward and he brought his usual dynamic physical presence.
In-net, a quartet of non-Subban-Bruin-properties had solid camps. Niklas Svedberg's first foray onto North American ice was successful – he played deep in the crease and stayed very vertical to deny all but the best shots.
Zane Gothberg, who'll attend North Dakota in the fall, played an aggressive game and fought hard to track pucks through crowds – his vision and anticipation were even further developed from last-season.
In his second Boston Bruins Dev. Camp, Lars Volden stayed consistently square and followed the play with some solid lateral speed. Impressively, he scrambled to make unconventional saves when his butterfly failed him – something I didn't notice in 2011.
Adam Morrison looked solid in spurts. Still, it felt like his size made most of his saves – though he battled for loose pucks well. He's very raw after playing minimally through four WHL seasons.
In the end, that final stick salute is not the end. With the jump-start of six professional careers in Wilmington and a dozen or so set to kick-off in earnest this fall this is only the beginning of something special for thirty young men.
Biggest Surprises (of Boston Bruins properties):
1. Zach Trotman, Age 21, D – I liked Trotman a ton last year and he had an outstanding season at Lake Superior State – but he wasn't this fast in '11, was he? If he was, I can't remember it. Trotman still has the shot, size and solid two-way game I remember. Look out, Providence.
2. Colton Hargrove, Age 20, F – Yes, he was the oldest of the first-time attendees – but he played everything hard, took hits to make plays, and was a better skater than I'd previously ascertained. However, his offensive instincts and hands were significantly better than advertised. Hargrove's College-bound and a long way off, but this could be another solid late-round pick-up for Boston.
3. Cody Payne, Age 18, F – Payne had the skillset to warrant all that 'sleeper' talk you may have heard prior to the draft – and his net-drive is fantastic. If he can add some muscle (he's very skinny right now) and maybe add some quickness to his first-step, he could be the steal of the draft for the B's.
Honorable Mentions: Rob O'Gara, Matt Grzelcyk, Zane Gothberg, Alex Khokhlachev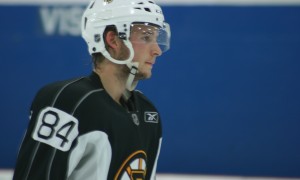 Most NHL-Ready Players:
1. Ryan Spooner, Age 20, F – Outstandingly creative and dynamic attacker with a 'plus' skating and playmaking game (and certainly no slouch as a shooter), Spooner should push Jordan Caron hard for the job as the Boston Bruins' third-line left-winger at camp.
His Dev. Camp performance was nothing short of what you'd expect of the B's top forward prospect. He was difficult to contain (even making the Best proto-B defensemen look silly on occasion) and has made some significant strides improving his defensive game.
2. Jared Knight, Age 20, F – Knight is a complete player – as complete as you get as a 20 year-old with a solid two-way game with physicality, athleticism and considerable helpings of intangibles.
He looked a little hampered by the high-ankle sprain that had him playing significantly less minutes than he otherwise would have during the Memorial Cup. Still, he played his usual reckless and powerful north-south game with plenty of chutzpah (and paid the price with a collision with the net at one point).
Despite the nagging injury, Knight's performance was a step forward from last summer. He's taking his shot more (that's a very good thing – since it's arguably the best one in the B's prospect corps) and has really developed his distribution-game. He's also showing better east-west movement than in the past.
3. (Tie) Torey Krug/Dougie Hamilton, Ages 21/19, D – I know, I know. Complete cop-out. Krug and Hamilton's performances weren't entirely "even" but certainly these were the two most complete defensemen at camp.
Hamilton and Krug's offensive chops are unquestionably NHL-caliber. However, Hamilton's positioning is all over the place… literally. It will take time for him to acclimate to Claude Julien's system if he makes the team as expected.
Krug could stand to benefit from time in the AHL – but the pace of the NHL is certainly not beyond him. With the Bruins lacking NHL-caliber 6- and 7D's, there's reason to suspect he'll be on the roster when the season begins.
Honorable Mentions: Niklas Svedberg, Zach Trotman
Undrafted Invitees (Non-Boston Bruins' Properties)
These young men didn't log significant minutes in the press, but still factored meaningfully in the week's festivities.
Colin Campbell, Age 21, Lake Superior St., F – Arguably the best undrafted invitee at Dev. Camp, Campbell had a borderline-dazzling performance during the scrimmages, tallying a goal and an assist. He's earned himself a trip to a pro camp down the road at the very least.
Darik Angeli, Age 21, Ohio State University, F – Angeli's got good hands, got the dirty areas and the puck seemed to follow him around all week.
Daniel Carr, Age 20, Union College, F – The Union boys had a great camp. Carr's puck-skills were solid and his Forsberg-like finish after breaking-in alone on Milner during the first scrimmage. He's a decent net-front presence with a pro future.
Parker Milner, Age 21, Boston College, G – Milner really battled for every single save. He didn't have outstanding technique, but this NCAA Frozen Four MVP really has the compete level that you'd expect from a champion.
Wayne Simpson, Age 22, Union College, F – Simpson's puckhandling and patience were impressive and made some nice forays up the ice. He needs to put on some pounds to improve his capabilities in the dirty areas of the ice.
Justin Courtnall, Age 23, Boston University, F – Zane Gothberg called Courtnall's shot one of the best at camp and the big winger from B.U. has good mobility and a belligerent streak.
Chris Casto, Age 20, U. of Minnesota-Duluth, D – Casto is big (6'3, 215) and surprisingly mobile. He took some huge hits to make plays.
 For More on the Bruins, their Prospects and the NHL Draft, follow Bob Mand on Twitter at @HockeyMand